TASHKENT -- Uzbekistani President Shavkat Mirziyoyev and Afghan President Ashraf Ghani oversaw the signing of 20 co-operation agreements and 40 export contracts during Ghani's official visit to Tashkent Tuesday (December 5).
The agreements are aimed at further strengthening relations in the economic, transit, security, electricity, agriculture, health, education and scientific spheres, among others, according to a statement from Mirziyoyev's office.
The export contracts are valued at more than $500 million.
"Tashkent strongly valued co-operation with Afghanistan in all spheres, including economic and security ties," Mirziyoyev said at a joint news conference, TOLOnews reported. "Co-operation agreements signed between the two nations are worth millions of dollars."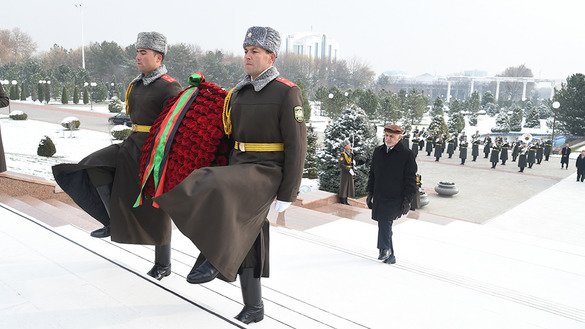 The two leaders also signed a memorandum of understanding on maintaining the security of the Afghanistan–Uzbekistan Friendship Bridge, which stands between Termez, Uzbekistan, and Hairatan, Afghanistan.
Uzbekistan plans to open another consulate in Afghanistan, Mirziyoyev said.
"The government and people of Afghanistan want Uzbekistan as a trading partner, which would be to the benefit of both countries," Ghani said at the news conference, adding that "2018 will be the year of implementation of our goals".
According to Mirziyoyev, a joint commission will oversee the implementation of the agreements between the two countries. Mirziyoyev also accepted Ghani's invitation to visit Afghanistan.
Ties between the two nations have been on the upswing.
One of Afghanistan's airlines, Kam Air, made its first flight from Kabul to Tashkent on November 29.
Uzbekistan also has plans for an educational centre dedicated to teaching Afghan citizens in Termez District as part of further efforts to strengthen co-operation between the two countries.