TASHKENT -- The Union of Youth of Uzbekistan is supporting a social media campaign against terrorism and working to set up branches in the military as part of efforts to combat radicalisation and extremism.
The Youth Union was established June 30 to fight the spread of extremist ideas among the nation's youth and to increase their participation in politics. It replaced a long-time youth organisation, Kamolot, that was disbanded that day.
"Our actions should be aimed at protecting young people from external threats, developing a sense of involvement in changes happening in the country and preventing the spread of extremist ideas online," according to a November 5 statement on the Youth Union's website.
"It is the duty of every citizen in the country to contribute to this work," it added.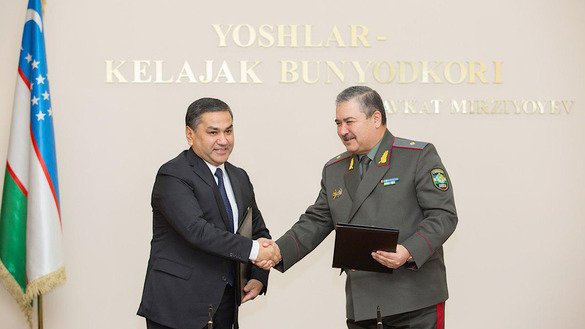 Youth against terror
Young people in Uzbekistan, backed by the Youth Union, have been running a social media campaign condemning the October 31 terrorist attack in New York carried out by Uzbekistani national Sayfullo Saipov.
Saipov, 29, has admitted to driving a rented truck onto a busy bicycle path in Manhattan, killing eight people and wounding at least 12 others before being shot and arrested. He expressed support for "Islamic State" (IS) after his arrest.
To demonstrate their anti-terrorist sentiments, young Uzbekistani men and women have been posting on social media using the hashtags #UzbekistaniYouthAgainstTerror, #TogetherAgainstTerror and #NoToTerror.
The social media campaign "comes from a group of young people who turned to us with their idea", Alisher Khakimov, a spokesman for the Youth Union, told Caravanserai.
"I believe that this campaign is a great way for youth to demonstrate their unity across the country," said Khakimov.
"I condemn Saipov's actions, and my sympathy goes out to the deceased," 17-year-old Mansur Rasulev of Tashkent told Caravanserai.
"Uzbekistan has nothing to do with him, and I want this campaign to allow as many people as possible in the US and other countries to know that."
Working with the military
In addition to the social media campaign, the Youth Union and Uzbekistan's Defence Ministry signed a memorandum of co-operation November 14 to include branches of the youth group in the military.
Goals of the Youth Union include supporting young troops and inculcating a rejection of extremism within those troops and within youth still too young for conscription.
"The joint plan envisions many activities," said the ministry in a statement November 14. These include opening "Valour" clubs throughout the country, having troops participate in a promotional campaign and helping men who have completed compulsory military service find employment.
"Uzbekistan still has compulsory military service for men of draft age, those aged 16-27," Bakhtiyer Goziyev, an instructor in a Tashkent branch of the nationwide Vatanparvar military-patriotic club, told Caravanserai. Such clubs provide military training to students in secondary schools awaiting the draft.
"That's why it's important to work with [draftees] so that they don't stray from the path like Saipov and those like him," said Goziyev.
Two days after the memorandum signing, the Defence Ministry launched its first-ever official website in order to appeal to and inform Uzbekistani youth, thereby "maintaining a close connection between the army and the public", the ministry's press service reported November 16, quoting Defence Ministry spokesman Col. Maksud Abilov.