ISTANBUL -- An Uzbekistani citizen who confessed to killing 39 people in a gun attack at an Istanbul nightclub on January 1 went on trial in Istanbul Monday (December 11).
Abdulkadir Masharipov, who used the IS codename Abu Mohammed Horasani, faces 40 life sentences -- one for each of the victims and the massacre itself, which the "Islamic State" (IS) claimed.
The charges include "attempting to destroy constitutional order", "membership of an armed terrorist organisation" and "murdering more than one person".
The trial is taking place outside central Istanbul.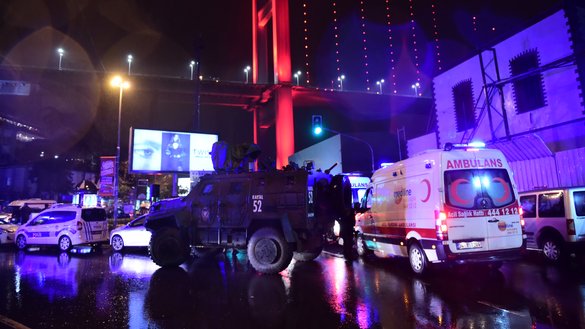 Acting on orders from Russian extremist
After taking a taxi to the elite waterside Reina nightclub on the shores of the Bosphorus, Masharipov fatally shot the security guard before walking inside and firing indiscriminately with his AK-47 at terrified revellers and setting off grenades, according to his admission.
With panicked survivors jumping into the Bosphorus, Masharipov slipped away from the scene as he merged into the crowds, triggering fears he could strike again.
IS later claimed responsibility for the attack. It remains the only time the terror group has issued an unequivocal claim for an attack in Turkey.
However, after a 17-day manhunt that involved 2,000 police who watched 7,200 hours of video footage, Turkish authorities detained Masharipov in the Istanbul neighbourhood of Esenyurt.
Analysts say Masharipov's confessions have helped Turkish authorities break up an elaborate network of terrorist cells in the city.
Masharipov trained in Afghanistan and confessed to carrying out the attack after receiving orders from the former headquarters of IS in the Syrian city of al-Raqa, according to Turkish authorities.
According to the indictment, the order for the attack came from a senior Russian Syria-based IS extremist named Islam Atabiyev, codenamed Abu Jihad.
Of the 39 killed in the Reina attack, 27 were foreigners who had gone to the club to celebrate the New Year. Seventy-nine people were wounded.
Uzbekistanis implicated in attacks
Fifty-seven suspects are due to go on trial, including Masharipov's wife, Zarina Nurullayeva, who is a suspected accomplice and risks penalties similar to those facing her husband. All but six are in custody.
The majority of the other suspects on trial are foreigners, including Uighur Chinese and other nationals of Central Asian states.
Masharipov is one of several Uzbekistani nationals implicated in terrorist attacks this year.
In October, an Uzbekistani man used a truck to mow down bystanders on a New York street, ultimately killing eight according to terror charges. In another incident in April, an Uzbek national was arrested after a truck attack in Stockholm that took five lives.
In June 2016, three gunmen killed more than 40 people at the Istanbul airport. Turkish authorities identified one of the gunmen as an Uzbekistani national. All three assailants were killed during the attack.