BISHKEK -- Despite being active social network users, Kyrgyz youth can hardly recognise extremist propaganda online, specialists warn.
According to the School of Peacemaking and Media Technology in Central Asia, a media development NGO that operates in all Central Asian states, young people in Kyrgyzstan are poorly informed about the illegal activities of extremist organisations.
A survey conducted in Kyrgyzstan last year revealed that 61% of youth" trust the information disseminated on social networks" and 31% read such messages only occasionally, while 8% of the respondents find it difficult to answer whether it is possible to trust various messages on social networks.
"Our youth are especially vulnerable," Yevgeniya Strokova, a member of parliament, told Caravanserai. "It is essential to direct more attention to improving the quality of education in schools and universities. We need to fill the cultural vacuums that have formed among youth in recent years, so that those voids are not filled by representatives of these outlawed organisations."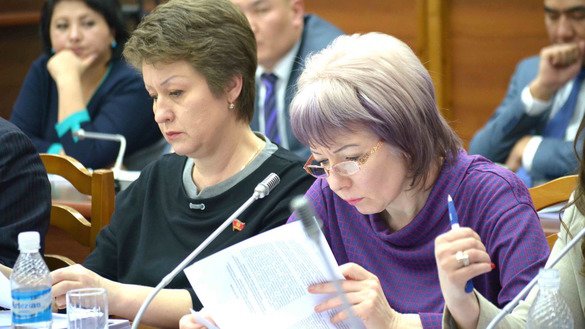 Identifying extremist activity online
Some 600,000 Kyrgyz citizens have social network accounts, of whom more than 400,000 use smartphones and tablets to access those accounts, according to the Civil Initiative on Internet Policy in Bishkek. The majority of internet users are adults between 18-35 years old.
Extremist elements are carrying out vigorous unlawful activity on sites like Odnoklassniki, a social network popular in Central Asia and Russia, say authorities. In recent years, extremist recruiters have begun actively using messaging services such as Telegram and WhatsApp.
To identify websites and accounts with extremist content, the country's Prosecutor General's Office in 2015 established a working group comprising representatives from several state agencies and youth activists. Their tasks include searching for such content online, especially on social networks, so that relevant agencies can intervene.
In 2017, law enforcement agencies uncovered several accounts that were used to promote religious and ethnic intolerance. Individuals with ties to these online accounts were prosecuted.
Law enforcement agencies last year identified more than 20 accounts and pages that disseminated the ideas of organisations and movements banned in Kyrgyzstan. At the conclusion of the operation, the relevant webmasters deleted more than 60 photos and 20 videos promoting hatred and intolerance.
Authorities call for unified strategy
It is essential to develop a unified information strategy to counter terrorism and extremism, Kyrgyz President Sooronbai Jeenbekov said December 4.
He tasked the State National Security Committee (GKNB) with strengthening its preventive work with adherents of radical movements, paying special attention to the spread of extremist ideology on social networks.
"Last week, we had a training course at our university on countering extremism," Aynagul Kadyrova, a Bishkek university student who withheld the name of her school, told Caravanserai.
"We learned about new laws and how extremists use social networks," she said. "That information was an eye-opener for me. I spend a lot of time with friends on social networks and did not expect that I could fall into extremist networks."
"I am now armed with information -- I'm protected," she said.
Legislation boosts security efficacy
Kyrgyzstan passed a number of laws in 2016 strengthening the role of the state in the preventive fight against extremism and terrorism. For example, parliament passed a bill allowing security agencies to block websites with extremist content without a court decision within 3-5 days.
Also in 2016, Almazbek Atambayev, the then-president, signed bills that sought to increase punishment for crimes related to international terrorism and extremism.
One of the major legal innovations was the introduction of fines for publicly approving extremist or terrorist activity and of criminal responsibility for publicly calling for terrorism or publicly justifying it online.
The precedent for such laws was established in June 2016, when authorities in Kara-Suu detained Abdullokh Nurmatov, then 21, for voicing approval on social networks for extremist activity and for storing extremist content. He received one year's probation.
The same year, the Prosecutor General, Interior Ministry and GKNB filed 13 requests for courts to block websites spreading extremist or terrorist ideology. In total, the courts blocked access to 86 websites in Kyrgyzstan in 2016.