CHOOK, Kyrgyzstan -- The World Bank is working with Kyrgyzstan to provide clean water to villages in the country's remote areas.
The international finance institution has committed $59.5 million (4.1 billion KGS) for the implementation of the Sustainable Rural Water Supply and Sanitation Development Project, which will eventually provide 90 villages in Osh, Chui and Issyk-Kul provinces with water and directly benefit about 207,000 residents.
The project is expected to have a positive impact on the quality of life of rural citizens, especially women, children and other vulnerable people, and reduce the prevalence of water-borne diseases in rural areas.
Life without drinking water
The village of Chook is nestled deep in the Kyrgyz part of the Fergana Valley, from which many locals have left for Russia and Kazakhstan as migrant workers. Those who have stayed in the village grow wheat and cotton.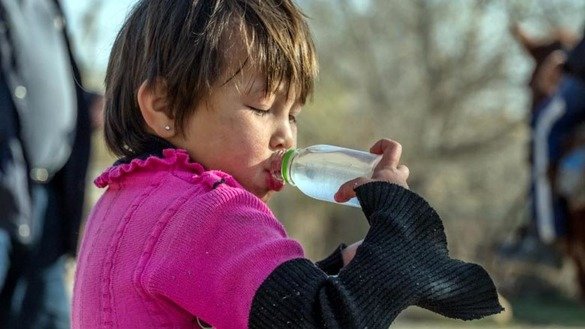 In Soviet times, clean water was piped into a public standpipe in Kyrgyz villages. However, Chook continued to rely on the water from irrigation canals. Locals say that extremely salty underground water made it impractical to drill wells, while the hilly terrain was a major obstacle to laying pipes that could bring spring water from the nearby mountains.
In 2017, the situation in Chook is much the same as it was in 1987, or even in 1957. Residents fetch water from the large irrigation canal in a neighbouring village, or use water flowing in aryks, small ditches that run through the village's streets.
Women, children suffer the most
Gulkan, 23, is a stay-at-home mother of four children. Every morning she fetches water from a nearby irrigation ditch.
The water in canals and aryks is muddy and is believed to contain pesticides, but women use it to wash dishes and clothes and even to cook meals.
"I was born and grew up in this village, so living with no access to clean water is a normal thing for me," Gulkan said.
"When we have sudden guests or unexpectedly run out of water, I have to let my children skip school and instead send them to fetch water," said Momun Hasekov, a neighbour of Gulkan in Chook.
Th childrens' health is also affected.
Gulkan's two-year old son has been suffering from diarrhea for many months. "I think it's because of the water that we drink and wash our hands with," said Gulkan.
Turning fairy tale into reality
The head of the local village government, Taalaibek Tuibayev, says that the government will bring clean water to homes, as part of the national "Ala-Too Bulagy" (the Spring of Ala-Too) rural water supply and sanitation programme, financed by the World Bank.
The piped network will start in the mountains some 30km away, and every household will have an individual connection to metered water.
"Indeed, if clean water comes to our village, it will be like a fairy tale turning into reality," Tuibayev told the World Bank team visiting the village.
[The World Bank Group authorises the use of this material subject to the terms and conditions on its website.]