CENTRAL ASIA -- Stability and security in the Central Asian region in 2017 have allowed Kazakhstan, Kyrgyzstan, Tajikistan and Uzbekistan to establish ties for mutually beneficial economic co-operation, analysts say.
Gross domestic product (GDP) growth in Central Asia will reach 2.2% for 2017, "the strongest growth in the region since 2011," according to a World Bank statement issued in October.
GDP growth for 2017 is expected to reach 4% in Kazakhstan and 6% for Kyrgyzstan, according to government data. In Uzbekistan, GDP in January-September 2017 reflected 5.3% growth compared to the same period last year. In the first quarter of 2017, Tajikistan recorded 6.5% GDP growth compared to the first quarter of 2016.
Politicians and business owners in the region displayed a desire in 2017 to redirect imports and exports to the regional market, rather than trying to sell to more-distant countries, analysts said.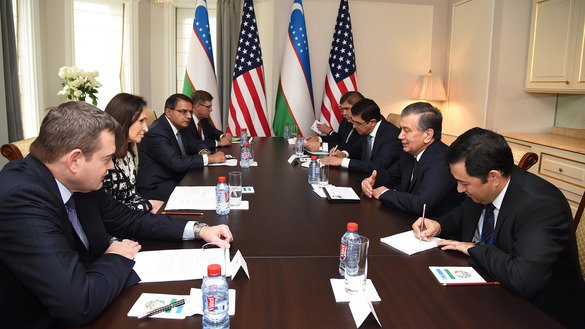 The central event behind this trend was EXPO-2017 in Astana, which showcased the industrial products of each Central Asian country and received 2.2 million visitors from June through September.
Such progress on so many fronts has economists predicting a prosperous 2018 in Central Asia.
In 2018, economic growth in the region will continue to accelerate, reaching as high as 2.7% for the year, according to World Bank predictions.
Uzbekistan to bring foreign investment to Central Asia
Uzbekistan, the most populous country in the region, particularly began to attract the attention of investors after it carried out economic reforms in 2017.
"The opening of borders and removal of customs duties [for foreign investors] in Uzbekistan are the beginning of a completely new era of economic development in Central Asia," Tashkent economist Shukurullo Mavlonov told Caravanserai.
"A provisional agreement on the demarcation between the Kyrgyz Republic and Uzbekistan, and restoration of direct flights between Tajikistan and Uzbekistan, point to an upside risk," said the World Bank in its October statement.
Uzbekistan is situated in the centre of the region and all strategic economic routes go through it, Mavlonov said, adding that investments made by major international companies in Uzbekistan will have a positive impact on neighbouring countries' economies.
"You can already see this in the latest news about the expansion of General Motors [GM] to Kyrgyzstan," he said.
GM, the American automotive giant, already operates in Uzbekistan.
But in 2018, GM Uzbekistan will open auto assembly plants in three Kyrgyz cities -- Osh, Bishkek and Kara-Balta, GM Uzbekistan sales and service director Jakhongir Tillayev told Kyrgyzstan's Radio Maral December 26.
Boosting regional co-operation
In September, Uzbekistani and Kazakhstani officials signed contracts worth $1.2 billion. These deals represented the largest signed in 2017 between countries in Central Asia. Kazakhstani businesses plan to invest in Uzbekistan's agricultural, textile and automobile industries.
In October in Tashkent, Uzbekistani and Tajik officials signed contracts worth $27.1 million. For the most part, they involve Uzbekistani exports to Tajikistan.
Uzbekistan also intends to export food to Kyrgyzstan. On December 13 in Tashkent, entrepreneurs of both countries signed agreements worth $140 million.
Uzbekistan's developing economy is also responsible for one of the largest economic deals of 2017.
In September, during an official visit to the United States by Uzbekistani President Shavkat Mirziyoyev, Uzbekistani and American business executives signed contracts with an overall value of $2.6 billion.
This deal mainly includes investments in Uzbekistan, but some contracts involved Uzbekistani exports. For example, Uzbekistan started exporting melons to the United States in November.