ASTANA -- Sixteen schools throughout Kazakhstan in January have begun teaching a new subject for 10th-11th grade students -- the Fundamentals of Entrepreneurship and Business.
The first lesson on the fundamentals of entrepreneurship occurred Wednesday (January 3) for 10th-graders in Public School No. 9 in Taraz. Yerjan Rapilbayev, a history, law and economics teacher, introduced the new subject.
He spoke to students about the role of entrepreneurs in society and conducted a business game followed by an analysis of business projects proposed by the students.
"I intend to run a business in the future," 10th-grader Sayid Tafiyev said after the class. "I want to be an entrepreneur. I plan to open a dairy store and contribute to the development of our region's economy."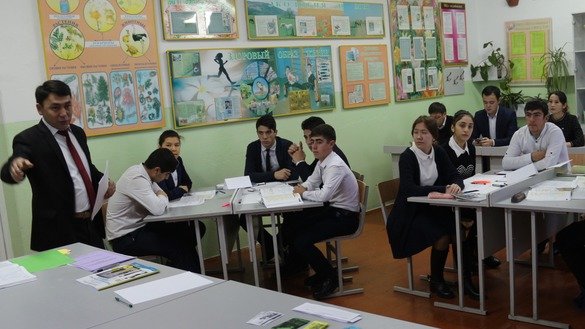 Encouraging entrepreneurship
The textbook for the Fundamentals of Entrepreneurship and Business class was the handiwork of specialists from the National Chamber of Entrepreneurs, according to Akbota Batyrbekova, a spokeswoman for the chamber's office in Zhambyl Province.
"Methodologists, entrepreneurs, psychologists and teachers were involved in designing the textbook," she told Caravanserai.
The programme is designed "to encourage proactivity and entrepreneurship among youth and increase their confidence in their own abilities", said Timofey Proskurov, a Taraz sporting good store owner who was involved in development of the project.
The course will help high school students thoroughly understand what entrepreneurship is and what qualities a businessperson should have, said Proskurov.
They will learn about stock exchange trades, the definition of securities and the advantages of running one's own business, along with many other topics, he told Caravanserai.
The National Chamber of Entrepreneurs and local business leaders, who will become mentors and participate in the educational process, will play an important role in the programme, he added.
Development of the project began in 2014, and just four years later, for the 2018-2019 school year, the course will be introduced in all schools across the country, he said.
Believing in oneself
"Teaching young people the fundamentals of running a business is a worthy cause that will steer them away from radical and criminal ideas," Sanjar Suleimenov, a theologian from Zhambyl, told Caravanserai.
Various studies in Kazakhstan have shown that those who fall into hands of extremist recruiters have not found their place in modern life and have become embittered towards the wealthy and successful, he said.
"Extremism springs from the soil of ignorance, an unsettled life and internal emptiness," Suleimenov said "If young boys' and girls are striving for a good life, education and career, then extremist propagandists will not be able to impose their false ideas on them."
"An entrepreneur is someone who believes in himself and his own powers [and] who knows that he can make a difference for the better in his life and the life of others," he said.