WASHINGTON -- The former Central Asian states of the Soviet Union -- in particular Kazakhstan, Kyrgyzstan, Uzbekistan and Tajikistan -- remain the most vulnerable to Russian aggression and manipulation, according to a US Senate report released January 10.
"[Russian President Vladimir] Putin sees successful democracies, especially those along Russia's periphery as threats to his regime because they present an attractive alternative to his corrupt and criminal rule," the report said.
"Democracies with transparent governments, the rule of law, a free media and engaged citizens are naturally more resilient to the spread of corruption beyond Russia's borders, thereby limiting the opportunities for the further enrichment of Putin and his chosen elite," the report said.
As such, Moscow has "engaged in a relentless assault to undermine democracy and the rule of law" across the globe, according to the report.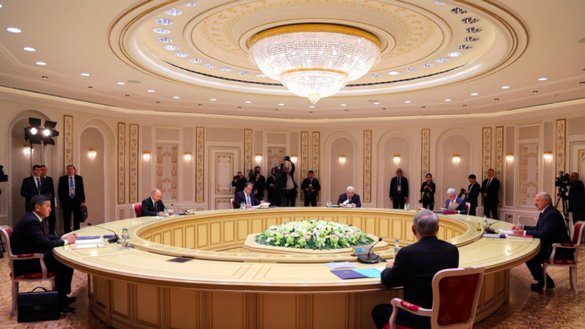 "Mr. Putin's Kremlin employs an asymmetric arsenal that includes military invasions, cyberattacks, disinformation, support for fringe political groups and the weaponisation of energy resources, organised crime and corruption."
"All the while, [Putin] has empowered the state security services and employed them to consolidate his hold on the levers of political, social and economic power, which he has used to make himself and a circle of loyalists extraordinarily wealthy," the report said.
Some estimates suggest that Putin's inner circle has amassed about $24 billion through the pilfering of state resources.
A fake ally
"Russia is our strategic ally only on paper," Almaty-based political analyst Ruslan Zhangazy told Caravanserai.
"In reality, we sometimes observe the Kremlin [perpetrating] unfriendly acts towards us," he said. "This is evidenced by its policy of informational aggression against us, in trade and tariff wars, as well as in its rough handling of the Baikonur Cosmodrome."
"Russia's territory involves four 'conflict theaters': Eastern Europe (Ukraine), the South Caucasus (Georgia), Central Asia (Kazakhstan) and East Asia (Japan)," Zhangazy said. "Russia has already employed military force at two of them -- Ukraine and Georgia. Only northern Kazakhstan and the Kuril Islands remain, [the latter of which] are disputed by Japan".
During military conflicts, the "Russian population rallies around Putin, and Russians demonstrate a high potential for mobilisation, which the Kremlin takes advantage of for achieving domestic political agendas", he said.
"Russian military and political leadership [are mentally fixated on] the geopolitical concept of the 'Anaconda Strategy', which entails the US and NATO forming a belt of hostile satellite states around Russia," Zhangazy said.
Russia continues to be fearful of "colour revolutions" in former Soviet Union republics, such as those in Ukraine and Kyrgyzstan.
To prevent such occurrences, Putin and the Kremlin have sought to co-opt the civil societies of Central Asian states by devoting massive resources to the creation and activities of such state-sponsored and state-controlled NGOs, commonly referred to as "GONGOs"(Government Organised Non-Governmental Organisations).
"Russia sinks extensive resources into GONGOs in countries on its periphery and beyond," where Russian operatives "eagerly exploit the relatively free operating space for civil society to maximise their impact," an expert in the report is quoted as saying.
For example, the Russian government in 2006 established the World Co-ordination Council of Russian Compatriots, which is responsible for co-ordinating the activities of Russian organisations abroad and their communications with the Kremlin.
Kremlin propaganda
While the Kremlin's propaganda inside Russia glorifies the regime, in other countries it aims to exploit local discontent and grievances.
Notably, the Kremlin's disinformation operations do not necessarily try to convince foreign audiences that the Russian point of view is the correct one.
Rather, they seek to confuse and distort current and historical events that threaten Russia's image, undercut international consensus on Russia's behaviour at home and abroad, and present Russia as a responsible and indispensable global power.
Sputnik and RT, both very prevalent across Central Asia, are the Kremlin's two main platforms of disinformation and propaganda.
According to a 2016 study by the RAND Corporation, RT and Sputnik are "more like a blend of infotainment and disinformation than fact-checked journalism, though their formats intentionally take the appearance of proper news programmes".
Russian media reports have even gone so far as to conduct fake interviews with actors to paint a picture favourable to the Kremlin.
"Kazakhstan's northern and eastern provinces are under the Kremlin's informational influence," Zhangazy said. "Last year, Information and Communications Minister [Dauren Abayev] stated that about 1.5 million citizens of our country use satellite TV that doesn't include broadcasts from domestic TV channels."
[Arman Kaliyev in Almaty contributed to this report.]