TASHKENT -- Uzbekistan is taking steps to solidify its reputation as a centre of Islamic culture and education as part of enhanced efforts to combat extremism among youth.
Uzbekistani President Shavkat Mirziyoyev last month urged "collaborative work" among elders, mahallas (neighbourhood associations), police inspectors, imam-khatibs and religious education consultants to prevent youth radicalisation.
"We must strengthen peace and stability in the country in every possible way and step up our fight against various security threats," he told parliament on December 23, as reported by 1news.uz.
Promoting Islamic education, culture
One way the government plans to prevent radicalism is through the promotion of Uzbekistan as a centre of Islamic culture and education.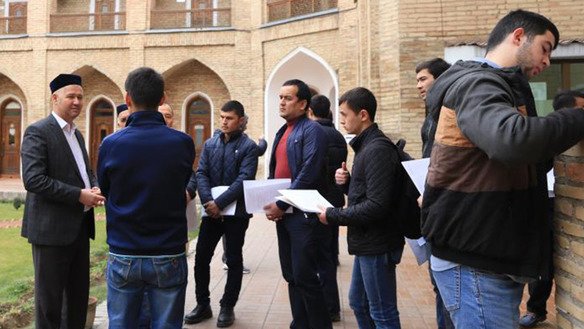 These efforts appear to be gaining momentum.
The construction of a facility for the Centre for Islamic Civilisation in Tashkent is under way, and the city of Bukhara is preparing to serve as the world capital of Islamic culture in 2020 for the Asian Region.
Tashkent in 2007 held the same title, which is designated annually by the Islamic Educational, Scientific and Cultural Organisation in Rabat, Morocco. Every year the organisation selects three world capitals of Islamic culture.
"The fact that [Bukhara] was granted recognition as a capital of Islamic culture ... affirms the distinguished contributions made by the city and its scholars to the development of Islamic civilisation," said Azamjon Abdurakhmonov, a teacher at Tashkent Islamic University, the Spiritual Administration of Muslims of Uzbekistan (DUMU) press office reported January 6.
Another effort aimed at raising Uzbekistan's status as a centre for Islamic culture is a nationwide Koran recitation competition.
Registration for the competition, organised by the DUMU, closed on January 15 with 5,000 applicants from across the country, as Regnum.ru reported.
Mufti Usmonkhon Alimov, head of the DUMU, called for the contest to take place at a highly professional level, and said that in the future it could become a springboard for Uzbekistan to host international Koran recitation contests.
The contest will be held progressively at the district, provincial and national levels, with the final competition scheduled in April.
Film industry, mosques join fight against extremism
Cinema can also be used to help combat extremism, including a movie being made about the 9th-century Islamic scholar and Bukhara native Imam al-Bukhari, according to Mirziyoyev.
Uzbekistani film director Rustam Sagdiyev has begun working on a two-part film about Imam al-Bukhari, Anhor.uz reported January 12. The government will finance the movie, and producers are planning to screen the film worldwide.
"If we need to, we will buy the most modern [film] equipment in Hollywood," Sagdiyev told Anhor.uz. "We'll invite international movie stars to appear in it."
Films about Islamic scholars can be broadcast in mosques and serve as an educational tool, the president said, according to the DUMU press office.
"Nowadays, when the struggle among ideas and ideologies to capture people's consciousness and worldview, especially those of young people, is intensifying around the world, we need to efficiently use the tremendous potential of the most mainstream form of art," Mirziyoyev December 29 said during a Tashkent meeting with representatives from the film industry.
"Imam al-Bukhari ... is one of the most famous Islamic scholars and collectors of hadiths," Otabek Mamarasulov, a regular attendee of the Minor Mosque in Tashkent, told Caravanserai.
"If Uzbekistan continues to promote its heritage, then more and more pilgrims will come here, and more and more Muslims will discover the true face of the country and contribute to mutual understanding," he said.
"The DUMU is planning to organise a small pilgrimage for Muslims from various countries, so they can visit Bukhara and places associated with Imam al-Bukhari," he said.
Rehabilitation of former extremists continues
Uzbekistan is also increasing the scope of its work on rehabilitating extremists who have served their prison sentences.
"We will continue improving the work done on social rehabilitation and helping those who have succumbed to the influence of extremist ideas return to a normal, healthy way of life," Mirziyoyev said December 23.
Caravanserai reported last October that Uzbekistan released or removed 16,000 former extremists from blacklists.
Among them were several notorious figures, including Zakhid Yuldashev, the brother of Takhir Yuldashev, the late founder of the Islamic Movement of Uzbekistan (IMU). He was released last October after serving a 23-year prison sentence, a move made public on January 10.
"Uzbekistan is developing a system for rehabilitating former extremists," Amir Fayzullayev, an employee of the Yangi Khaet mahalla in Tashkent, told Caravanserai.
"This will be based on a presidential decree that explains all the specifics of work with such persons," he said. "Mahalla elders, the Union of Youth or the [national] Women's Committee will be responsible for [rehabilitating the former extremists]. Systematic work will be carried out."
The details of the decree are expected to be ready by June, he said.