TASHKENT -- Uzbekistan is putting in motion a number of initiatives meant to kick-start entrepreneurship and encourage foreign investment in Uzbekistani ventures.
The "On Innovation Activity" bill, which parliament is supposed to finalise by February 20, is associated with a government programme called "2018 Year of Support for Active Enterprise, Innovative Ideas and Technologies". Public discussion of the programme occurred January 5-15, and the final draft of the action plan was released January 20.
Stakeholders in the information technology (IT) and other innovative or entrepreneurial fields have praised the government's efforts.
"Intellectual [property] is a chance for developing countries [to prosper], and the new team in the Uzbekistani government is trying to seize it," Nurilla Alimov, the manager of the Tashkent-based IWT Soft software company, told Caravanserai.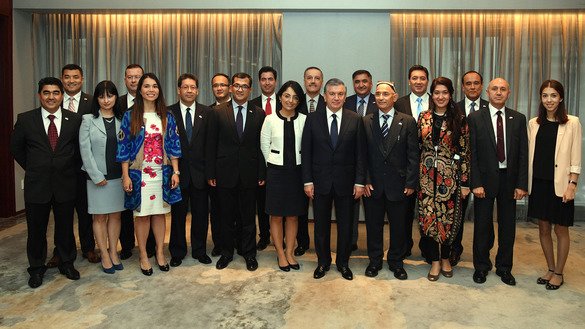 Government urges expats to return home
Uzbekistanis working abroad and emigrants born in Uzbekistan can play a key role in developing the programme, the government hopes.
The Ministry for Development of Information Technologies and Communications (MITC) on November 9 called on Uzbekistanis living and working abroad to return and help develop the IT sector. Incentives include high pay, research funding, a mortgage programme and other benefits.
"Today, Uzbekistan has a serious shortage of IT specialists [and] computer engineers," Alimov said. "It has even more demand for experienced top-level managers."
During his visit to the United States in September last year, President Shavkat Mirziyoyev met with Uzbekistanis abroad and members of the Uzbekistani diaspora in New York and called on them to return and actively assist in the development of their homeland.
"I invite all compatriots abroad who wish to contribute to the development of our country back to Uzbekistan," he said during the meeting in New York September 20. "I am ready to support them and to stimulate [such co-operation] in every way."
Seeking Uzbekistani experts working in US
The Mirzo Ulugbek Innovation Centre (MUIC), founded last June 30 in Tashkent, seeks to develop the IT sector in Uzbekistan.
On January 10, the centre hosted Tashkent native Zafar Mirzaliev, a venture partner at Thundermark Capital, an American venture capital fund. This fund, based in New York and San Francisco, supports projects in artificial intelligence, machine learning and robotics.
The participants in the meeting discussed issues in development and advancement of business initiatives. Some of them presented ideas they had developed themselves.
"On the one hand, we are studying the market of the Central Asian region and the culture of local start-ups and look for promising developments in areas corresponding to the activities of [our] fund," Mirzaliev said, according to the MUIC press office.
"On the other hand," he continued, "I, as an Uzbekistani, want to make my contribution to the development of the [information and communications technology] sphere and to support projects that have the prerequisites for success."
MUIC, which supports IT startups and provides tax breaks to its 147 members, is planning a meeting at MUIC in March with a delegation and the leaders of Thundermark Capital.
Improving Uzbekistan's business environment
Foreign specialists might assist in developing the investment market in Uzbekistan.
During a meeting with a World Bank mission in Tashkent January 10, representatives of the Uzbekistani government asked the World Bank to co-operate in creating a venture capital ecosystem. The parties agreed to continue exchanging opinions on this issue.
"[Foreign] investors, including ones from the IT sector, are afraid to come to Uzbekistan because of our country's image," Tashkent-based economist Shukurullo Mavlonov told Caravanserai.
"The main problem was the repatriation of profits ... to the investor's country. It was formerly impossible to do that because the currency was not freely convertible," he said.
After the Uzbekistani government opened up the currency last year, "many people turned their attention to our country, but they still don't completely trust the reforms," he said. "Improving our image is going to take a long time."
Promoting Uzbekistani businesses in foreign markets
Uzbekistani businesses are eager to enter foreign markets, and American companies can help them do that, officials said.
Representatives of an Uzbekistani women entrepreneurs' club, Business Women's Gap, on January 13 conferred with Shokhrukh Jurayev, an Uzbekistani native who works for the American online retail giant Amazon.
Jurayev described how Uzbekistani businesswomen could trade on Amazon.
Participants of the meeting in Tashkent, which was also attended by MITC representatives, discussed shortcomings in Uzbekistani law that hinder successful co-operation, such as the inability to work with PayPal.
Work is under way in Uzbekistan to integrate the UzCard national payment system with international payment systems.
Although the technology has not yet become available nationwide, a MasterCard transaction occurred in the UzCard system for the first time ever last June 30.