TASHKENT -- Uzbek students are working hard to be accepted into prestigious universities in the United States, believing that an American education will help their careers back home.
"Studying in the United States is my dream," Ravshan Jabarov, a 19-year-old resident of Tashkent, told Caravanserai.
"After receiving an education at a prestigious foreign institution of higher learning, I will immediately be able to lay claim to a high-paid job in Uzbekistan," he said.
"In our country, there will be a big demand for experts with foreign training," he said. "They are needed by foreign companies that started coming into our market after the reforms."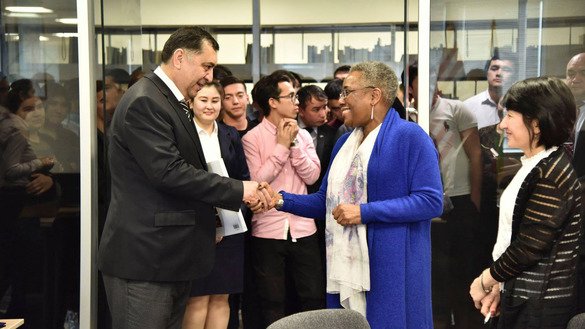 Opportunities for competitive students
According to the Open Doors Report, published by the US-based Institute of International Education, 505 students from Uzbekistan are studying in the United States this academic year.
That number has the potential to increase because there are no quotas on the number of Uzbek students allowed to study in the United States. Any Uzbek student can choose to study at an American college or university, either paying out of pocket or with grants or stipends.
"As strange as it might sound, getting a stipend to study in the United States turns out to be even easier than in Uzbekistan, particularly if you are goal-focused," Olesya Zakharova, a 21-year-old resident of Tashkent, told Caravanserai.
"In Uzbek institutions and graduate schools, the places paid for by the state are very limited and the competition for them is extremely high," she said, adding, "I want to try my luck in the United States."
To learn more about educational opportunities in the United States, young Uzbeks can visit the EducationUSA Advising Centre at the US Embassy in Tashkent.
The centre provides lectures such as "Five Steps toward US Education", free individual consultations, group meetings and the opportunity to speak with Uzbek students who have studied in the United States.
'Window to America'
Uzbekistanis also have another opportunity to become more familiar with modern American culture and literature with the opening of the "Window to America" reading hall on January 25 at the National Library of Uzbekistan in Tashkent.
The hall was opened as part of a memorandum on co-operation between the National Library of Uzbekistan and the US Embassy in Tashkent for 2017-2022.
With the assistance of the embassy, the library is equipped "with technical means, software and educational resources (books, CDs) for English language learners, audio resources, e-books and magazines in braille format in English and Russian languages for the National Library users with disabilities", according to the library's website.
"This is a great accomplishment," US Ambassador to Uzbekistan Pamela Spratlen said in an interview with Jahon, the information agency of the Ministry of Foreign Affairs in Uzbekistan. "We are very glad that within the walls of the National Library of Uzbekistan a reading room has been opened, where visitors can become more familiar with our country's culture."
Speaking during the opening ceremony of the library, Alisher Abduazizov, the director of the library, said the number of users studying English and wanting to read literature in that language is constantly growing.
"I am glad that such an information centre has been set up at the National Library," said Mokhir Obidov, a 25-year-old Tashkent resident who visited the library.
"The library is located in downtown Tashkent, which is very convenient, and there is free access here," he told Caravanserai.
On February 1, the "Window to America" reading hall hosted Principal Deputy Assistant Secretary of State for South and Central Asian Affairs Alice Wells. She took a tour of the library rooms and met with a group of students studying English.
She expressed her admiration that the participants in the group had a command of English, according to the library's press service.
US campus to open this year in Tashkent
Uzbek students will soon be able to get an American education without leaving Tashkent.
Last September, Webster University, based in St. Louis, signed a memorandum of understanding with the Uzbekistani Higher Education Ministry to open a campus in Tashkent.
A delegation from the university headed by Associate Vice President for Academic Affairs, International Campuses and Initiatives Peter Maher arrived in Tashkent on December 4 to discuss the future operation of the campus, which will open in for the new academic year in September 2018.
The Webster University Tashkent campus will provide instruction for bachelor's and master's programmes in information technology, cybersecurity, media development, business, natural sciences and education. Instruction will be carried out by American professors and Uzbek teachers in English, according to the press service of the Ministry of Foreign Affairs of Uzbekistan.