ASTANA -- A documentary about the growing relationship between Washington and Astana has elicited a positive reaction among residents of Kazakhstan.
Kazakhstan's Khabar TV February 1 aired the documentary "The USA and Kazakhstan: a History of Success", highlighting the importance of co-operation between Kazakhstan and the United States for regional security and the Central Asian country's political image and economic development.
In the roughly 40-minute film, journalists reported details of Kazakhstani President Nursultan Nazarbayev's trip to Washington January 16-18, which included his meeting with US President Donald Trump and other White House officials.
The filmmakers said they tried to explain to the audience why this trip -- and its timing -- was especially significant.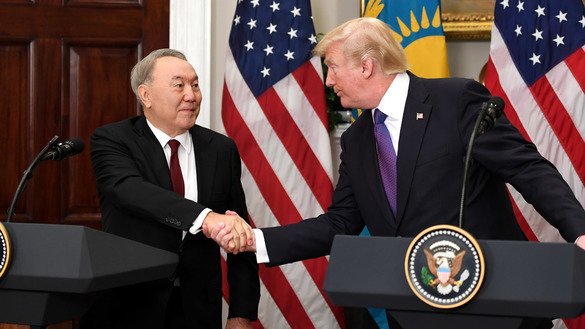 The 'Worldview' TV project
The documentary is part of a television project called "Worldview" that started eight years ago.
The films reveal the "backstage" of negotiations carried out by various Kazakhstani delegations, said Yerlan Bekkhojin, an Astana-based journalist and general director of the TV and Radio Complex of the President of the Republic of Kazakhstan.
Nazarbayev came up with the idea for the project, and these documentaries provide interesting details about life in various countries to teach Kazakhstani citizens more about their government's foreign partners, he told Caravanserai.
"[The president] suggested making films ... to tell a ... story about life abroad in terms of basic knowledge, geography and culture," he said. "That's how the TV project came to life. It has high ratings even today ... Over the years, [we've] made more than 60 films."
Astana and Washington 'natural and constant' allies
The "USA and Kazakhstan: A History of Success" documentary aims to show the rise of Kazakhstani-American relations.
An advance team of filmmakers was involved in gathering information before Nazarbayev's visit to the United States, with support provided by Nazarbayev's press office, said Bekkhojin.
One part of the documentary relates Nazarbayev's encounter with S. Frederick Starr, the founder and chairman of the Central Asia-Caucasus Institute in Washington, he said.
Starr advised three US presidents on Russian/Eurasian affairs. He is a trained historian with knowledge of Kazakhstan and author of "Lost Enlightenment: Central Asia's Golden Age from the Arab Conquest to Tamerlane".
"In a long interview, Mr. Starr said that the role of our country in Central Asia is growing," Bekkhojin said. "Kazakhstan, he said, plays an active role in developing a new regional awareness, and this is very important, since a united Central Asia is tougher to subdue through 'divide and conquer' tactics."
Astana is a natural and constant ally for Washington in matters of regional security, the fight against terrorism and the resolution of Afghanistan's problems, analysts say.
"Kazakhstan without a doubt needs reliable strong relations with the [United States]," Talgat Ismagambetov, a political scientist from Almaty, told Caravanserai.
Support for US-Kazakh friendship
Nazarbayev's trip to the United States caused lively debate, not only among journalists and pundits but among Kazakhstani society at large.
A younger generation of progressive Kazakhstanis is more frequently speaking out in favour of the country departing from its Soviet legacy and becoming integrated into the world community.
Young Kazakhstanis eagerly study English, create startups and choose universities in the West.
"Young people ... are dreaming about working in the [United States] and Europe," said Ismagambetov.
"Yes, we share an economic tie to Russia, but that does not mean that we have to limit ourselves to these relationships," Astana-based industrial designer Sergei Kim told Caravanserai. "We have to think more broadly, think about the future of the country."
"Kazakhstan needs closer ties to developed countries, such as America,'' Almaty travel agency manager Asel Kadyrbayeva told Caravanserai. "First, it invests in our [oil and gas] industry. Second, we have something to learn from the [United States] from an economic point of view."