ALMATY -- Kazakhstani TV channel KTK is set to begin broadcasting the first ever series on extremists in the country -- "Level Red", a project initiated and funded by the Ministry of Information and Communication.
"Level Red" consists of eight episodes and is scheduled to air in mid-March, KTK Deputy Director General Dauren Merkeyev told Caravanserai.
The series is mainly shot in Russian, but the characters will sometimes speak Kazakh, he said.
The title wasn't chosen randomly, Merkeyev said.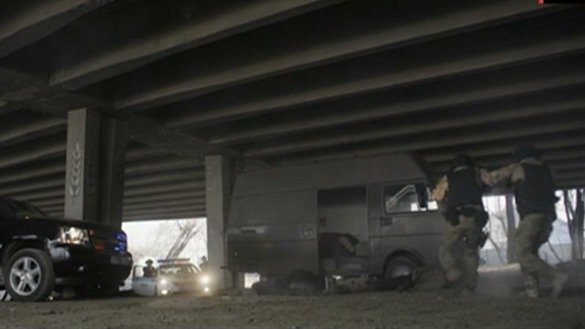 Kazakhstan's terrorism threat advisory scale uses a colour-coded system to inform the public of the risk of terrorist acts: yellow (moderate), orange (medium) and red (high), he explained. Level red means that a terrorist act is under way or that security agency personnel have information about an impending terrorist attack.
For example, authorities invoked level red during the deadly attacks in Aktobe in June 2016, when a group of terrorists struck gun stores and a military unit, as well as in Almaty in July 2016, when a gunman killed eight police officers and two civilians at a police station.
Filmmakers studied details of the counter-terrorism response to the 2016 terrorist acts to simulate reality as closely as possible.
"This is a contemporary tale of a group of extremists who are activated in Kazakhstan," said Merkeyev. "National Security Committee (KNB) personnel who uncover a planned terrorist act confront [the group]. We can't say that the show is based on actual events, but to a large extent it was created with the tragic events in Aktobe and Almaty in mind."
The Information Ministry asked KTK to produce the series because it is the leading channel in Kazakhstan and its journalists covered the 2016 attacks, according to Merkeyev.
Filmmakers promise real stories, real characters
It makes no sense to deny that the problem of terrorism exists in Kazakhstan, and the main task of the filmmaking team was to create realistic characters who take the path to extremism, said Merkeyev.
The filmmakers sought "not to put up caricature villains with beards but rather real folks who ended up on the wrong path for one reason or another", he said. "After all, all these fanatics and terrorists are citizens of Kazakhstan."
The filmmakers want the audience to ask: "Why do [terrorists] commit murders and terrorist acts? What are they looking for, and what do they want to prove? And in the end, how do they get to repentance?" said Merkeyev.
The producers found real stories to explain how extremists end up committing mistakes that they cannot take back, he said. "That's the best prevention for extremism and terrorism," added Merkeyev.
"We saw a lot of live coverage, talked to people who lived through [the terrorist violence] and to those who were convicted of the Aktobe terrorist act," he said.
But even that was not enough. Filmmakers asked specialists from state security agencies for help, said Merkeyev.
Not only did KNB officials provide professional advice on how to portray terrorist characters, they supplied equipment and uniforms for filming, he said.
Showing the 'unhinged life' of radicals
KTK announced the upcoming series on January 24, posting a trailer on the channel's website.
Muratkhan Ileuov, a 37-year-old resident of Almaty, saw the trailer and plans to watch the movie.
"It's pretty entertaining, I would prefer to watch a full-length movie, rather than a series," he told Caravanserai. "But overall, I welcome the fact that Kazakhstan [its filmmakers] started working on such a TV series."
The fight against the radicalisation of society is a great idea for the TV production, Aidar Abuov, director of the Astana-based International Centre of Cultures and Religions, told Caravanserai.
"It is important to demonstrate to the audience that [extremism] is ordinary fascism, simply clothed in a religious veil," he said. "Using imaginary characters, [filmmakers] will show to young people the wild life [of radicals]. And the fact that [terrorists] use Islam to cover it up makes them even more blasphemous."
Unlike unavoidably simplistic two-minute news stories about the arrests of terrorism suspects, the TV series will describe the life of terrorists, showing how they became radicalised, said Abuov.