ASTANA -- Kazakhstan's parliament is moving towards adopting new laws aimed at preventing religious radicalism and extremism.
Officials previously did not have the authority to control and punish radical religious groups because the law does not define who is considered an extremist.
Amendments to the law, developed by the Ministry of Religious and Civil Society Affairs (MRCSA), have eliminated these legislative gaps. The bill passed its first reading in parliament in late January. Bills customarily undergo three readings before becoming law.
The amendments introduce the concepts of "destructive religious movements" and "religious radicalism" into the law, a move that will "provide the opportunity to precisely define destructive activity and legally evaluate it".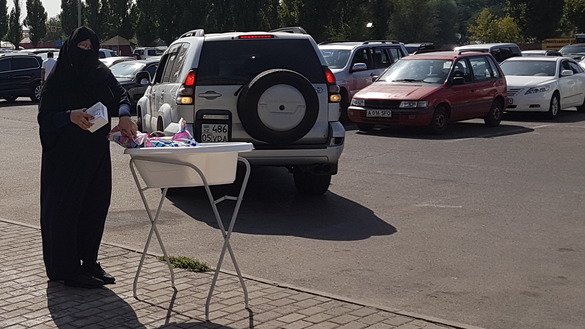 It is not yet clear when the amendments will become law.
Banning beards, niqabs
One part of the proposed legislation that has received significant media coverage is a ban on "external attributes" linked to ultra-conservative Muslims, mainly those of the Salafist movement.
Salafism is an ultra-conservative movement within Sunni Islam and represents the largest non-traditional Islamic group in Kazakhstan. Kazakhstan has about 19,000 Salafists, according to unofficial data.
Salafists do not fall under the purview of the Spiritual Administration of Muslims of Kazakhstan (DUMK), the nation's regulatory agency for Islam. It embraces the Hanafi madhhab (school of jurisprudence).
After deadly terrorist attacks in Aktobe and Almaty in 2016, Kazakhstani authorities put the blame on Salafists and stepped up their monitoring of the group's activities.
The ban applies to Salafist customs like wearing beards and ankle-length pants for men and niqabs for women.
Officials will not enforce the prohibition if Kazakhstanis adopt only one of the attributes, said Nurlan Yermekbayev, the minister of MRCSA, January 29, according to Radio Free Europe/Radio Liberty's Kazakh service.
For example, a man will not draw official attention for simply growing a beard, unless he also pushes Salafist ideas and demonstrates other Salafist customs.
Monitoring religious education, ceremonies
Among other changes under discussion is a requirement for Kazakhstani students to receive a basic theological education in Kazakhstan before being allowed to study religion at foreign universities.
The regulation is aimed at preventing young Kazakhstanis studying in countries in the Middle East from bringing back foreign ideas and values that run contrary to local ideology.
Another change would ban religious marriage ceremonies or divorces outside of religious buildings such as mosques. Members of destructive movements conduct the wedding ceremony at home, especially when brides are minors, argue the authorities.
Widespread support for preventing radicalism
The majority of Kazakhstanis -- especially in the two largest cities, Almaty and Astana -- support the legislation.
"I cannot say whether they [Salafists] are potential terrorists, but they promote the laws and values of the Arab world, which is alien to us," Asel Kasenova, 28, an Almaty bank employee, told Caravanserai. "They dream of building an [islamic state] in Kazakhstan, where women are second-class citizens and have no rights, only obligation. We do not need that kind of society."
Amanjol Urazbayev, a legal scholar who heads the Astana-based NGO Counter-Terrorism Committee of Kazakhstan, expressed his own support for the proposed restrictions.
"Beards, [ankle-length] pants and niqabs are alien to our traditional faith and culture in Kazakhstan," he told Caravanserai. "However, the majority of those who externally display signs of their [religious] commitment have clearly gone astray while searching for the truth, and do not have a precise understanding of what ideas they stand for. Along with that, their external trappings make them look more convincing and enable them to mislead others."
Unlike other Central Asian countries, Kazakhstan has adopted a "more lenient approach" to solving the problem, Urazbayev said.
"The [MRCSA] proposes a gradual process: at first, violators receive repeated warnings; then when non-compliant, they face administrative responsibility, and only as a last resort do [we] prosecute," he said.
The state does not need to act in a drastic and aggressive manner in religious issues, said Yuliya Denisenko, director of the Astana-based Association of Centres for the Study of Religions and a member of the Kazakhstani government's Council for Relations with Religious Associations.
In her opinion, the government needs to improve the living standards of its citizens.
"When the state provides everything that is needed for a good living -- high-quality education and health care, jobs, decent salaries, housing and confidence in the future -- then it will be very difficult for radicals to spread their ideas about an alternative way of life," she told Caravanserai.