ASTANA/TASHKENT/KABUL -- Co-operation between the United States and various Central Asian states is key for regional security and peace in Afghanistan, according to a top US general.
Despite pressure from Russia and Iran, governments in Central Asia "continue to support the transit of supplies to US troops in Afghanistan and engage the United States on shared interests related to access, border security, counter-terrorism, counter-narcotics and counter-insurgency", Gen. Joseph Votel, commander of US Central Command (CENTCOM), told the House Armed Services Committee in Washington February 27.
"Our Central Asian partners remain concerned about the long-term stability of Afghanistan and Pakistan as well as the specter of returning foreign terrorist fighters to their home countries," he said.
An 'advanced' military relationship with Kazakhstan
The US military relationship with Kazakhstan is the most advanced in the region, Votel pointed out.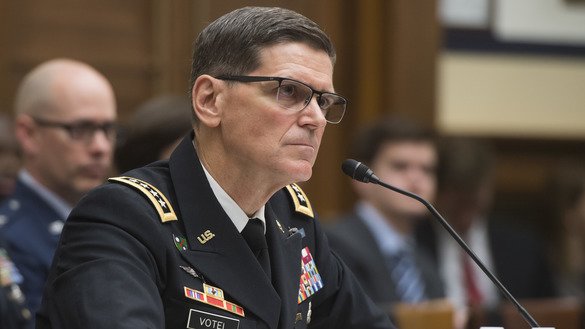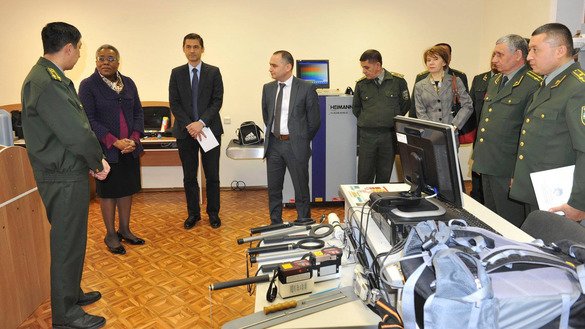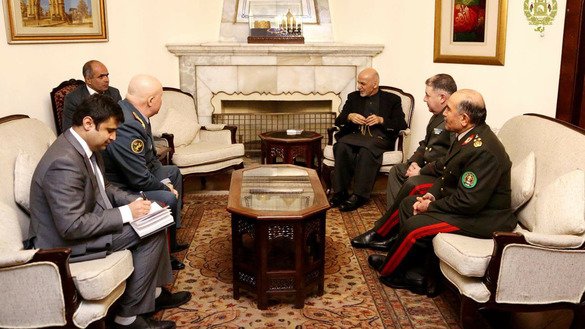 "We are making notable progress as the Kazakhstani Ministry of Defence focuses on institutional reform of its non-commissioned officer (NCO) corps, human resources administration and its professional military education system," Votel said.
"Kazakhstan is included in the northern transit route; that means that [US] military cargo shipments to Afghanistan's northern regions pass through our territory," Almaty-based political analyst Rustam Burnashev told Caravanserai.
The United States especially values the support of Kazakhstan in promoting security in Afghanistan, according to Wren Elhai, US embassy spokesman in Astana.
"We share an interest in seeing Afghanistan become more secure and stable, both politically and economically. A stable Afghanistan is good for everyone in Central Asia," he told Caravanserai.
"We were very pleased with President [Nursultan] Nazarbayev's offer to extend a programme to train Afghan civilian and security personnel, with an emphasis on empowering Afghan women," he said.
Kazakhstan is paying more attention to helping Afghanistan, said Murat Abdushukurov from Almaty, chairman of a co-ordinating council for Kazakhstan's organisations of veterans of the Soviet war in Afghanistan.
"Helping educate [Afghan] youth, the way it happens in Kazakhstani universities now, where on average 170 young [Afghans] come to study each year, is a good contribution to improving life in Afghanistan," he told Caravanserai.
"There is no doubt that the United States participates in shaping the security in Central Asia as part of fighting terrorism, extremism and ... drug trafficking," Abdushukurov said.
Border security focus in Uzbekistan, Tajikistan
"Uzbekistan remains a key US partner in Central Asia due to its strategic geographic location at the heart of Eurasia and proximity to Afghanistan," Votel told the committee.
On February 22, Lt. Gen. Jeffrey L. Harrigian, commander of US Air Forces Central Command, Southwest Asia, visited Uzbekistan, where he met with top Uzbekistani officials, including some from the Ministry of Defence, according to the US embassy in Tashkent.
"Co-operation between the US Air Force and the Uzbekistani armed forces has a long and productive history," Tashkent-based political analyst Umid Asatullayev told Caravanserai.
"From 2001 to 2005, the US Air Force used Khanabad airport in Uzbekistan as ... a base to support the counter-terrorism coalition in Afghanistan," recalled Asatullayev.
Meanwhile, on February 23 in Tashkent, in another gesture of goodwill, US Ambassador to Uzbekistan Pamela Spratlen handed over 230 hand-held radiation detectors to Uzbekistani customs officials.
"Co-operation between our two countries on nuclear and radiological nonproliferation has been essential to ensuring a safer and more secure world," said Spratlen at the event, according to the US embassy in Tashkent. "With this new equipment, the State Customs Committee will be better able to detect dangerous nuclear and radiological materials at its expanded crossing point facilities."
"The detectors can be used to fight smuggling of radioactive substances and to stop an attempt to import a 'dirty bomb' that terrorists could use. It is important to prevent import of materials and products contaminated by radiation, such as metals used in agriculture," Tokhir Vokhidov, a spokesman for the State Customs Committee, told Caravanserai.
It also is essential to strengthen border security in Tajikistan, which shares 800 miles (about 1,300km) of its frontier with Afghanistan, noted Votel.
"Tajikistan is a major transit point for Afghan opiates; our efforts to help strengthen Afghan-Tajik border security are important to reducing the drug trade that funds the Taliban and destabilises the region," Votel said.
Key to peace in Central Asia
Regional military co-operation is key to Central Asia, according to analysts and politicians.
On February 13, the top military officers of Kazakhstan, Kyrgyzstan, Tajikistan, Uzbekistan, Afghanistan, Pakistan, the United States and several NATO countries took part in a military chiefs' meeting in Kabul.
Among the topics were fighting insurgency in Afghanistan and boosting military co-operation among their countries.
The participation of the commanders of the armed forces of Kazakhstan and Uzbekistan symbolised the beginning of a new era of co-operation, said Afghan President Ashraf Ghani.
"Their arrival marks a new beginning of co-operation [among] the armies of Afghanistan, Uzbekistan and Kazakhstan. We also discussed combating terrorism and boosting economic co-operation [among] our three countries," Ghani tweeted after the meeting.
Many Afghan Twitter users said that they support the president and welcome the assistance of their "northern neighbours".
"Much needed interaction. Central Asia can play a greater role in stabilisation efforts in Afghanistan," Sayed Saber Ibrahimi tweeted, referring to the military chiefs' meeting.
"This is a good move, indeed. We need strong ties to our neighbours, especially ones who want peace and security in the region and support sustainable economic development for both sides. Thumbs up!" Sulaiman Assadullah tweeted.
"This meeting of chiefs of staff needs to be looked at not only from the point of view of development of co-operation with Afghanistan but also as an optimistic example of regional dialogue," Asatullayev said.