ASTANA -- Kazakhstan is increasing the number of non-stop flights to Europe, seeking to ease business and leisure travel for Kazakhstani citizens and to open up the nation's economy.
"On March 26, a new, regularly scheduled flight will begin operation on the Atyrau-Frankfurt route," Kazakhstan's Civil Aviation Committee said in a press release February 16.
"The flights will be operated on Airbus A321 aircraft, twice per week [Monday and Friday]," the statement said. "Now it will be much more convenient for our residents and visitors from Western countries to get to Europe."
From June 1, Air Astana will launch daily, non-stop flights from Astana Nursultan Nazarbayev International Airport to Heathrow International Airport in London, the airline announced on its website February 26.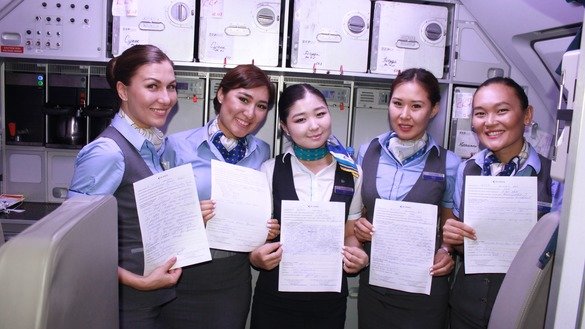 "We are delighted to have finally secured daily flight status on what is such a prestigious and popular route -- the only direct service linking the United Kingdom to Kazakhstan," Air Astana President and CEO Peter Foster said in a statement.
"London has consistently grown in significance, with both business and leisure travellers, and it comes at an opportune time too for the airline strategically, as we start to plan for an IPO [initial public offering] listing in both London and Kazakhstan," he said.
Several other non-stop flights connecting different provinces of Kazakhstan to foreign countries will begin this year, according to the Civil Aviation Committee.
The new flights will run from Astana to destinations such as Batumi (Georgia) and Vilnius (Lithuania), and from Almaty to Riga (Latvia) and Dubai (United Arab Emirates).
Eliminating aviation obstacles
"Kazakhstan passed an aviation safety audit conducted by the International Civil Aviation Organisation [ICAO]," Andrey Volobuyev, deputy director of Aynara-Tour travel agency in Almaty, told Caravanserai, referring to a test reported in January by Inform.kz.
The testing allows Kazakhstan to open up new airline routes to and from various countries without any restrictions, Volobuyev added.
Seven Kazakhstani airlines, including Fly Jet.KZ and Jet Airlines, have gained authorisation to fly to European Union (EU) countries, Kazinform reported February 27, citing the Civil Aviation Committee.
Earlier, Air Astana, Prime Aviation, Kaz Air Jet, Comlux Kazakhstan and SCAT Airlines underwent the European Aviation Safety Agency's authorisation procedures.
"Now [the ICAO] has lifted restrictions affecting Kazakhstani carriers on flights to Europe," said Volobuyev. "New non-stop flights connecting Kazakhstani cities to European capitals will begin operating in the next few years."
Connecting to Europe opens new possibilities
More flights to EU countries will help improve Kazakhstan's economy, Uralsk political analyst Yevgeny Kryuchkov told Caravanserai.
They will bring "economic benefit and increase business ties with developed countries", he told Caravanserai. "Opening up non-stop flights with countries in the [EU] is something that can only be welcomed."
"The opening of new routes allows us to establish ties and not to be isolated from the rest of the world," Volobuyev said.
Kazakhstanis already enjoy non-stop flights to Poland, Ukraine, South Korea, Turkey, Thailand, Malaysia, Tajikistan, Russia and a number of other countries.
However, for the most part, international flights begin and end in Kazakhstan's two main cities -- Astana and Almaty. Residents of other cities have to change planes to go abroad.
"From Taraz, you can fly only to Almaty and Astana," Lyazzat Tagayeva, a resident of Taraz, told Caravanserai.
"Vacation and business trips force you to change planes [for anybody not living in Almaty or Astana]," she added. "Planes from Almaty and Astana don't fly to every country, not by any means ... If we have new flights, we'll fly more often."