ALMATY -- As the world recognised International Women's Day on March 8, the United Nations and local NGOs call attention to the physical, sexual and psychological violence many Central Asian women suffer.
One in three Central Asian women endures beatings, sexual abuse or other mistreatment, according to the United Nations Entity for Gender Equality and the Empowerment of Women (UN Women).
"In addition, the existing traditionalism and socio-cultural practices that are frequently mis-interpreted as religious do not allow women to run their own lives," Elaine M. Conkievich, UN Women representative to Central Asia, told Caravanserai.
"Throughout the region, women have low awareness of their rights," she said.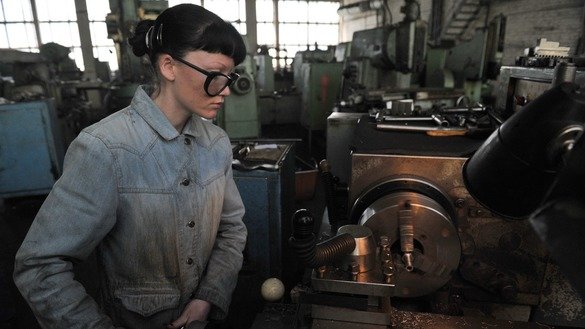 Only 40.9% of Tajik women aged 15-49 in a marriage or a domestic partnership "make their own decisions about sexual relationships and the use of contraceptives and medical services", she said. In Kyrgyzstan, the figure is 76.6%.
"In certain countries in the region, early forced marriages are widespread and bride abduction is still practiced in Kazakhstan and Kyrgyzstan," she said. "In Tajikistan, for example, a woman who marries at 15 or younger bears her first child at age 17 on average."
A story of abuse, triumph
One woman in Aktobe, Kazakhstan, shared her story of an abusive marriage.
"Alina", who used an alias for self-protection, 30, said she endured beatings by her husband for almost five years.
"My husband raised his hand to me the first time a year after our wedding," she told Caravanserai. "I forgave him because I loved him."
"I quickly became pregnant and everything worked out," she said, adding that her husband promised to change his ways.
But when their infant son reached four months of age, her husband resumed beating her regularly, Alina said.
"When our boy started to grow, he became frightened and cried because Dad was beating Mom ... I couldn't stand it anymore," she said. "I ran away."
A crisis centre in Aktau, where she lived at the time, helped her and her son escape, she said, although she gave few details. Now she works as a store cashier in Aktobe and lives with her four-year-old son.
No woman should allow herself to be abused, Alina said.
Domestic violence 'serious problem' in the region
Violence against women in Kazakhstan is frequent and official remedies are lacking, said Kuralai Bekenova of Shymkent, an executive partner of the UN Population Fund and chairwoman of the Association of Businesswomen of South Kazakhstan Province.
"The police stations of every province have departments to protect women from violence," she told Caravanserai. "[But if] a battered woman comes in and writes a statement about her abuse ... where can she go? Home to her husband the abuser."
"Economic dependence forces her to go back home," she said.
Thirty-six Kazakhstani women died from domestic violence in 2016, Zhakip Asanov, the then-general prosecutor of Kazakhstan, said in April 2017, according to Radio Free Europe/Radio Liberty's Kazakh service.
Kazaakhstani authorities recorded about 2,500 cases of sexual assault against women in 2016, he said.
Kyrgyzstan has a serious problem with domestic violence too, said Umutai Dauletova of Bishkek, the UN Development Programme country programmes gender co-ordinator in Kyrgyzstan.
In 2017, thousands of Kyrgyz women suffered domestic violence, she said. The government put the number at 3,524, while the country's crisis centres counted 8,458.
Justice is hard to come by for victimised Kyrgyz women, she said, describing the legal situation in rape cases.
In 2012-2015, Kyrgyz courts sentenced 149 rape defendants, she said. "They issued 13 acquittals and dropped 237 cases. In the majority of [dropped] cases, the victims refused to prosecute out of shame, fear of public denunciation and lack of money for legal fees."
Another form of abuse, bride kidnappings, is far too widespread in the Kyrgyz countryside, equalling about 60% of all marriages there, she said.
In Uzbekistan, the concept of "women's rights" has failed to gain hold in everyday life or at work, Nodira Latipova of Tashkent, a sociology lecturer at the National University of Uzbekistan, told Caravanserai.
"Particularly in cases of domestic violence," she said. "Women first write a statement, and the next day they retract it."
Domestic violence is the "No. 1" problem in Tajikistan too, Fotima Sharipova of Panjakent, director of the NGO Women of the East, told Caravanserai.
Tajik lawmakers in March 2013 passed a law prohibiting domestic violence but failed to enact a mechanism for enforcing it, she said.
Economic independence is crucial
Women in Kazakhstan, as well as in other Central Asian countries, are handicapped when trying to build political and economic leverage.
Women seeking good jobs are expected to need paid maternity leave someday, said Bekenova of the UN Population Fund.
"If [a woman] already has children, they'll get sick," she said. "So Mom will have to take sick leave. That's why employers favour men during job interviews."
Moreover, women in Kazakhstan are segregated into lower-paying fields, comprising more than 70% of workers in health care, education and social services, she said.
Women's political representation in Central Asia falls far below parity, said Conkievich, the UN Women official.
Female representation in the region's parliaments varies from a low of 14.7% in Tajikistan to a high of 20.1% in Kazakhstan, she said.
With men dominating more-lucrative construction, oil and gas, other resource extraction industries, and transportation, "women on average earn about two-thirds of what men earn", she said.