DUSHANBE -- The leaders of Tajikistan and Uzbekistan are moving beyond past mistrust and grievances to lay the foundation for new "brotherly" relations.
Uzbekistani President Shavkat Mirziyoyev's first state visit to Tajikistan March 9-10 was welcomed across the region.
The meeting represents the "beginning of a practical re-setting of our relations", said Olim Salimzoda, chair of the Tajik Parliament's International Relations, Public Organisations and Information Committee.
"The positive changes that have taken place lately fill us with optimism," he told Caravanserai.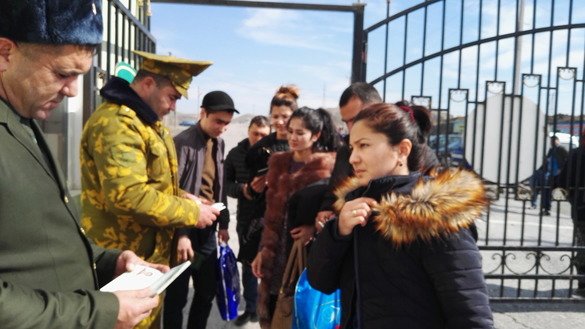 "The two nations have accumulated many problems over the 20-year-period since relations cooled off, and it is important to create an atmosphere of trust," Dilshod Karimov, a resident of Khujand, told Caravanserai. "After that, fitting solutions can be found."
Various problems caused the countries' relations to go into a deep freeze two decades ago, including disputes over water and borders and Uzbekistani concerns with Tajik security.
Visa restrictions scrapped
Mirziyoyev and Tajik President Emomali Rahmon during an "ice-breaker" meeting in Dushanbe Friday (March 9) agreed to scrap an unpopular visa regime that had been in place for more than 17 years, AFP reported.
Under the agreement, Uzbekistani and Tajik citizens will be able to spend 30 days visa-free in the other's country, although it is not clear when the agreement will enter into force.
The "brotherly peoples" of the two countries have "waited many years" for the visa regime to be scrapped, as well as for other positive developments in the long-fractured bilateral relationship, Rahmon said Friday according to AFP.
In turn, Mirziyoyev said there are "no outstanding problems" in the relationship between the two countries after negotiations that also touched on improving trade and transit.
"I am counting on our suffering to eventually come to an end," said Makhfirat Onorboyeva Sanjarbek-kizi, an Uzbekistani citizen who married a man from Tajikistan in 2009.
Onorboyeva, since their marriage, has been forced by the expiration of one-year visas to leave Tajikistan annually for a short period before re-entering.
Re-opening border crossing posts
The thaw in relations prompted Tajikistan and Uzbekistan to open a number of border crossings earlier this month and resume nonstop air travel for the first time in 25 years last April.
A day before the two leaders' meeting, Uzbekistan and Tajikistan celebrated the re-opening of a long-neglected railway and nine posts along the two countries' shared border.
Mukhammad Ulugkhodjayev, a spokesman for Tajikistan's border service, told AFP that some of the border posts had been closed almost a decade ago, while the Soviet-era railway fell into disuse in 2011 amid worsening relations between the two countries.
The first passenger train to use the renovated line will start Wednesday (March 14), the Tajik Foreign Ministry said.
In January and February, three check-points -- Anarkhon-Patar, Ravat-Besharyk and Sarband-Kushtegirmon -- opened in Sughd Province, Tajikistan, substantially facilitating border crossings.
Previously Sughd Province had only one working check-point, Fotekhobod-Oybek, on the border with Tashkent Province, Uzbekistan, and travellers required an Uzbekistani visa to cross.
The check-points link Sughd Province with three more Uzbekistani provinces -- Fergana, Sirdarya and Jizzakh -- and enable practically all the residents living in border areas to cross via the shortest route.
Reuniting families on both sides of the border
Individuals crossing the frontier noticed an immediate change in the process.
"The border guards of both countries are very polite and don't try as they did before to use any reason to cause trouble," Zokhid Niyozov, an Uzbekistani citizen from Yangiyer, told Caravanserai. "All I had to do was show my passport."
"I am returning to Uzbekistan after visiting my relatives in Tajikistan ... [whom] I had not seen for 10 years," Dilorom Pulatova, a resident of Bekabad, Uzbekistan, told Caravanserai at the Sarband-Kushtegirmon check-point. "The changes that are occurring are ... delightful."
Kifoyat Ashurova, a retiree from Devashtich District, Tajikistan, said she has relatives in Bekabad and Yangiyer in Uzbekistan.
"When the crossings in Spitamen and Zafarobod districts closed down, I had to travel several dozen extra kilometres to the only check-point that was open -- the Fotekhobod-Oybek check-point in Mastchoh District," she told Caravanserai. "It was a great waste of time in addition to all the extra expenses."
New economic opportunities
The strict visa and travel restrictions not only impaired neighbourly relations but strangled economic co-operation in the region, observers said.
"Free movement of people and goods is an important condition for economic co-operation," said Abdurakhmon Khuseynov, head of the Sughd Province Trade Promotion Centre.
"Transportation corridors to Uzbekistan are very important for regional co-operation," he told Caravanserai. "They can create good conditions to expand commercial ties among all the countries in Central Asia, including Afghanistan."
After the meeting with Mirziyoyev, Rahmon said they had reached an agreement to increase trade between the two countries to up to $1 billion per year in the near future, Asia-Plus reported.
Restoring energy sharing agreements
Some hope the warming relations between Tajikistan and Uzbekistan in transportation, economic co-operation and energy will lead to the restoration of the old Soviet-era unified power grid for the region.
"A single power system could regulate electricity flows that take into account the [cyclical] shortages experienced in some countries and surpluses in others," Tura Atamov, a Sughd Province spokesman of the state-owned Tajik utility, Barki Tojik, told Caravanserai.
"Tajikistan and Kyrgyzstan, possessing large surpluses of electricity during the summertime, could cover the shortages that Kazakhstan and Uzbekistan are starting to experience from industrial growth," he said.