ALMATY -- Central Asians should expect little change in the Kremlin's coercive policies toward the region after Russian President Vladimir Putin won his fourth 6-year term following an election widely criticised as both unfair and fraudulent.
Kremlin statistics say Putin won more than 75% of the vote, but international leaders, election monitors and citizens inside Russia dismissed the results.
"Restrictions on the fundamental freedoms of assembly, association and expression... have limited the space for political engagement and resulted in a lack of genuine competition" in the Russian election, the Organisation for Security and Co-operation in Europe said in a report Monday (March 19).
Alexei Navalny, an anti-corruption campaigner and Putin's most vocal critic, was barred from running because of trumped up charges from the Kremlin.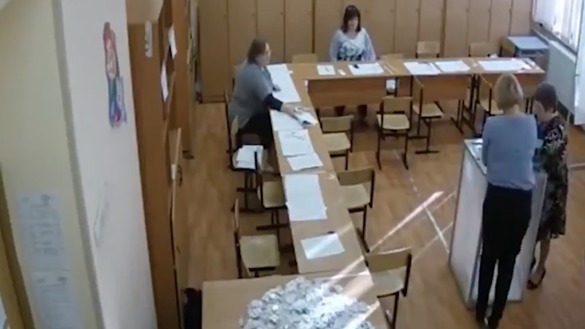 Navalny said his team planned to stage protests over "unprecedented violations" during the March 18 vote and reported ballot stuffing, repeat voting and Putin supporters being bussed into polling stations en masse.
The elections were "dishonest", said runner-up Pavel Grudinin.
It is "unacceptable" that voting also also took place in Crimea, which Russia annexed from Ukraine four years ago in breach of international law, German Foreign Minister Heiko Maas said Monday.
"The result of the election in Russia did not surprise us any more than the circumstances of this election," Maas told reporters in Brussels before talks with his European Union counterparts.
Putin's own actions underscored the fraudulent nature of the election.
He led a lacklustre campaign, refusing to debate his opponents on TV and shooting no new material for his own advertisements.
The seven other candidates who vied for the presidency -- who were there only to give the election a veneer of plausibility -- were either Putin's cronies or allowed to run to fragment the opposition vote.
What Putin's victory means for Central Asia
For Central Asia, Putin's election victory will mean much of the Kremlin's policy toward the region will stay the same -- focused on undermining the sovereignty of Central Asian states.
Putin will continue to pursue expanding Russia's sphere of influence, leading the Kremlin to coerce Central Asian states into serving as military client states, say observers.
Russia is trying to come across as a guarantor of stability and protection against outside threats, particularly terrorism, said Sultanbek Sultangaliyev, an Uralsk-based Kazakhstani political scientist and director of Rezonans.kz, an analytical website.
However, the Kremlin's aggression in the region has damaged its image as a protector, he said.
In addition, the escalation of social problems and of corruption in Russia, along with foreign policy setbacks like military casualties in Syria and the "overhanging" conflict in eastern Ukraine, has eroded Putin's popularity, Sultangaliyev said.
A continuing 'imperial' position
Overall, no abrupt changes to the Kremlin's policy toward Central Asian countries will occur, said Kairat Osmonaliyev, a Bishkek-based lawyer and member of the Kyrgyz Central Election Commission who served as an election observer in the March 18 Russian election.
The Kremlin will likely continue to attempt to strengthen the integration processes within the Russian-dominated Eurasian Economic Union (EEU) economic bloc, he told Caravanserai, referring to efforts to keep those countries economically dependent on Russia.
Dossym Satpayev, director of the Kazakhstani think tank Risk Assessment Group and a political scientist from Almaty, also doubts the election results will affect Russia's policy in the post-Soviet space.
"The aggression-based policy started by the current president will remain," Satpayev told the Kazakh-language version of Qamshy.kz. "Russia will attempt to regain its former influence in the [Commonwealth of Independent States]."
"Russia's position will remain imperial, holding onto tactics of interference in other states' affairs," Almaty-based political scientist Rasul Zhumaly told the same news site.
However the Kremlin will run into resistance in this regard. Central Asian leaders recently met for the first time without Russia, demonstrating that the region is unified, independent and working together, economists and political analysts say.
Russia to use migration as coercion tool
Meanwhile, Russia will continue to view Central Asian migrants with suspicion, mainly as a source of terrorism, observers say.
In recent years, Russian security agencies have accused Central Asian migrants of being recruited by the "Islamic State" (IS) terrorist group and convicted some of plotting terrorism in Russia.
Some destructive forces in Russia are manipulating cases of involvement of Central Asian nationals in terrorist acts committed in Russia, Osmonaliyev said.
Those forces are igniting inter-faith and inter-ethnic enmity and creating tension and conflict in society, he told Caravanserai.
"Certain politicians frequently use these techniques," he said. "In Russia, the issue of restricting immigration by Central Asians frequently comes up on central TV channels ... on the [pretext] of protecting Russians."
The Kremlin might use Central Asian labour migration to pressure regional countries that still have not joined the EEU, namely Uzbekistan and Tajikistan, he added. Kazakhstan and Kyrgyzstan are EEU members.
Citizens of EEU member states who come to Russia for work receive significantly more privileges and guarantees than do citizens of non-member Central Asian states, Osmonaliyev said.
"After the elections, Russia's migration policy will only get tougher in the interests of national security and also because of the need to reduce [Russia's] own unemployment," Sultangaliyev said.
Second-class people
Ordinary Central Asians also do not expect Russia to become more welcoming after the election.
"It's unlikely that our migrants will experience any improvement in their situation [under Putin]," Mirzokhid Khamdamov, a 39-year-old teacher from Tashkent, told Caravanserai.
"They have already worked in Russia for many years and have been treated like second-class people the entire time," he said. "But they are forced to put up with it to feed their families."
"The life of migrants should change," said Dilbar Alimova, a Khujand-based employee of the Chamber of Commerce and Industry of Sughd Province, Tajikistan.
"After all, with their labour they earn money and fill up the [Russian] treasury with work permit payments," she told Caravanserai.
[Arman Kaliyev contributed to this report.]