MOSCOW -- After facing pressure from nearly all of the international community, the Kremlin Tuesday (April 10) bowed to pressure and said it would propose a UN resolution to investigate alleged chemical weapons attacks in Syria, after Russia rejected a similar move from the United States.
The United States put forward a draft resolution Monday (April 9) to set up a panel tasked with identifying the perpetrators of chemical attacks in Syria following alleged toxic gas use in the rebel-held town of Douma that killed at least 80 people.
At least 500 patients were hospitalised afterward, the majority them women and children, according to a joint statement issued by the Syrian American Medical Society and the White Helmets, the volunteers who conduct search and rescue in rebel-controlled parts of Syria. First responders accused forces loyal to Russia-backed Syrian President Bashar al-Assad of using poisonous chlorine gas.
Moscow has insisted there is no evidence of a chemical attack despite being faced with numerous videos and pictures to the contrary.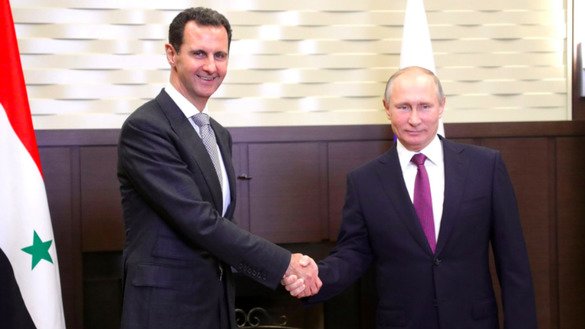 Similar resolutions proposed by Russia to investigate alleged chemical attacks have encountered criticism and rejection for trying to give the Syrian government an upper hand over investigations on its territory.
On Tuesday, the United States requested that the UN Security Council vote on the US resolution. The vote was set to take place 3.00pm EDT (1900 GMT).
Possible military action
The US administration Tuesday was poised to decide on possible military action against the Syrian regime, after vowing to respond "forcefully" to the latest alleged chemical atrocity.
The United States, backed by Britain and France, has said it is ready to act with or without support from the United Nations.
US Ambassador Nikki Haley said the "world must see justice done," and France warned it would retaliate against the al-Assad regime if evidence emerges that it was behind the attack.
"If the red line has been crossed, there will be a response," French government spokesman Benjamin Griveaux said.
Intelligence shared by President Emmanuel Macron and Trump "in theory confirms the use of chemical weapons", added Griveaux.
Syria regime allies bear 'particular responsibility' for the alleged chemical attack, said French Foreign Minister Jean-Yves Le Drian.
British Foreign Secretary Boris Johnson spoke with the acting US secretary of state, and according to London, they agreed that "this attack bore hallmarks of previous chemical weapons attacks by the [al-Assad] regime."
Those behind the killings of civilians in the Syrian rebel enclave of Eastern Ghouta would pay a "heavy price", after the alleged chemical assault, vowed Turkish President Recep Tayyip Erdogan Tuesday.
"I curse those who carried out this massacre. Whoever has done this, the perpetrators will be brought to account and certainly pay a heavy price," Erdogan told a meeting of his party in parliament.
Many other countries, including China and the Gulf Arab states, denounced the attack.
Russia-backed Syrian regime forces have carried out an offensive against Ghouta since February 18 that has killed more than 1,700 civilians and cornered rebels in Douma, their last holdout in Eastern Ghouta.