ASTANA -- Kazakhstani consumers of TV and other news media might soon see a new generation of public experts coming to the fore.
A project funded by the US Embassy in Astana is trying to raise the visibility of a new generation of scholars in Kazakhstan, many of whom have Western educations and fresh perspectives on the larger world.
The hope is someday that Kazakhstan's mass media will turn to the rising generation of commentators for opinions on politics, culture, the economy, sciences and many other topics.
"Kazakhstan has a perceptible, acute shortage of publicly visible experts, although in [Kazakhstan], the number of researchers who are well qualified, received a good education abroad and possess necessary experience grows every year," the US embassy said in a statement emailed to Caravanserai.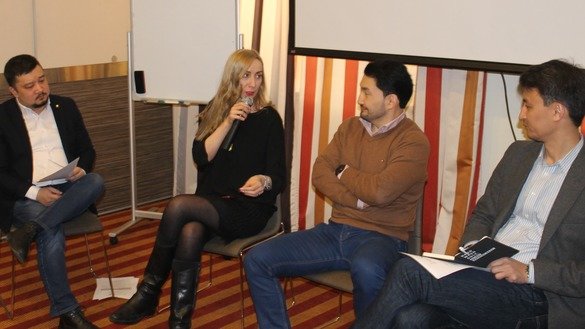 Raising the profile of specialists
As part of the new initiative, the US Embassy in Astana on March 31 organised a seminar for budding young experts associated with PaperLab, a public policy research group based in Astana.
The PaperLab team comprises 11 young specialists from Kazakhstan, Kyrgyzstan and Uzbekistan who all studied or interned at foreign universities.
They are carrying out applied research in political science, economics, sociology, cultural anthropology and international relations in a bid to raise the media profile of young Kazakhstani scholars.
Speakers and attendees, including journalists and members of NGOs, discussed the benefit of having specialists readily available to speak to the public about complicated topics. Kazakhstanis will better understand the information presented to them and be able to solve problems more efficiently, they said.
"This topic is very important and worthwhile," Paul Jukic, political counselor for the US Embassy in Astana, told Caravanserai. "Experts need to be able to speak and interact with mass media."
The embassy is planning more events to publicise the next generation of commentators in Kazakhstan, he said.
Keeping up with high speed of information
"Real steps are being taken" to create a population of commentators who can speak publicly on a variety of topics, said Marat Raimkhanov, a public relations consultant from Astana.
"Nowadays, information spreads amazingly fast," he told Caravanserai. "For people to understand this information, they require expert opinions and interpretations."
Kazakhstan "has a tremendous craving for new faces" on the news and in the public sphere, said Rakhim Oshakbayev, an Astana-based economist and director of the think tank TALAP Centre for Applied Research.
"I can already see a thick layer of younger experts who will make themselves known soon," he told Caravanserai.