TASHKENT -- Uzbekistanis are becoming more discerning when it comes to social media use and news media consumption, and consequently are losing trust in Russia-backed sources.
The recent revelation that Facebook removed hundreds of Facebook and Instagram accounts connected to a Russian "troll factory" accused of attempting to influence public opinion around the world -- including in Uzbekistan -- has further shaken any trust that remained.
The company said in a statement April 4 that it removed 70 Facebook accounts, 138 Facebook pages and 65 Instagram accounts, 95% of which were in Russian.
The rogue accounts and pages, which discussed domestic and international politics, came from the Russia-based Federal News Agency. That organisation is connected to a St. Petersburg "troll factory" called the Internet Research Agency (IRA), according to Facebook CEO Mark Zuckerberg.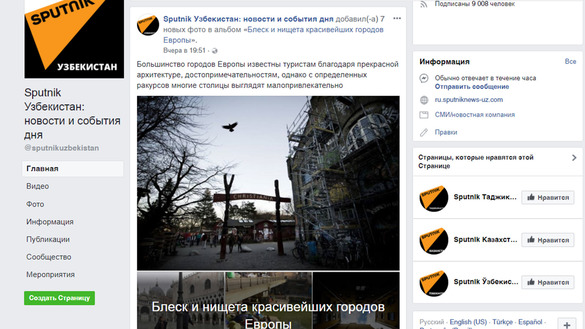 The now-defunct resources targeted readers in Russia, Kyrgyzstan, Kazakhstan, Uzbekistan and other Russian-language speakers around the world, Facebook said.
About one million users followed at least one of the bogus Facebook pages and about 500,000 followed at least one of the Instagram accounts, according to Facebook.
About 18,000 Uzbekistanis subscribed to these pages.
Malicious online activities
IRA activities are tied to the Kremlin through Yevgeny Prigozhin, a St. Petersburg-based businessman and ally of Russian President Vladimir Putin, according to various media reports in Russia and the United States.
Prigozhin also funds the Wagner Group, a group of mercenaries the Kremlin has employed to do Putin's dirty work in numerous conflict zones, including Ukraine and Syria.
On March 15, the US Treasury Department imposed sanctions against the IRA, Prigozhin and several other related individuals and entities involved in "malicious cyber-enabled activities".
The sanctions target Russia's "attempted interference in US elections, destructive cyber-attacks and intrusions targeting critical infrastructure", said Treasury Secretary Steven T. Mnuchin.
"These targeted sanctions are a part of a broader effort to address the ongoing nefarious attacks emanating from Russia," he said.
Influencing politics and mood
Facebook is one of the most popular social networks in Uzbekistan.
About 720,000 Uzbekistanis access Facebook monthly, according to the country's National Marketing Centre. When combined with Instagram, which Facebook owns, the number of visitors jumps to 1.6 million per month -- or 4.8% of the population of Uzbekistan.
"Facebook has much more influence on the people's politics and mood in Uzbekistan than it appears from the numbers," Bakhtiyar Ellikaliyev, an employee of a public relations agency in Tashkent, told Caravanserai. "It is precisely here where all the important subjects are discussed and conflicts that get the attention of politicians arise."
The majority of state institutions in Uzbekistan have their own pages on Facebook, including the office of President Shavkat Mirziyoyev. Other politicians have followed his example.
"In Uzbekistan, we hadn't heard much about the IRA; that subject wasn't on the agenda," Ellikaliyev said. "Therefore, news that the IRA was working secretly to influence Uzbekistanis became a subject of discussion. The majority of the Uzbekistani media reported about it."
"I heard that a big international uproar had flared up because of possible Russian influence on US elections," Andrey Tsoy, 21, a student from Tashkent, told Caravanserai. "But I never thought that this problem might touch us here in Uzbekistan."
Sputnik failing to gain traction
"The most active Russian news page on Facebook for residents of Uzbekistan is the Sputnik agency page," Ellikaliyev said. "Sputnik Uzbekistan publishes posts in Russian and Uzbek. Often they have a clearly expressed anti-American and anti-European bias."
In spite of all its efforts, however, the Sputnik Uzbekistan Facebook page is not very popular, with only about 8,100 fans.
Residents of Uzbekistan prefer to trust other media outlets, according to SocialBakers.com, a social media marketing company.
The most popular Facebook pages in Uzbekistan are the Radio Free Europe/Radio Liberty (RFE/RL) Uzbek Service, known in Uzbek as Radio Ozodlik, with almost 410,000 fans; and the BBC Uzbek Service page with more than 320,000 fans, SocialBakers data show.
Tashkent resident Munisa Abdullayeva, 35, explained why many Uzbekistanis do not turn to Sputnik for news or information.
"I don't trust Sputnik because its publications are very agenda-driven," she told Caravanserai.
Sputnik content contains "flat-out opinions from unknown political analysts", she said. "But everybody knows Ozodlik. Its correspondents do daring reports that have great resonance."
Fighting 'Russian propaganda'
Uzbekistanis today have access to 33 Russian TV channels through cable television, which is popular among city dwellers.
The selection of foreign, non-Russian channels is much smaller -- 13, of which there is only one news channel in the Russian language, Euronews. The others are recreational, including Discovery, National Geographic and Disney.
This reality concerns Uzbekistani citizens such as Aziz Khakimov, a blogger from Tashkent.
Khakimov called upon the authorities in Uzbekistan to more actively fight Russian propaganda and prohibit certain biased political broadcasts on television.
"Russian propaganda stretches its tentacles toward you and me through TV, the internet and mass media," he posted on his Facebook page April 4. "I think that we need to shield our population as much as we can from this extremely destructive, harmful information."
The post, a reaction to Facebook's revelation that "the work of the Russian 'troll factory' was aimed at residents of Uzbekistan, among others" (in Khakimov's words) received hundreds of positive reactions and comments.
"Super post; I wish they'd block all Russian TV in our country," wrote one reader, Konstantin Dozjdik.
"Thank God our youth do not watch Russian channels!!!" posted another, Dariga Ramazanova.