BISHKEK -- The Kyrgyz NGO Foundation for Tolerance International (FTI), with financial support from the UN Peacebuilding Fund, is carrying out a project called "Cameras in the Hands of Children" to involve youth in identifying and solving social problems.
Under the project, 8th-10th grade students will describe problems affecting their communities and make video clips to "help them get their message out", Bermet Malikova, the project co-ordinator in Chui Province, told Caravanserai.
"This is one of the most popular formats on the internet and social media, and is a very powerful instrument," she said.
The project started in February and will run until July 2019.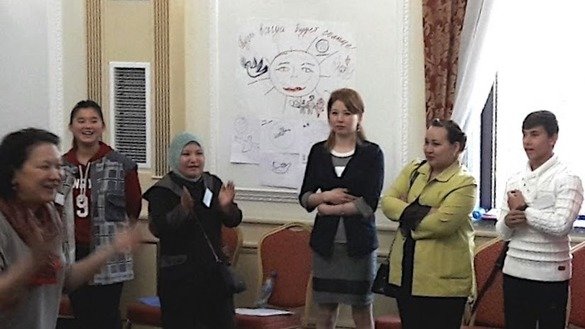 The budget of the project -- $592,000 (38.7 million KGS) -- enabled organisers to equip high school students with professional cameras and set up training sessions for them, said Malikova.
"We acquired 16 cameras altogether. We have four provinces involved in the project, with four schools in each province: Chui, Osh, Jalal-Abad and Batken provinces," she said.
Upon completing training sessions scheduled in April and May, the children will develop their first scripts and film their first videos either in May or in September after summer vacation, according to Malikova.
The plan is to eventually post the videos on various social networks.
Looking for story ideas
FTI focused on areas where inter-ethnic conflict, the infringement of girls' rights and unemployment rank as top concerns among community members, according to Malikova.
"Girls have no [opportunities] to advance -- they have pressure put on them, parents do not encourage them to go to college -- and the problem of unemployment exists among youth nationwide," she said.
Doolot Eshmamatov, a high school student from the village of Soopkorgon in Osh Province, said he would like to cover public transportation problems.
In Soopkorgon, residents who do not own a car generally have to ride the costlier fixed-route taxis (marshrutki) because there are few buses and trolleys, he said.
"The problem is enabling marshrutki operators to keep their share and yet have ... more buses and trolleys in town," Eshmamatov told Caravanserai. "I want to raise this issue all over Kyrgyzstan and film videos on that topic."
Nurjan Jarkynbayeva from Tokmak, Chui Province, said she wants to publicise environmental issues.
"I could film … videos about how wonderful Kyrgyzstan could be if we contribute to that [goal] ourselves," she told Caravanserai. "People dump trash on the streets and then complain about dirty streets. They walk by filthy parks, break branches off trees and complain that the cities have no parks."
"I want more green parks in Tokmak," she said. "I have never seen such beautiful mountains and clean water [as in Kyrgyzstan], and our people don't appreciate having them."