TASHKENT -- Uzbekistanis have become increasingly attracted to domestically produced television over the past year, according to recent studies.
Based on a survey conducted by the Press and Information Agency of Uzbekistan (PIAU), only 5% of Uzbekistanis do not watch Uzbekistani-made television.
The entire country now has access to digital television, up from 95% last year, according to Uzbekistan's Ministry for Development of Information Technologies and Communications (MITC).
The goal is to completely switch from analog broadcasting to digital by December 5 this year to improve image quality, said the ministry in January.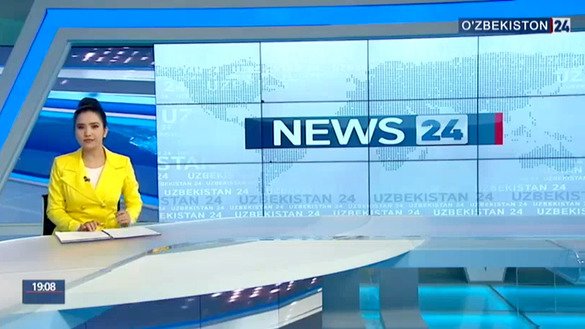 Presently, Uzbekistanis can watch, free of charge, 13 state-run and 9 private digital channels.
For an additional charge, Uzbekistanis can access 45 more TV channels in both Russian and English.
Uzbekistan experiences boom in television
Private television channels were virtually non-existent in Uzbekistan before President Shavkat Mirziyoyev came to power in 2016, according to observers.
Since then, five new privately run television channels have been launched. The two most popular in 2017 were Zor TV and Mening Yurtim, according to the PIAU.
"I very much like to watch the Uzbekistani TV shows ... on the private TV channels," Mukhlisa Azizova, an 18-year-old resident of Tashkent, told Caravanserai. "They talk about our life in the Uzbek language."
Those programmes "are no worse than foreign ones", she added.
Facing increased competition, state-run television has attempted to improve offerings, raising awareness about national issues and gaining new viewers.
"[We] used to laugh at state-run TV," Mirodil Nugmanov, a 33-year-old resident of Tashkent, told Caravanserai. "We said that all you could see on it was 'the sunny side of life'."
"Now state television has, once again, become interesting," Nugmanov said. "It airs criticism of the authorities, and it carries disputes over political, social and even religious issues."
Russia attempts to stay
As Uzbekistani television stations gain popularity, Russian channels that were popular in the past are battling to stay relevant. Many Uzbekistanis have access to foreign television through satellite or cable.
"After the collapse of the USSR, everyone kept watching Russia's Channel One out of inertia," Andrey Naumenko, a 42-year-old resident of Tashkent, told Caravanserai.
Little specific information exists on Russian television's market share in Uzbekistan. But anxious Russian television station owners have been attempting to court favour with Uzbekistani audiences.
On April 16, Russian Vice Minister of Communications and Mass Media Alexey Volin led representatives from Russian state-owned television channels in a meeting in Tashkent with Uzbekistani Minister of Development of Information Technologies and Communications Azim Akhmedkhadjaev.
Those taking part included Russia's Channel One, the All-Russian State Television and Radio Broadcasting Company (VGTRK), RT and Russia-24.
The discussion involved, among other topics, the creation of a joint Uzbekistan-Channel One television channel in Uzbekistan, according to Russian news agencies like TASS.
However, Uzbekistan's MITC mentioned no such effort in its own press release.
The parties discussed exchanging technologies and knowledge as well as having Russian filmmakers produce movies about Uzbek historical figures, according to the statement.
'Wishful thinking'
"Because of censorship, state-run TV channels were not very interesting and did not enjoy much popularity. Russian TV channels filled this vacuum... and became popular thanks to their entertaining programmes," Feruzkhan Kamilov, an employee at an advertising agency in Tashkent, told Caravanserai.
"It seems to me that the Russian side is expressing wishful thinking," said Kamilov, speaking of the recent meeting.
"A previous attempt by Russians to gain a foothold in the Uzbekistani market ended in failure," he said, referring to an entertainment channel created by Russian TV channel CTC in 2006 with Uzbekistani partners.
The channel, of which CTC owned a 51% stake, stopped broadcasting in 2013, said Kamilov.
"And that was back when virtually no competitors existed," he said. "Now it's going to be even tougher."
Young Uzbekistanis seeking entertainment and news are reluctant to follow Russian media.
"Russian television is very popular among the older generation. [Russian] news anchors ... brainwash our parents, and then it becomes very difficult to talk with them. People my age prefer the internet, not television," Artem Dyo, a 23-year-old resident of Tashkent, told Caravanserai.