ASTANA -- Kazakhstan's Ministry of Information and Communication is urging the nation's citizens to register their cell phones by the end of this year.
The deadline is December 31. Authorities have not announced the penalty for not meeting the deadline.
"All end user devices for cellular communications that have an identification code assigned by the manufacturer, and that operate in the cellular communication networks inside Kazakhstani borders, are subject to registration," a statement from the ministry said, Tengri News reported April 18.
The International Mobile Equipment Identity (IMEI) code of each phone will be linked to the personal data of each specific user, according to the ministry. The information will be kept in the Unified Database of the State Radio Frequency Service.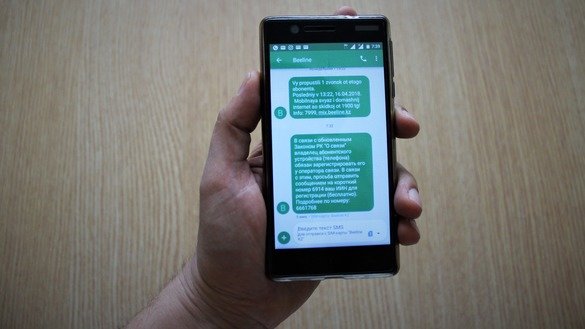 "Registering IMEI codes for mobile communication devices was introduced in Kazakhstan two years ago in order to help fight terrorism," Ruslan Seksenbayev, a political scientist from Taraz and director of the Beibit Aspan (Peaceful Sky) NGO, told Caravanserai.
However, device codes alone do not provide information about the user, he said.
"That is why the cell phone's IMEI code, the subscriber's telephone number and the subscriber's personal information will all be [stored together]," he said.
The collected information also will help law enforcement personnel find lost or stolen cell phones through their IMEI codes, Seksenbayev said.
This information will help authorities detect and prevent crimes related to terrorism, he said, adding that "Sometimes mobile phones are used to detonate bombs."
Identifying mobile users
"Every mobile phone has a serial number and IMEI code," Bolat Iskakov, an IT specialist from Astana, told Caravanserai. "This code is in an international format. It is unique to each telephone, and is 'engraved into it' by the manufacturer -- it can't be changed."
All Kazakhstani mobile phone devices and their owners will be registered in a single database, he said.
"Finding out an IMEI code is very simple -- all you need to do is dial the combination *#06# into your phone, and the code is displayed on the screen," Iskakov said.
If a telephone is designed for two SIM [subscriber identity module] cards, then there will be two IMEI codes, he said.
"There will be several options for users to provide their information: sending a text message, calling the operator, visiting a service centre, through a website or by using a mobile application," Alexey Bendz, spokesman for the Beeline mobile service provider, told Caravanserai.
"The initial reaction [to the decision] was negative," said Alina Berdanova, a resident of Astana.
To cell phone users, it looked like another requirement to report personal data, another form of government monitoring of citizens and another waste of time, she told Caravanserai.
"But [authorities promised] that [the registration process] won't require more than a few minutes to set up," Berdanova said. "For the sake of security, we can do this."