TASHKENT -- As Uzbekistan's reformist president prepares to conduct his first official visit to Washington, interest is peaking among Uzbekistanis hoping to see more prosperity and security from teaming up with the United States.
President Shavkat Mirziyoyev's visit to Washington is scheduled for May 15-17. He plans to meet with US President Donald Trump and US officials at the State Department, Department of Defence, Congress and the World Bank.
The two presidents plan to adopt a joint resolution on "Uzbekistan and the United States of America: The Beginning of a New Era of Strategic Partnership", according to Mirziyoyev's press office.
Topics of the "historic" summit will include "Uzbekistan's progress on implementing important reforms, enhancing trade and investment, and addressing the regional security situation, including developments in Afghanistan," the White House said in a statement.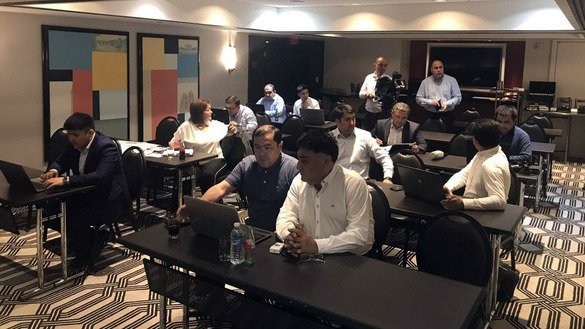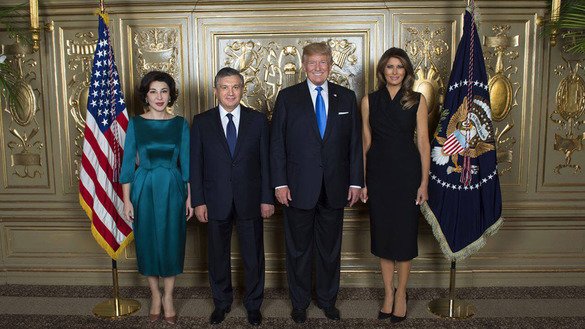 This is Mirziyoyev's second trip to the United States. He was in New York last September for the 72nd session of the UN General Assembly.
During that trip, Mirziyoyev signed contracts with American corporations worth $2.6 billion (20.9 trillion UZS).
Strengthening security co-operation
Uzbekistan and the United States plan to devote considerable attention to security co-operation, according to Mirziyoyev's press office.
In the run-up to these talks, Mirziyoyev Saturday (May 12) received Gen. Joseph Votel, commander of US Central Command, in Tashkent.
Mirziyoyev and Votel discussed security and military co-operation, including a peaceful settlement in Afghanistan.
They "expressed the firm conviction that the Uzbekistani president's upcoming visit to the United States will bring the Uzbekistani-American partnership to a qualitatively new level", Mirziyoyev's press office said.
The conference with Votel marked the second time this year that a top US uniformed officer has met with Uzbekistani officials.
On February 22, Lt. Gen. Jeffrey L. Harrigian, commander of US Air Forces Central Command, Southwest Asia, visited Tashkent.
Covering a 'historic' visit
Uzbekistani media outlets have placed a high priority on covering the summit.
In Washington, Mirziyoyev's press office has established a field pressroom for a group of 80 Uzbekistani journalists, translators and other media personnel who arrived in the United States ahead of Mirziyoyev's visit.
They set up the hashtag #UzbUSA2018 for all coverage of Mirziyoyev's trip on social media.
"The upcoming visit by President Mirziyoyev is truly historic," Richard Norland, a former US ambassador to Uzbekistan who now serves as foreign policy adviser to the chairman of the Joint Chiefs of Staff, told Uzbekistani journalists in Washington Saturday.
"I know many people in Washington who are interested in developing strategic relations with Uzbekistan," he said.
Mirziyoyev is arriving at a time "when he can offer a lot to the American side", said Aparna Pande, a research fellow at the Hudson Institute, a Washington-based think tank.
"In many respects Uzbekistan has opened up in terms of social policies, protection of human rights and the economy," she said at the pressroom Saturday. "Uzbekistan is open to outside investments and wants to expand its foreign trade."
Uzbekistani state-run TV channel Uzbekistan 24 devoted its Saturday evening prime time to an exclusive interview with US Ambassador to Uzbekistan Pamela Spratlen, who discussed the upcoming state visit and development of the two countries' ties.
A video of Spratlen's interview was posted on Mirziyoyev's official Facebook page, where more than 23,000 people have watched it in the first three days it was published.
High expectations for improved bilateral relations
At home, Uzbekistanis are hoping for bilateral relations to flourish.
"There were years when our government distrusted the United States," Nigora Mamadaliyeva, 32, of Samarkand told Caravanserai. "However, that is all over now, and I would like for our countries to trust each other more and to simplify visa requirements."
Some citizens hope the meeting will bring more joint economic ventures and US investments to Uzbekistan.
"If [US] business executives invest in Uzbekistan, we will have an economic boost," Azamat Yirchayev, 21, of Tashkent told Caravanserai. "Plants owned by General Motors and Coca-Cola have been operating here for many years now."
More major US companies are set to enter the Uzbekistani market this year.
"[Mirziyoyev's] upcoming visit is causing unparalleled interest among the country's residents as Mirziyoyev's foreign policy is one of the strongest points in his entire set of policies," Tashkent-based political scientist Valerii Khan told Caravanserai.
"Uzbekistanis are waiting for American investments to improve their living standards and want an increased sense of security thanks to friendly ties with ... the United States," he said.