ASTANA -- Negotiators for the Syrian opposition rejected a proposal to have a next round of peace talks in Russia, citing years of indiscriminate Russian bombing of Syrian civilians and continuing support for a dictator who uses chemical weapons against his own people.
The guarantor countries of those talks -- Russia, Turkey and Iran -- are planning to hold those next talks in Sochi, Russia, in July.
The decision was made during the ninth round of Syria negotiations held in Astana Tuesday (May 15).
"We want negotiations to take place in Astana and only in Astana. If the guarantor countries want to hold another meeting in another country that is up to them," said Ahmad Toma, leader of the Syrian opposition delegation, according to AFP.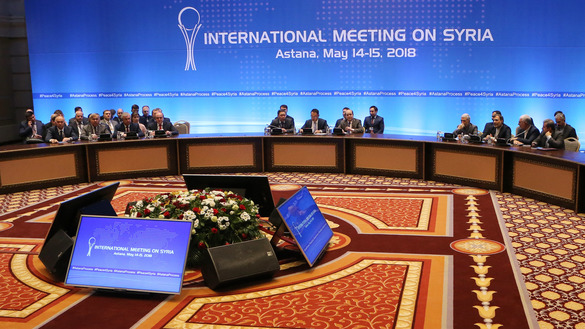 After facing resistance, Russia's chief negotiator Alexander Lavrentyev responded by saying the country where the talks take place in "isn't important" and that other groups might attend the Sochi meeting.
Russia killing Syrians
Russia is not fit to serve as a venue for peace talks on Syria, emphasised Yasser Abdul Rahim, another member of the Syrian opposition delegation.
"[Russian-backed Syrian government forces] are forcibly relocating people and threatening them," said Abdul Rahim, according to Kursiv.kz. "[You] either subordinate yourself to Bashar [al-Assad, president of Syria] or you're killed."
The Russian air force is bombing schools and hospitals under the pretext of fighting extremist groups, said Abdul Rahim.
A recent report backs up that claim, concluding that a mere 14% of the nearly 7,000 Russian air strikes conducted in Syria targeted the "Islamic State" and other extremist groups, while the rest targeted opposition groups.
"Russia should examine its position, what it wants," he continued.
"Does it want to keep killing Syrians [via operations from] the military base in Khmeimim? If it invites us to negotiations in Sochi, we won't go there," he said, referring to the base in Syria that Russia uses to launch air strikes.
Moscow is no neutral party in conflict: observer
The Syrian opposition trusts Astana because Kazakhstan is a centrally situated neutral state that offers a venue for an equitable dialogue, said Rasul Zhumaly, an Almaty political scientist.
On the other hand, Russia has been fighting in Syria on behalf of its government since 2015. The Kremlin has also used its veto at the UN Security Council to suppress investigations of alleged Syrian use of chemical weapons against civilians.
The Syrian opposition in January boycotted an earlier attempt at holding a conference in Sochi on the Syrian conflict, reported Radio Free Europe/Radio Liberty.
The Syrian opposition's decisions stem from a distrust of Russia, which is an interested party to the conflict and no neutral broker, said Zhumaly.
"The decisive refusal to participate in negotiations in Russia ... shows complete disillusionment with Moscow's policy and an understanding that the Kremlin cannot be an intermediary on this issue," he said.