ALMATY -- An art exhibition recently opened in Kazakhstan featuring an unlikely group of artists: imprisoned former extremists.
"For five years we have conducted rehabilitation work with these people who have been incarcerated in Pavlodar Province prisons," Gulnaz Razdykova, director of the Pavlodar Province Centre for Analysis and Development of Interfaith Relations, told Caravanserai. "This means daily, painstaking work by psychologists, imams and religious scholars."
Razdykova and her team have been working to rehabilitate about 80 inmates in various prisons who were convicted of extremism and terrorism related crimes.
They were mostly young men from Kyzylorda, Shymkent, Almaty Province and Atyrau -- even some who participated in the deadly terrorist attack in Aktobe in 2016, she said.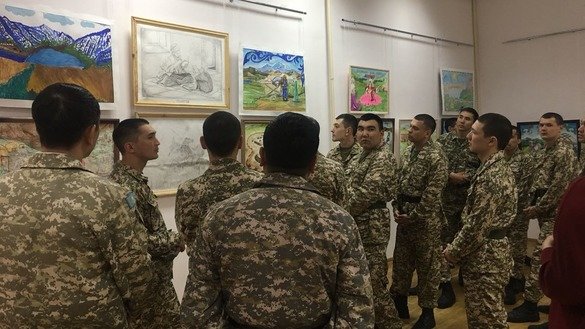 During psychological counselling, the convicts came to have a sense of responsibility for their actions, she said.
Specialists worked on their sense of self-worth, fostering in them an awareness that everyone can change. They also devoted attention to developing their critical thinking skills, a lack of which led to them joining radical groups, Razdykova said.
A chance to grow
After a number of sessions, 23 of the convicts expressed their desire to participate in an art exhibition, Razdykova said.
The participants, all between the ages of 18 and 50 and serving prison sentences for terrorism, each displayed a work of art May 3 at the Pavlodar Provincial Art Museum.
"Our exhibition's mission was to give each participant a chance to correct [the values that led them to embrace extremism]," Razdykova said.
"They want to communicate with the public, to atone ... for their deeds and views," she said. "They ask us to tell their relatives that they are not just serving their time but are changing from within."
According to Razdykova, 900 visitors attended the exhibition, most of them high school and university students and the convicts' relatives. Members of Kazakhstan's Union of Artists who also attended complimented the artists' technique, she said.
Gallery visitors were surprised that individuals who committed such terrible crimes had the ability and desire to make art, Razdykova said.
The paintings portrayed the traditions and customs of the Kazakh people through the depiction of men and women in bright folk costumes, mosques, landscapes, and symbols of the state such as the Akorda (presidential palace), she said.
Replacing extremist values
Arat Narmanbetov, a National Security Committee (KNB) reservist colonel from Almaty who has studied many accounts of the rehabilitation of extremists, said he had never encountered anything like the exhibition before.
"I think that this is a terrific start, given how often rehabilitation work in prisons is superficial," he told Caravanserai. "This kind of work must be supported, as it changes you from within."
"Well done psycho-therapeutic and professional rehabilitation work culminates in the development of creativity... in the person undergoing treatment," Anna Kudiyarova, director of the Institute of Psychoanalysis for Central Asia in Almaty, told Caravanserai.
"The paintings were vibrant, which speaks of the vastly rich inner lives of those undergoing rehabilitation," she said, adding that the convicts have clearly had time to think and to adopt new values.