TASHKENT -- Uzbekistan and the United States have declared a new era of strategic partnership heralded by a raft of agreements inked during Uzbek President Shavkat Mirziyoyev's first official visit to Washington.
During the May 15-17 visit, Mirziyoyev and US President Donald Trump agreed on large-scale contracts, co-operation in national security and cultural exchanges, and US support for Uzbekistan's accession to the World Trade Organisation (WTO).
The meeting between the two presidents, which was widely broadcast on Uzbek television and on Facebook, was watched by hundreds of thousands of people, local media reported.
"There is a huge Uzbek diaspora in the United States, and we have very close ties with it. I am very glad for our president, he made the right choice," Kamola Saidmukhamedova, 27, of Tashkent, told Caravanserai.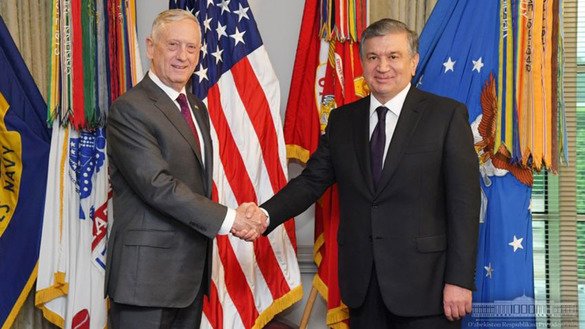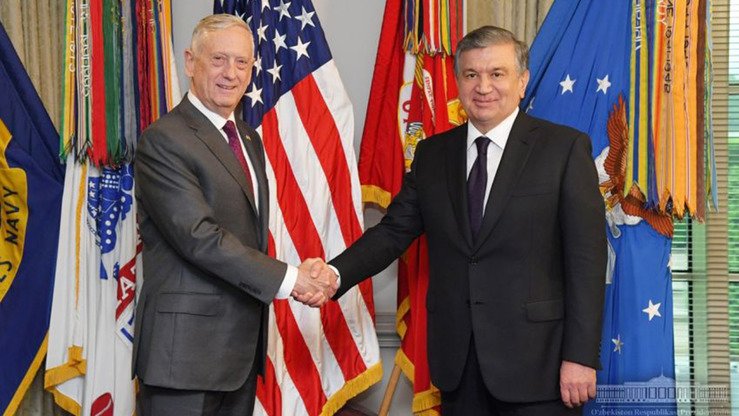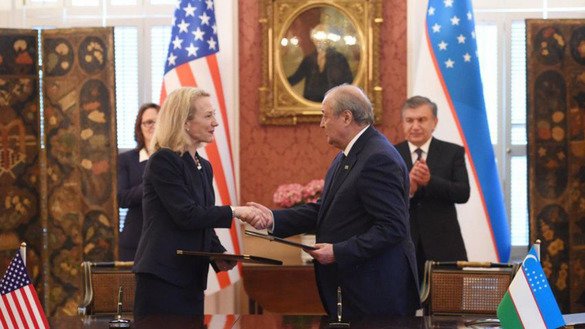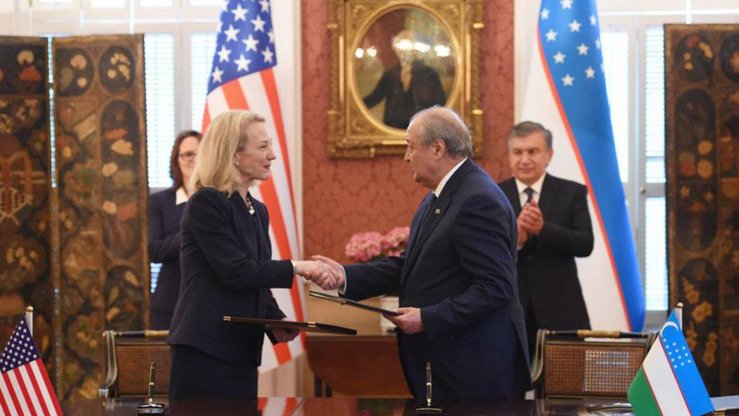 Uzbek poet Yulchi Ruziyev, inspired by the meeting between the presidents, wrote a poem called "Uzbekistan-America" and posted it on Mirziyoyev's Facebook page. He expressed joy about the beginning of warm relations between the two countries.
"This agreement can rightly be called 'historic' because for the first time in many years Uzbekistan is taking a clearly and precisely stated position vis-à-vis the United States," Tashkent-based political scientist Umid Asatullayev told Caravanserai.
"From now on, Uzbekistan has made it clear to the world that the United States is an important and valued partner," he said.
Boosting trade, improving business environment
"President Mirziyoyev pledged to create favorable conditions for businesses in Uzbekistan, to open its markets for [US] companies and investors," said a White House statement on the meeting.
Uzbekistan and the United States signed more than 20 major contracts which, if implemented in full, are worth $4.8 billion (38 trillion UZS).
The number of jobs created in Uzbekistan as a result has not been calculated, but some American companies have already announced new projects there.
On May 15, Uzbek company Jizzakh Petroleum and US company Honeywell UOP signed licensing and engineering agreements on the construction of an oil refinery in Jizzakh Province that is expected to process 5 million tonnes of petroleum per year.
US company General Electric May 16 announced that it had reached agreement with Uzbek company Uzbekenergo on building a power generation unit at the Tashkent Thermal Power Station with a capacity of 660MW.
The Uzbek Foreign Trade Ministry concluded other deals with American partners during Mirziyoyev's visit.
For example, US company WCC International agreed to carry out a joint project to provide the US market uninterrupted access to Uzbek goods. Part of the plan is to promote such goods on electronic platforms, particularly on Amazon.
"We have already made a certain amount of progress on ... this issue," said Uzbek Minister of Foreign Trade Jamshid Khodjaev in a statement May 17. "We are now holding talks with Amazon management and working out draft memoranda."
Helping Uzbekistan join WTO
Another key outcome of the meeting between Mirziyoyev and Trump was an agreement for US assistance in helping Uzbekistan ascend to the WTO.
The United States will provide support and assistance for Uzbekistan's reforms to liberalise its trade regime for accession to the WTO, according to a statement from Mirziyoyev's official website.
As part of the agreements, USAID will provide hands-on assistance to the Ministry of Foreign Trade.
"WTO membership can send an important signal to the world that Uzbekistan is a member of the international trading community and that the country is, in fact, open for business," USAID Country Director for Uzbekistan Gary Robbins said at a workshop on the ascension process on May 14 in Tashkent, according to a US embassy statement.
"Uzbekistan's accession to this body will increase two-way trade between Uzbekistan and other WTO members, including the United States," he added.
A 5-year military co-operation plan
Uzbek and US leaders also discussed strengthening defence ties through the implementation of a five-year military co-operation plan signed last year.
Mirziyoyev discussed the plan with US Secretary of Defence James Mattis at the Pentagon on May 17. He expressed his gratitude to Washington for being willing to work together and said his country is interested in exchanging experience and collaborating.
"Our five-year plan that was signed last summer supports our military-to-military co-operation," Mattis said during the meeting, according to a US Defence Department statement.
"Uzbekistan and NATO share common interests in regional security, and we look forward to working more closely with Uzbekistan on counter-terrorism and border security," he said.
Mirziyoyev and Trump also agreed on ways to manage regional security in Central Asia and on how to resolve the conflict in Afghanistan.
Mirziyoyev declared his strong support for the Afghan leadership and the Northern Distribution Network project, referring to NATO supply lines to Afghanistan via Central Asia.
"The United States has the strongest military in the world in terms of technology," Asatullayev, the Tashkent-based political scientist, told Caravanserai.
"Uzbek armed forces, for the most part, use older, Soviet armaments and Soviet battlefield tactics," he said. "We need to adopt modern experience, especially when it comes to using drones, robots and high technologies."
Opening doors to US media, educational institutions
The two presidents also agreed to cultivate ties between the peoples of Uzbekistan and the United States.
"The previous president, Islam Karimov, and his administration harboured distrust and banned American media outlets and NGOs from performing any activity [inside Uzbekistan]," Asatullayev said.
Under Mirziyoyev, Uzbekistan will now grant accreditation to the American Councils for International Education and to media outlets.
US Principal Deputy Assistant Secretary of State for South and Central Asian Affairs Alice Wells and Uzbek Foreign Minister Abdulaziz Kamilov May 17 signed two agreements in this area.
The first memorandum envisions launching a three-year exchange programme between Uzbekistan and US universities, while the second expands financing throughout Uzbekistan for programmes geared towards learning English. Further details of the programmes are still being worked out.