ALMATY -- The United Nations has launched a five-year project to help Turkey and Central Asian countries manage their natural resources and prevent environmental degradation.
The project, titled "Integrated Natural Resources Management in Drought-prone and Salt-affected Agricultural Production Landscapes in Central Asia and Turkey", was launched in May by the United Nations' Food and Agricultural Organisation (FAO) and Global Environment Facility (GEF).
"Desertification, degradation and salinisation of soils... is a big problem for this region," Viorel Gutu, the FAO sub-regional co-ordinator for Central Asia, said at a news conference in Almaty May 28. "Our joint project will help answer, from a scientific point of view, many questions associated with this problem and will help countries exchange their experiences."
As part of the project launch, the FAO opened a regional office in Almaty.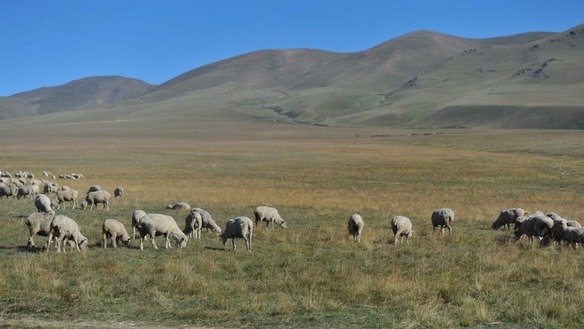 The cost of the project is $76 million, of which $11 million was invested by the Global Environment Facility (GEF), $12 million by the FAO, $43 million by the five Central Asian countries -- Kazakhstan, Kyrgyzstan, Tajikistan, Uzbekistan and Turkmenistan -- and $10 million by Turkey.
Increasing production, wiping out hunger
Around 815 million people, or 11% of the world's population, do not have enough to eat, according to Gutu.
The FAO's goal is to wipe out hunger by 2030, he said.
"By 2050, when the world's population will reach 9 billion, agriculture must produce 60% more than it does now," he said. "What does that mean for our economies? These are serious investments in agriculture. But there is also a serious degradation of natural resources. That's why today we are discussing ways that can help us conserve these resources for future generations."
"We are glad that all countries participating ... selected Almaty to host the office that will manage the project," Kairat Nazhmidenov, the FAO officer-in-charge for Kazakhstan, told Caravanserai.
Part of the FAO programme in Kazakhstan includes a planned pilot project that will see workers test sustainable methods of using water, soil and vegetation on demonstration plots, he said.
Kazakhstan will receive $2 million of the overall project funding to conduct the pilot project, Gutu said, adding that all Kazakh state scientific research institutes specialising in such issues will participate.
Pastureland must be saved
The degradation of natural resources, particularly pastureland, is a hot-button issue for Kazakhstan, according to Nazhmidenov.
The country has about 180 million hectares of pastureland, but about 20 million hectares has been degraded, he said.
"In Kazakhstan ... there are a number of livestock owners who primarily use the areas next to their villages, so the animals trample the land, it deteriorates and becomes desert," he told Caravanserai.
"We understand that for an area of pastureland as large as we have, enormous investments are needed," he said. "One of the project's tasks is to find and propose methods and technologies that will allow maximal use of pastureland."
But Kazakhstan must strive to use pastureland to the fullest without degrading the environment, he said.
That is why the FAO project will address two tasks at the same time -- development of agriculture on the one hand and improvement of the environment on the other, Nazhmidenov said.