ALMATY -- The Zhambyl provincial government has launched a project aimed at attracting tourists by bringing together more than 50 craftspeople from Taraz at one location in the city.
The artisans will gather on more than four hectares of land in Shakhristan, creating a "City of Artisans", Karlygash Aralbekova, director of the tourism department of the provincial governor's office (akimat) in Zhambyl, told Caravanserai.
"Historically, Taraz was divided into three zones: the Citadel, Shakhristan and Rabat," she said.
"The Citadel contained the palace for the city's ruler and the residences of those close to him. Shakhristan included the bazaar as well as workshops for artisans, and common folk lived in Rabat," she said.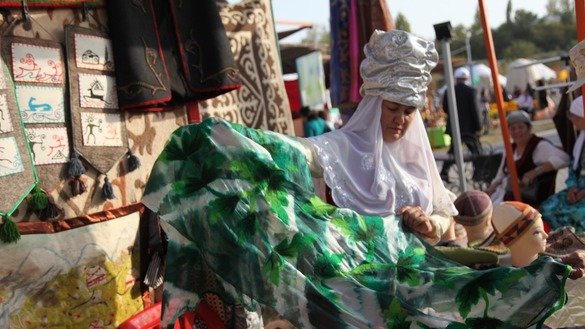 The new artisans' marketplace is scheduled to open at the end of October, Aralbekova said.
The City of Artisans will be built in the architectural style prevalent during the 8th and 9th centuries CE, with workshops for the artisans working there.
Visitors will be able to observe the craftspeople as they work, take part in crafting various goods and watch theatrical performances showing the daily life of artisans.
To create a historic atmosphere, artisans working in the new marketplace will wear folk costumes.
The national government will provide financial support for the initial development stage, Aralbekova said, adding that the cost of the project will be known after the finalisation of the construction plan.
The provincial government also launched the Association of Zhambyl Province Artisans to bring together all craftspeople in the province, she said. Members of the association will earn money not only by selling their goods but also by holding workshops and seminars for local residents and tourists.
More than 400,000 tourists visited the 2,000-year-old city in 2017, twice as many as in 2016, said Aralbekova, citing information from Kazakhstan's Migration Service Committee.
The provincial tourism department is hopeful that 300,000 more tourists will visit each year following the launch of the City of Artisans and a new ski resort, bringing the annual total to 700,000 visitors.
A historical crossroads
Historically, Taraz was a regional centre for trade and craftsmanship situated on the middle of the Silk Road -- a caravan route that connected East Asia with the Mediterranean in medieval times.
Now the city needs a "new story" to attract foreign tourists, Aralbekova said.
"There are some skills like jewellery crafting, for example, that have been preserved," she said. "The list of artisans we have also includes craftspeople that specialise in leather, wood, metal and felt."
Other ancient trades have been lost, prompting a search for substitutes.
For example, the glassblowing industry was highly developed during the 8th and 9th centuries CE but later went extinct in Taraz, she said.
"We have reached out to Italian glassblowers and plan on having them hold workshops to teach our guys how to make souvenirs," Aralbekova said.
Taraz also was famous for its silk weaving in part because it is in the only province in Kazakhstan where mulberry trees -- source of the raw material for silk -- grow.
However, that skill has been lost too, she said. To help bring it back, the provincial tourist department is in talks with Chinese artisans to run training sessions for their local counterparts.
Hand-made with love
Aygul Razakova, chairwoman of the Taraz-based NGO Aynalayn, is among the 50 craftspeople taking part in the City of Artisans. She specialises in sewing korpeshe (Kazakh quilts).
Great patience is required to sew a quilt out of individual pieces of cloth, she told Caravanserai. "The most important thing we put into our goods is our spiritual warmth."
Razakova said she has been selling her handmade goods to foreign tourists since 2005.
"Prices start from 15,000 KZT ($45) for one blanket," she said. "There are similar goods that cost a little less, but they're mass produced, without any love put into them, and not hand-made like ours."
Mothers used to teach their daughters how to sew korpeshe at the age of six, she said. "Our ancestors took it seriously, and it was an entrenched tradition."
"[We] need to tell this to the tourists; then they will want to take away a small piece of our history and culture back home with them," she said.