TASHKENT -- Russian intelligence services are likely behind a report published on a Russia-controlled website involving a falsified letter purportedly sent by Uzbekistan's Foreign Ministry to the US ambassador in Tashkent, analysts say.
The Kremlin-controlled Russkaya Vesna (Russian Spring) website May 16 published a story titled, "A bloodbath looms in Asia: 5,000 ['Islamic State'] IS militants already in Uzbekistan", written by Yan Ostroumov.
The report included a letter supposedly sent May 3 by Uzbek Deputy Foreign Minister Abdujabar Abduvakhitov to US Ambassador to Uzbekistan Pamela Spratlen.
In the English-language message -- which Uzbek officials say was forged -- Abduvakhitov cites his country's State Security Service (SGB) as saying that there are "almost" 5,000 IS terrorists in Surxondaryo Province, Uzbekistan.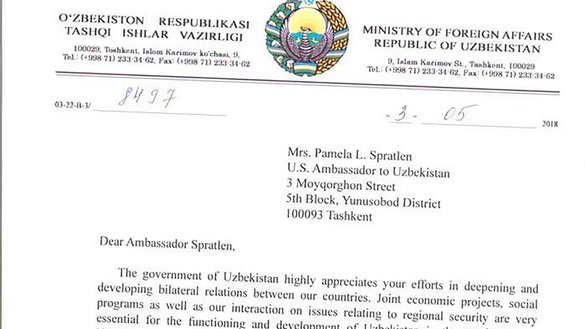 Abduvakhitov supposedly asks for "clarification on parameters for interaction between special and security services of our countries".
"The [letter] clearly carries [Tashkent's] rebuke of Washington, which is losing control over the situation in Afghanistan, leading to a growth of terrorism in neighbouring countries," wrote Ostroumov, an elusive figure whose byline appears only on the Russkaya Vesna site.
'A clear forgery'
Although Uzbek authorities have not officially commented on the validity of the letter, a source in Uzbekistan's Foreign Ministry told Caravanserai on condition of anonymity that "it is a clear forgery".
"Anyone who is familiar with the document flow in the Ministry of Foreign Affairs of Uzbekistan can realise that this document was not prepared in that agency. They are formulated completely differently," the source told Caravanserai.
The authors of the forgery obtained a scan of a real letter, used the real Foreign Ministry logo and Abduvakhitov's real signature, and pasted their phony content in the middle, said the source.
"But even from the text itself it is clear -- diplomats do not talk that way at that level," the source said. "If it was necessary to discuss a sensitive questiion, they would meet in person ... National security matters, as a rule, are discussed at the presidential level."
Surxondaryo Province residents also dismissed the letter's claims, having seen no signs of a thousands-strong militant surge.
"Everything is calm in Surxondaryo Province," Abduvalikhoja Nomozbekov, a resident of Termez, a city bordering Afghanistan, told Caravanserai. "Right now, there is an active programme of municipal improvement and housing reconstruction going on in Termez."
The province does not have "5,000 militants -- I don't think that even two could be found", he said.
Russian-backed media
The Russkaya Vesna website makes its allegiances clear.
Its About Us section prominently carries expressions of gratitude from Russia's military command in Syria and from the "information ministries" of the the self-declared, pro-Russian Donetsk and Luhansk People's Republics in Ukraine.
Among the site's partners is the "Parliament of Novorossiya", the legislative body of a short-lived confederation of the Donetsk and Luhansk entities.
Russian intelligence responsible
"There is no doubt that the Russian intelligence services are behind this fake," Tashkent-based political scientist Valerii Khan told Caravanserai.
"The obvious goal of publishing it is to drive a wedge between Uzbekistan and the United States," he said. "It's no accident that it was published on May 16, the day when the US and Uzbek presidents met [in Washington]."
Local media and independent political analysts in Uzbekistan hurried to expose the forgery. Kun.uz, the most visited news site in Uzbekistan, openly called the letter "fake" and blamed Russian media for disseminating it.
"We call upon representatives of the Russian media to exercise common sense and ask them henceforth not to engage in information-subversive activity aimed at Uzbekistan," Kun.uz expert Ulugbek Akbarov wrote May 17.
The popular state-run "Uzbekistan Today" also accused the forgers of trying to whip up "mass psychosis" in Uzbekistan.