BISHKEK -- Kyrgyz citizens are taking a vocal stance on the importance of protecting women's rights and denouncing the practice of bride kidnapping after the shocking murder of a young woman in Chui Province last month.
Medical student Burulai Turdaaly Kyzy was stabbed to death in a local police station May 27 as she prepared to give evidence against her suspected abductor.
The accused, a native of Talas, allegedly wanted to kidnap Turdaaly Kyzy for marriage. When police brought the pair to the police station in Jayyl District, Chui Province, the man stabbed Turdaaly Kyzy and then himself, according to law enforcement and local news.
Sources varied on whether Turdaaly Kyzy was 19 or 20 and whether her suspected killer was 29 or 30.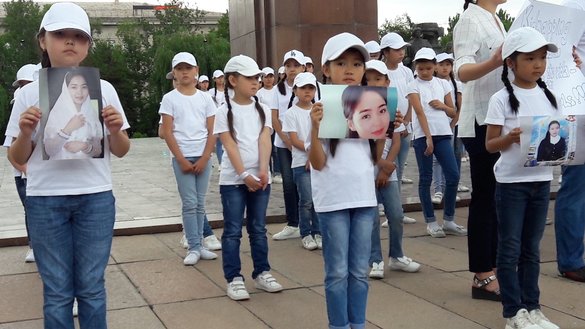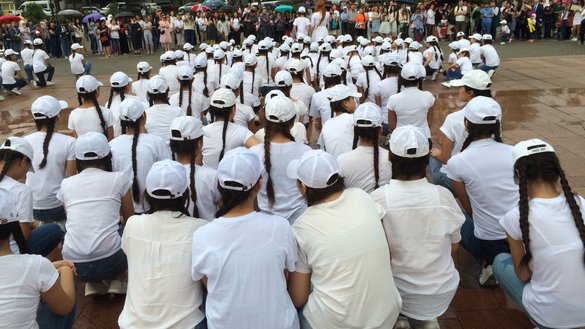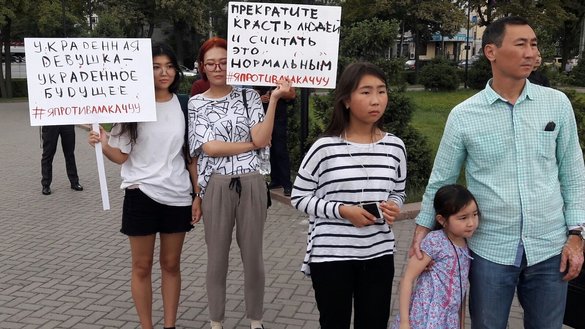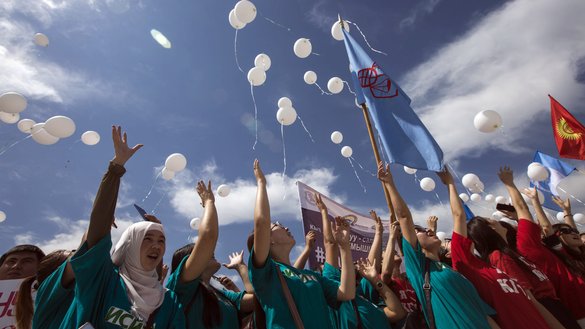 After receiving treatment in the hospital for his self-inflicted wounds, the suspect was jailed in Bishkek to await trial, 24.kg news reported Wednesday (June 13).
Law enforcement confirmed his detention.
An estimated 12,000 women and girls are abducted every year in Kyrgyzstan -- often with the connivance of their relatives -- and offered to a potential husband, according to the UN.
Calls for justice
The incident sparked widespread condemnation and calls for action to protect women and bring those responsible or complicit in Turdaaly Kyzy's case to justice.
President Sooronbai Jeenbekov June 5 demanded punishment for the guilty, and Prime Minister Muhammedkaly Abylgaziyev called for fundamental change in attitudes towards bride kidnapping.
A series of rallies have taken place nationwide.
On June 6, demonstrators in Bishkek held white balloons and posters bearing slogans such as, "We are against bride-stealing" and "Allow girls a chance to be happy", AFP reported.
Event organisers put the turnout at 1,000 to 1,500.
It is time "to radically change attitudes" towards the "shameful phenomenon" of bride kidnapping, said Education Minister Gulmira Kudaiberdiyeva.
"We need to stop giving away our girls against their will," she said at the demonstration. "There are already good laws, but we need to work with the parents of young people to change their consciousness."
'No!' to violence against women
Politicians, artists, human rights defenders and dozens of Bishkek residents, dressed in white to symbolise freedom, demonstrated June 9 at a second rally under the slogan "We Are for Women's Rights".
"Today we are saying 'No!' to violence," said Assol Moldokmatova, one of the organisers of the campaign.
"I really want for our young women not to experience violence and to live under conditions where they are not kidnapped and forced into ... early marriages," she told Caravanserai. "A woman should be able to make her own choice. This is why we came today and are honouring the memory of Burulai."
Demonstrators called on lawmakers to strengthen punishment for abductors who force women to marry them.
"We need to review the country's law on women," Moldokmatova said, suggesting that authorities revise that existing law and rename it Burulai's Law in honour of the slain woman.
Roza Otunbayeva, a former Kyrgyz president, spoke at the demonstration, urging women to care for their daughters, to respect their personalities and not to demand that they get married at an early age.
"We women in the cities and villages bear the responsibility for our girls being stolen," she said. "Where is our attention focused? Why aren't we protecting our daughters?"
'We must react'
Turdaaly Kyzy's slaying "opened up a gaping wound in our society: the problem of bride kidnapping", said Eliana Maryam Satarova, editor-in-chief of Kyrgyzstan's only Muslim magazine, Ummah.
"I want these incomprehensible remnants of the past to disappear from Kyrgyzstan," Satarova told Caravanserai. "I can say without any doubt that Islam is against kidnapping brides. Violence is unacceptable."
"We must respond," said 18-year-old Bishkek resident Diana Jusupbekova. "I decided to do something and joined this campaign... Being passive in such a situation is monstrous."
Bishkek native Ilyas Estebesov, 32, agreed that "taking a civic position is essential".
"I want to see this kind of civil movement take root in our country and to participate in it," he told Caravanserai, expressing hope that "more-specific measures will stem from [this] demonstration."
Kyrgyzstan's National Plan on Gender Equality, approved by the government in December 2015, must be enforced, argued Tolekan Ismailova, a human rights defender from Bishkek.
"We need an action that will make a difference in society," she told Caravanserai.
Police passivity alarms human rights defenders
The most terrifying aspect of Turdaaly Kyzy's case was that she was slain inside a police station, where civilians seek protection, said Ismailova.
Police were culpable in allowing the woman's slaying to occur, admitted Interior Minister Kashkar Junushaliyev. At least 23 police officers received disciplinary and administrative penalties, including dismissal, 24.kg reported.
"The police were complicit in a murder," agreed Ismailova, adding that no acceptable excuse exists for what happened.
"As soon as Burulai entered the district police station, the investigators were supposed to guarantee her safety," she said. "But the police, operating under patriarchal traditions, allowed her to be left alone with the assailant."
Human rights organisations are determing "how much time the victim was with the assailant and for how long the police officer left them alone", Ismailova said.
"We have expressed our indignation on social networks and consulted lawyers," she said.
It is very important to understand "why law enforcement agencies, which received tremendous sums of money to implement reforms in their ranks, do not enforce the law", she said.