TASHKENT -- International and regional scholars and local youth participated in a conference this week in Uzbekistan to discuss ways to involve young people in efforts to prevent violent extremism, radicalisation and terrorism.
The event, titled "The Role of Youth in Preventing and Countering Violent Extremism and Radicalisation That Lead to Terrorism", was held in Tashkent and Samarkand Monday-Tuesday (June 11-12).
The Organisation for Security and Co-operation in Europe (OSCE), United Nations (UN) and Uzbekistan's parliament organised the conference, which brought together analysts from international organisations and representatives from Central Asian states and Europe.
Participants included OSCE Secretary General Thomas Greminger, UN Office of Counter-Terrorism Director Jehangir Khan, UN Secretary-General's Envoy on Youth Jayathma Wickramanayake and European Union Special Representative for Central Asia Peter Burian.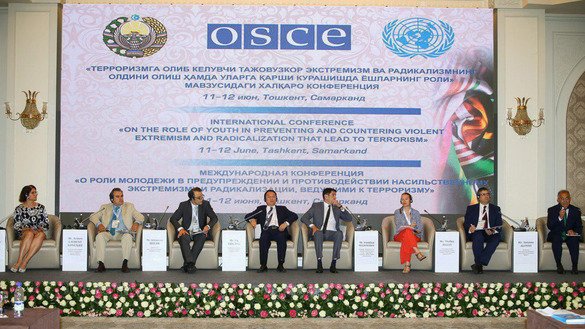 Encouraging youth participation in anti-terror activities
The conference's goal was to develop recommendations for involving youth in preventing violent extremism and radicalisation that can eventually lead to terrorism.
Analysts proposed involving youth in anti-terrorism actions through education, mass media, art and sports.
Three working groups formulated political recommendations for countries in the region, taking into account their specific conditions.
For example, the radicalisation of Uzbek youth is closely tied to labour migration, according to one analyst.
"Living in a foreign environment with a foreign culture, the younger generation falls under the influence of extremists," Kakhramon Kuronboyev, chairman of Uzbekistan's Youth Union, said at the conference in Tashkent June 11.
"Our primary task is to establish constant contact with youth abroad," he said.
Fighting extremist propaganda online
Speakers at the conference highlighted the growing problem of youth radicalisation and recruitment through militant propaganda online and via social media.
Online propaganda has a very powerful effect on youth, said Kangin Guo, an advisor at the UN Counter-Terrorism Centre. "We must set up a programme to counter this threat."
To that end, the Uzbek Centre for Studying International Threats, in co-operation with the OSCE, presented a new website during the conference -- stopterror.uz.
The website contains information on extremism for parents of teenagers and for labour migrants abroad, the project's creators explained.