ASTANA -- The Kazakh Journalists' Union sent a strong message against censorship and state interference when it awarded Telegram messaging app creator Pavel Durov for resisting Russian censorship and the Kremlin's efforts to monitor users.
It praised Durov "for his principled position against censorship and against interference by the state in free exchange of information by [users] on the internet" on June 21.
Russia's censorship agency, Roskomnadzor, in April began enforcing a court-ordered ban on the popular app after Durov refused to provide Telegram's encryption keys to Russian security services.
The court told Durov that the government would lift the ban if he complied with the Federal Security Service (FSB)'s requirements and handed over the app's encryption keys.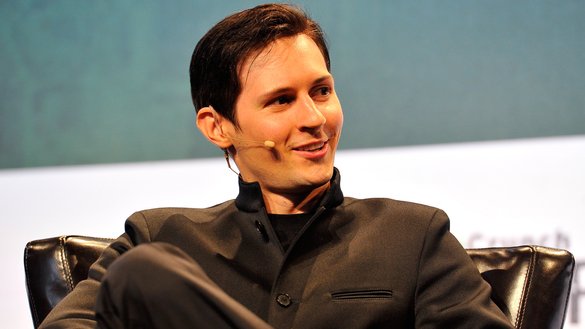 Durov subsequently declared that the demands made by Russian authorities "were incompatible with protecting ... private life and a policy of confidentiality".
Durov left Russia in 2014 with no intentions of returning, he told TechCrunch in an interview that year.
"Unfortunately, the country is incompatible with [the] internet business at the moment," he said.
Durov, who also founded VKontakte.com, Russia's top social network, was among the top 200 richest business leaders in Russia in 2016 and 2017, according to Forbes magazine. In 2018 Durov was listed as being worth $1.7 billion, taking 58th place in the ranking.
Russia has 'gone too far' -- Kazakhs, Kyrgyz agree
Out of principle, it is important for Kazakh journalists to express their position against Russian censorship, said Tanat Kojmanov, a journalist from Almaty and former director of the Kazakhstan Association of Publishers and Distributors of Print Media.
"The demand to open access to a popular messaging app is a demand to gain access to private lives," he said. "By trying to expand and strengthen its control over the information space, Russian intelligence services have obviously gone too far. Blocking Telegram is an attack on the freedom to receive and spread information, which are basic human rights."
The award given by the Kazakh Journalists' Union to Durov for his fight against censorship is "a decision that is justified, timely and of vital importance", said Azamat Kasybekov, chairman of Kyrgyzstan's Union of Journalists, which is not affiliated with the government.
"Although Durov is not a journalist, he contributed to freedom of speech, since internet resources, including social networks and messaging apps, are one of the main sources of information and fulfill the role of mass media," he told Caravanserai. "He did that despite pressure from the authorities."
The Kremlin is trying to block Telegram as part of its efforts to control information, Kasybekov said.
Luckily, no method of censorship is 100% effective, he added.
"Absolute control is impossible," he said. "Those who want to freely exchange their opinions go to the internet and use those platforms where there is less control and where they can write about whatever they want -- or they will find ways to get around obstructions."
Ceaseless attacks on freedom
"By attempting to block the Telegram messaging app, the Russian authorities are launching the latest in a series of attacks on online freedom of expression," Denis Krivosheev, Amnesty International's deputy director for Europe and Central Asia, said in a statement April 12.
"Over the past few years, the Russian authorities have been constantly attacking the few remaining platforms that support free expression," he said.
"In recent years the Russian authorities have steadily targeted the country's few remaining spaces for freedom of expression," continued Krivosheev in the statement. "They have blocked news sites that criticize them, imposed draconian data storage rules and declared media outlets registered outside Russia as 'foreign agents'."
Amnesty International and another 25 international organisations, in an open letter dated April 30, urged Russia "to stop blocking Telegram and cease its relentless attacks on Internet freedom more broadly".