DUSHANBE -- Tajikistan "should look to providing entrepreneurs and potential investors with sufficient confidence to choose the country as their preferred site of business" to take advantage of new development opportunities, according to a World Bank report released Monday (June 25).
The report, titled "Making the National Development Strategy 2030 a Success: Building the Foundation for Shared Prosperity", recommends that Tajikistan create effective policies and institutional reforms to encourage small- and medium-sized enterprises to invest and innovate.
To address existing challenges, the World Bank's Systematic Country Diagnostic (SCD) for Tajikistan suggests that the country ensure macro-financial stability, create effective public institutions and to invest in strategic infrastructure and human capital.
The SCD suggestions are based on findings of World Bank Group analytical work, as well as on research by other international and domestic partners, and incorporates feedback received during online and face-to-face consultations.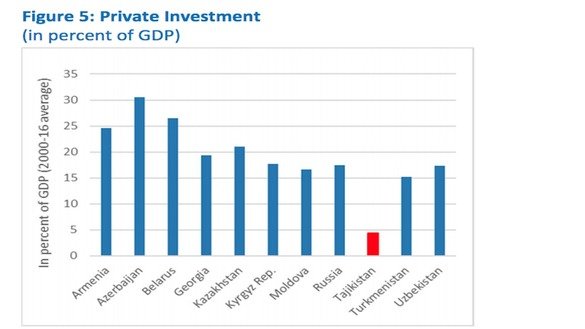 Strengthening state institutions, banking
Tajikistan's banking system is the highest priority for macro-financial stabilisation, according to the SCD. To resolve banking distress, the country needs to establish legal reforms and tackle governance issues to prevent a recurrence of the problem.
To achieve sustainable economic and social development, it is important to have effective state institutions, the report says.
"Existing laws and regulations, including competition laws, need to be enforced to improve Tajikistan's business environment and create pre-conditions for investment, innovation and job creation," it says.
The SCD suggests reforms of state-owned enterprises to promote market competition and drive productivity growth.
Strengthening revenue administration and tax policy, the fight against corruption, and a sense of justice is essential.
"An independent judicial system would have a far-reaching, positive impact on various segments of the economy by instilling a culture of compliance," the report says.
Investing in human capital
Tajikistan has been making limited investment in human capital for years, the SCD warns, suggesting the country "increase productivity and maximise its demographic dividends by investing strategically in key infrastructure and human capital".
The Tajik government should ensure a reliable and adequate supply of electricity and connectivity infrastructure, the report says.
"Tajikistan can take advantage of its geographical proximity to very large markets by improving connectivity and thus reap the potential from regional and global integration," it says.