TASHKENT -- More than a quarter of foreign investments flowing into Uzbekistan for the first four months of 2018 came from the United States, according to a June 27 report from Uzbekistan's Central Bank.
The study found that Uzbekistan has received $4.3 billion (33 trillion UZS) in foreign investment since its independence from Russia in 1991, $300 million (2.3 trillion UZS) of which was made in the first four months of this year.
During the first four months of 2018, foreign investment from the United States to Uzbekistan made up 28% of the total, the report said.
Investment from China and Russia lagged behind, comprising 10% and 6%, respectively, according to the study.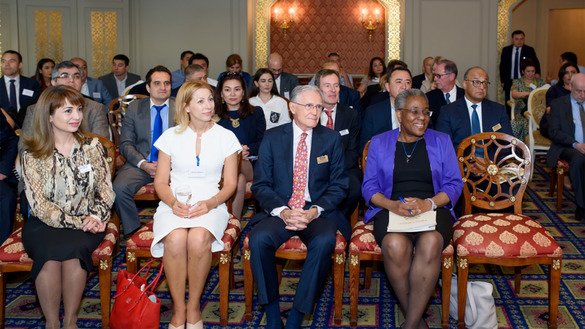 Leading US companies enter Uzbek market
Major American businesses have been expressing their interest in the Uzbek market since 2017, when Uzbekistan adopted a number of wide-ranging economic reforms.
Among them are General Electric, consultancies White & Case and McKinsey & Company, and Yum! Brands, which plans to open the popular KFC chain restaurants in Tashkent this year.
American companies such as General Motors, Boeing, ExxonMobil, Coca-Cola and John Deere are already working in Uzbekistan, according to the Uzbek Foreign Ministry.
"It is important to note that investors from the United States were occupying leading positions even before the historic meeting between [Uzbek President Shavkat] Mirziyoyev and [US President Donald] Trump in mid-May," Rustam Fayziyev, an economist from Tashkent, told Caravanserai.
"During the meeting, [Uzbek and US] business leaders signed $4.8 billion worth of contracts," he said.
The deals included more than 20 major contracts, including one between Honeywell and Jizzakh Petroleum to build an oil refinery in Jizzakh Province.
The Central Bank expects American investments to "show even greater growth in the next period", Fayziyev said.
Boeing delivers Dreamliners to Uzbekistan
One major US-Uzbek partnership is that of the Boeing Company and Uzbekistan Airways, the nation's flag carrier.
On May 18, Boeing delivered a third 787 Dreamliner to the airline in Tashkent.
"Boeing aircraft are the... most important ones for Uzbekistan Airways, and the company will continue to expand its fleet with [Boeing]," Uzbekistan Airways spokesman Shukhrat Khalikov told Caravanserai.
"We value them highly for quality, reliability and comfort," he said. "By 2020, another three Dreamliners will be acquired, bringing the total to six."
"Uzbekistan Airways was the first to order these aircraft in Uzbekistan," he added.
The purchase of the Dreamliners allowed the airline to launch in 2017 non-stop flights between Tashkent and New York.
Uzbekistan-born US citizens see opportunity
More than 62,000 residents of the United States were born in Uzbekistan, according to data from the US Census Bureau for 2016, and some are considering returning home to start their own businesses.
Among them is Bobur Mukhammad, an Uber driver in New York.
"In the 1990s, I got a Green Card, moved to the United States and obtained American citizenship," he told Caravanserai by phone.
"During the wave of liberalisation in Uzbekistan, I became interested in opening a business there... I am thinking of setting up a passenger transport company similar to Uber," he said.