ALMATY -- Moscow's recent extention of a restriction on Ukrainian exports to Central Asia is unneighbourly and harmful to local business, regional observers say.
On June 29, Russian President Vladimir Putin extended a ban on transporting Ukrainian goods through Russia to Kazakhstan and Kyrgyzstan until January 1, 2019.
The original ban took effect January 1, 2016, in retaliation for Ukraine joining a European Union-run free trade zone. It would have expired June 30 otherwise.
Putin's decree imposes considerable logistical and bureaucratic restrictions on Ukrainian exporters attempting to ship merchandise and produce to Central Asia. Shipping through Russia would allow goods to reach Central Asia without repeated loading and unloading.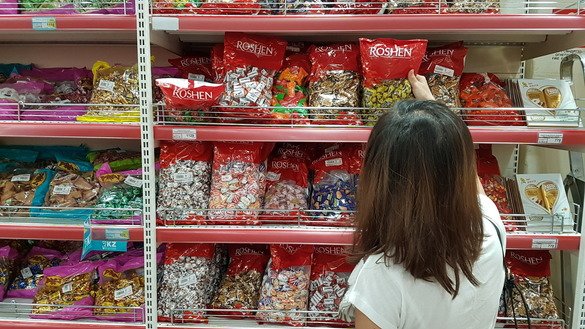 Russia-imposed trade barriers between Kazakhstan and Ukraine are first and foremost hurting businesses in both countries as well as consumers of hard-to-get Ukrainian goods in Kazakhstan, Beibit Kebekbayev, an entrepreneur from Astana, told Caravanserai.
Ukrainian candies, chocolate and high-quality furniture were always in high demand in Kazakhstan, according to Kebekbayev, who said that alternative and more logistically complex routes could increase the cost of such items.
"This [ban] is bad both for Ukrainian suppliers, since the competitiveness of their products is declining, and also for local retailers whose revenues are falling in step with decreasing demand," he said.
"Nor should we forget about the consumers who will have to overpay or limit their own choices, giving up their favourite products," Kebekbayev said.
This is definitely not a popular decision, he said.
Drawing others into conflict
Russia's recent move is not the first time it has drawn foreign partners into its own conflicts and indicates a willingness to use economic organisations such as the Moscow-led Eurasian Economic Union (EEU), which includes Kazakhstan and Kyrgyzstan, for its own geopolitical game.
For example, Gennady Onishchenko, Russia's then-public health chief, urged Kazakhstan in May 2011 to ban the import of wine and non-alcoholic beverages from Georgia. His fruitless effort to sway Kazakhstan -- which never complied --- came amid tensions between Moscow and Tbilisi.
Onishchenko claimed that Georgian wines did not meet the quality standards set by the Eurasian Customs Union (EACU), the precursor of the EEU.
The announcement antagonised both Kazakhstan and Georgia, with many Kazakh analysts insisting that politics motivated Onishchenko's proposal, Kazakh business website Kapital.kz reported in 2014. Kazakhstan's Ministry of Economic Development and Trade urged discussion of the issue solely through multilateral talks.
Kazakh entrepreneurs also opposed the import ban on Georgian goods.
Russia's pressure contradicted the economic interests of Kazakhstan and the import of Georgian wines and mineral water did not violate any rules of the EACU, Amirzhan Kaliyev, director of Kazakhstan's National Association of Spirits Producers (KazAlko), said back in 2011.
Similarly, in July 2013, Russia recommended that Kazakhstan refrain from importing Ukrainian candy after benzopyrene, a naturally occurring organic compound, was allegedly found in its chocolate.
The CEO of the affected Ukrainian manufacturer, Roshen, back then was current Ukrainian President Petro Poroshenko, who was running for office and supported an EU trade agreement.
Kazakhstan and Kyrgyzstan subsequently conducted their own analyses, in which they found Roshen candy to be completely safe.
Unneighbourly conduct
Russia is refusing to discuss or co-ordinate such decisions with Kazakhstan, Magbat Spanov, an economist from Almaty, told Kazakh news site 365info.kz in an article published July 4.
He expressed outrage and disappointment over Russia's policies towards its supposed ally.
"Partners and neighbours don't act like this. So they have no right to be offended when we start up joint projects with the Americans," he said.
Russia still regards Kazakhstan as part of the "Russian world" and as such is not accustomed to taking Astana's interests into account, according to Spanov.
Putin's recent decree to extend the restrictions on Ukrainian goods is confirmation of that attitude, he said, stressing that Russia's relations with Ukraine and Kazakhstan's relations with Ukraine are two different matters.
"Russia is not a master of destinies. It is necessary to compromise and to take other countries' interests into account," Spanov said.
Angering Kyrgyz business leaders
If Russia intends to have neighbourly relations with other countries within the norms of the Commonwealth of Independent States, then it should offer them alternative solutions to problems, said Daniyar Emilov of Bishkek, managing director of EducationStandard, a Kyrgyz educational project.
"Otherwise, Kyrgyzstan and Kazakhstan can defend their rights through the World Trade Organisation. Russia will simply distance itself from its partners," he told Caravanserai.
Moscow's unilateral counter-sanctions and efforts to isolate Kyiv economically have affected partners in the EEU, according to Kubat Rakhimov, chairman of Committee for Industrial Policy, Export, Infrastructure and PPP of Kyrgyzstan's Chamber of Commerce and Industry.
"Since we are allies, these sorts of decisions [should] preferably be co-ordinated, and possible consequences [should be] calculated and neutralised," Rakhimov told Caravanserai.