ASTANA -- Kazakhstan is offering financial support to talented foreign and domestic information technology (IT) specialists who agree to implement their projects at the Astana Hub, an international IT and startup accelerator, Kazakh officials said.
The Astana Hub, located at the EXPO pavilion in the capital, operates as part of the Digital Kazakhstan state programme, in co-operation with the Zerde National Infocommunication Holding and the Ministry of Information and Communication.
On July 3, Astana Hub introduced new project opportunities to Kazakh and foreign IT specialists, according to a statement by Zerde.
"The idea [...] to create an innovative ecosystem is beginning to live," Deputy Prime Minister Askar Zhumagaliyev said in his speech at the event.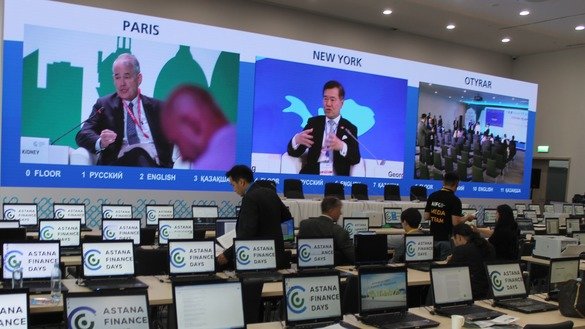 The presentation of the new Astana Hub was meant to demonstrate the focus of the technopark, identify opportunities for co-operation with the IT community and demonstrate Kazakhstan's main digital projects, according to Zerde.
"The Astana Hub is becoming and will become a good centre of attraction for advanced technologies and talented specialists from all over the world," Kazakh Minister of Information and Communication Dauren Abayev said during the presentation.
Attracting key talent
"Technologies are changing, and we need specialists who can work with these high technologies," Prime Minister Bakhytzhan Sagintayev said at the Kazakhstan Global Investment Roundtable in Astana July 3, according to Tengri News.
The Kazakh government is ready to provide young specialists with grants, jobs and housing, he said.
"If we sit behind closed doors amid the ongoing, worldwide struggle for talent, that's the wrong approach," he added.
The main goal of the Astana Hub is to bring together young IT specialists from all over the world and help them realise their ideas in Kazakhstan, according to Sagintayev.
"Training our own personnel in a short period is very difficult, so we are now saying that we need highly qualified specialists and our doors are open for them," he said.
At the Astana Hub, "all the conditions are being created so that young, ambitious guys can set up their headquarters in Kazakhstan", he said, according to Kyzylordinskie Vesti.
Young IT specialists seek support in Astana
"The Astana Hub has already graduated the first batch of participants in the start-up project programme," Astana Hub General Director Magzhan Madiyev told Caravanserai. "In the future ... we will have other support programmes."
Kazakhstan is seeking to develop its IT sector by attracting both Kazakh and foreign specialists, he said.
Nurbek Kulbayev, a 28-year-old IT specialist from Bishkek, Kyrgyzstan, came to Astana to participate in the Astana Finance Days, a series of events that took place July 3-5.
"My colleagues and I need support, and we hope to get it in Astana," he told Caravanserai. "We are developing a mobile app for college students that uses blockchain technology. It's a good idea, but for it to take shape, we need financial and organisational support."
Kazakhstan does not have enough skilled IT specialists, said Vadim Buranov, 43, a computer programmer and entrepreneur from Astana.
"The future belongs to digital technologies," he told Caravanserai. "Kazakhstan has ambitions to be the dominant player in the region and to join the vanguard of modern technologies, so that is why we have started talking now about bringing in foreign specialists."
"I support this decision, but we also need to cultivate our own IT specialists," he said.