SOKULUK, Kyrgyzstan -- Inside a nomadic yurt pitched next to her family home in northern Kyrgyzstan, a young woman's female relatives sobbed loudly in a ceremony marking 40 days since her death.
"She was my youngest daughter. Humble and well-behaved," the victim's mother, Gulnara Kozhanaliyeva, told AFP through tears.
"She had such big plans for the future," she said from inside the yurt where an imam chanted prayers.
Burulai Turdaaly Kyzy, a 20-year-old medical student, wanted to become a paediatrician and marry her long-term boyfriend.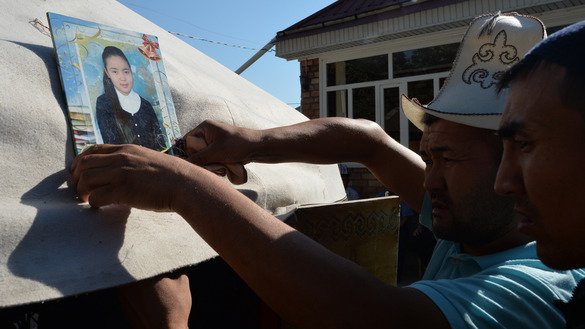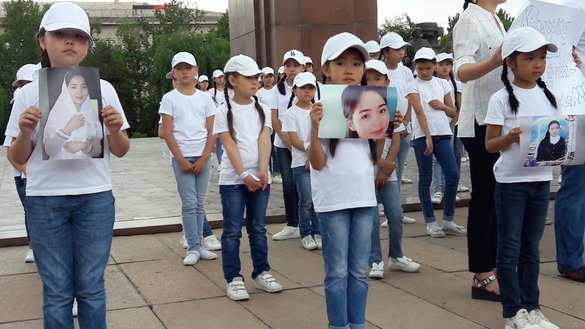 Instead, she was allegedly killed by a jealous kidnapper inside a provincial police station in Jayyl District, Chui Province, in May.
According to family members who saw her body, the 30-year-old suspect carved the young woman's initial and that of her sweetheart into her chest, although police deny that claim.
The attack has horrified the nation, prompting several thousand demonstrators to take to the streets and drawing condemnation from the United Nations (UN) and rights groups.
At least 23 police officers have been disciplined, suspended or sacked for negligence after the suspected kidnapper allegedly stabbed Turdaaly Kyzy to death as she waited to give a witness statement against him.
'Eye for an eye'
But Turdaaly Kyzy's family has refused to accept the police account, and her mother has criticised the country's justice system.
"When we have justice served across the land, only then will we be able to bring an end to this tradition" of bride kidnapping, Kozhanaliyeva said.
The victim's uncle said the family should take matters into their own hands.
"If laws don't work, then we should act. Eye for an eye, blood for blood," Seyit Kozhanaliyev told AFP.
"How did the kidnapper manage to kill her so cruelly inside a police station?" he seethed.
After the attack, the suspect turned the knife on himself and was hospitalised before being taken into pre-trial detention, police said.
He is yet to be indicted but faces a murder charge, while a suspected accomplice is also under investigation on a bride kidnapping charge.
Justice not served
The practice of bride kidnapping -- ala-kachuu -- has roots in Kyrgyzstan's nomadic past and persisted into the Soviet era, albeit on a smaller scale.
Some argue that the practice has survived because of social conservatism and a relatively weak tradition of arranged marriages in comparison with neighbouring countries, as well as poverty among rural families who struggle to save money for dowries.
Abduction for marriage in Kyrgyzstan is punishable by up to seven years in prison. However, critics say the law is not enforced properly.
The problem is "in law enforcement and judicial practices", said Umutai Dauletova of Bishkek, the country programmes gender co-ordinator for the UN Development Programme (UNDP) in Kyrgyzstan.
Research that the UNDP conducted on bride kidnapping last year showed that about 70% of such criminal cases collapse, Dauletova said.
UNDP's office in Kyrgyzstan cites government data indicating that one-fifth of Kyrgyz marriages occur following bride abductions.
Only one person was imprisoned for bride kidnapping in Kyrgyzstan last year, according to official records.
'Irresponsibility of men'
Last month, several thousand demonstrators attended two protests in Bishkek, one of which had Education Ministry backing.
One parliamentarian, Dastan Bekeshev, proposed building a monument to Turdaaly Kyzy outside the headquarters of the Interior Ministry.
Many of his colleagues have been accused of staying quiet.
In a searing speech that went viral on social media, lawmaker Aisuluu Mamashova questioned why only female deputies raised the hot-button issue in parliament and called "the irresponsibility of men" a "national problem".
Model and TV personality Assol Moldokmatova, who played a key role in organising one of the two protests, argued that a mindset rooted in stigma, bans and "what would society think" reinforces bride kidnapping.
The woman's killing, which triggered "a wave of non-acceptance" regarding the practice, could help change that, said Moldokmatova, claiming she received some 7,000 messages from victims of gender-based violence in the days following the rally.