ASTANA -- Kazakhstan and Afghanistan are seeking to boost their trade.
On August 3, the Kazakh capital hosted a Kazakhstani-Afghan conference that drew government officials and business leaders from both countries. Caravanserai attended the event.
The visitors included "a large delegation of Afghan businessmen headed by Afghan Minister of Industry and Commerce Humayoon Rasaw", Kazakh Prime Minister Bakytzhan Sagintayev's press office said in a statement. "More than 40 Afghan and Kazakh [business leaders] participated."
Those participants included more than 20 Afghans, according to the Kazakh Investments and Development Ministry.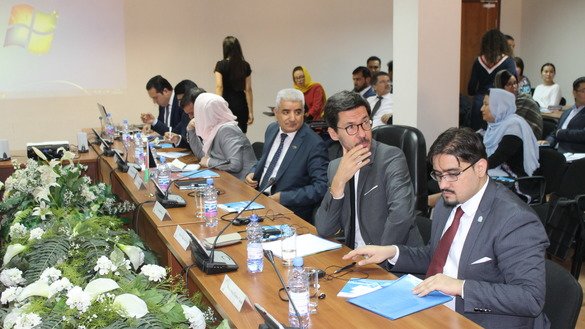 Seeking deals
Representatives from entities like the Kazakh Chamber of International Commerce (VPK), Kazakhstan Railways, Kazakh-Export, Kazakh-Invest, Kazgeology, and many others attended the event to seek out deals with Afghanistan.
Central Asia is a foreign policy priority for Afghanistan, while Kazakhstan remains the decisive player in the region, said Rasaw in his welcoming address to the participants.
"We want to supply your market with fruits, vegetables, medicinal herbs, spices, precious stones and marble," said Rasaw after the conference.
The great potential for co-operation between the two countries has yet to be unleashed, Kazakh Vice Minister of Investments and Development Arystan Kabikenov told Caravanserai.
Cargo transport is one avenue for such co-operation, he said, adding that Kazakhstan plans to sign "trilateral agreements with Afghanistan and Uzbekistan, as well as with Afghanistan and Turkmenistan".
Agriculture, transport and extraction of mineral resources will be the first sectors in which Kazakhstan and Afghanistan co-operate, he predicted.
Increasing trade
"This year, we will supply Afghanistan with Kazakh-made power transformers," Khairulla Kojabayev, director of the Kentau Transformer Factory, told Caravanserai. "Afghanistan is modernising its [power grid] and will use our transformers."
In fact, one of the first contracts signed during a Kazakh business delegation's visit to Kabul in July concerned the sale of transformers to Afghanistan, according to Kapital.kz, which cited the VPK.
During that July visit, the Kazakh delegation also included businesses relating to food, energy, construction and installation, and repair and maintenance.
Exports to Afghanistan have room to grow, Astana economist and entrepreneur Tolegen Akhmetov, 54, told Caravanserai. "Last year, Kazakhstan exported $500 million of goods to Afghanistan and imported $80 million of Afghan goods."
"During the first half of 2018, trade between our countries grew by about 20% compared to the same period in 2017," he added.
Trade between Kazakhstan and Afghanistan totalled $180.2 million between January and April 2018, according to the Kazakh Ministry of Investments and Development.