KHUJAND, Tajikistan -- A Tajik family's attempt to join the "Islamic State" (IS) has shaken its community and alarmed local officials.
In March 2017, 28 members of the extended Nasriddinov family, residents of Naugilem village, Isfara District, Sughd Province, attempted to join IS in Syria, according to a court verdict in April.
One member of the family, Zamirakhon Nasriddinova, did not make the attempt because she was pregnant. The 28 others flew from Almaty, Kazakhstan, to Istanbul, Turkey. From there, they travelled to Hatay Province, Turkey, along the border with Syria, where they attempted to cross with three off-road vehicles.
The Turkish police halted one vehicle and sent its nine occupants back to Tajikistan.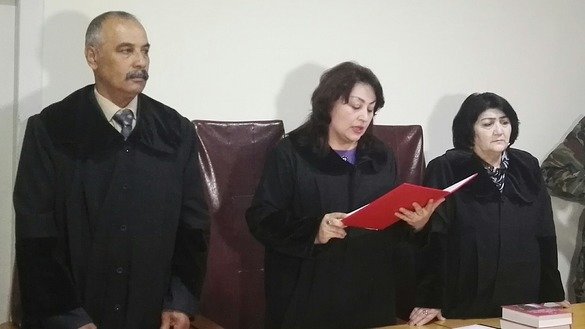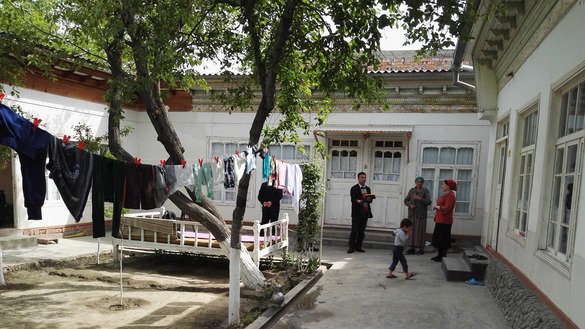 However, the other 19 Nasriddinovs reached Idlib Province, Syria, according to the Sughd Provincial Court in Khujand, which tried the nine extradited family members.
Just punishment
In April, that court sentenced three men and four women of the group to 12-17 years in prison for their actions.
The Tajik Supreme Court has upheld the verdict, Firuza Akhmadzoda, the judge who oversaw the proceedings in April, told journalists in Khujand August 10.
Bakhodur Nasriddinov, 47, the organiser and source of inspiration of the group, was sentenced to 17 years in prison. His mother, Mavluda Nasriddinova, received a 12-year sentence, as did three other female relatives -- Farzona Nasriddinova and Mushokhira and Shokhina Nurulloyeva.
Two other male family members -- Khaidarkhon Nasriddinov and Nasrullokhon Abduvaliyev -- were sentenced to 12 years, 6 months.
The remaining two female members of the group were not punished. Marifat Nasriddinova, a juvenile, is studying at a local school and is expected to graduate next year. She is living at the home of her maternal grandmother in Naugilem along with Shokhida Nurulloyeva, whom the court declined to convict, citing mental illness.
"The verdict is severe, but completely just, and the punishment is deserved," Akhmadzoda told Caravanserai.
The men have been moved to a corrective labour camp in Khujand.
The four women "will be moved to a women's camp in Nurek", Safo Inomov, Bakhodur Nasriddinov's maternal , told Caravanserai.
'Infected' by IS
Inomov said he did not understand when and how his nephew might have been "infected" with IS ideas.
"He was a secular man; he was the chief accountant in one of the Rogunesstroi enterprises. He had remarkable children. Some of them were Olympiada [high school math and science tournament] medalists," he said.
"Not a single one of the defendants agreed to co-operate during the investigation, nor did they work with law enforcement to return other family members to their native land," said Prosecutor Raufkhon Aliyev.
"That [intransigence] indicates that they had no intention of abandoning their chosen route or their extremist ideology [and] that they deliberately went to Syria and wanted to join IS," he told Caravanserai.
The case of the Nasriddinovs has shaken the entire district, especially their hometown of Naugilem, a town of 40,000 -- the most populated in Isfara District.
Authorities are seeking 38 Naugilem residents who are suspected of belonging to prohibited extremist organisations, according to to jamoat (municipal) data.
Some of them are presumed to be in Syria. Members of the Nasriddinov family make up half of the 38 suspects.
Vigilance needed
"[Extremists have] started working differently; they've learned how to work in secret and we must increase our vigilance," Dilmurod Azizov, an employee of the local jamoat government, told Caravanserai.
The Nasriddinov case came ahead of a deadly attack on foreign tourists last month claimed by IS.
On July 29, assailants rammed their car into a group of foreign cyclists in Danghara District, about 100km from Dushanbe, then got out of the car and stabbed to death four of them -- two Americans, a Swiss national and a Dutch national. Two other cyclists were injured.
In the aftermath of the slayings, Tajik police killed four of the five suspected attackers and arrested the alleged ringleader, Hussein Abdusamadov.