ASTANA -- Newly created urban art drawn in Astana has set off high praise from residents and tourists alike in Kazakhstan's bustling capital.
Street art has recently become popular across Central Asia, with many artists in Kazakh cities and the region decorating their neighbourhoods with artwork, some of which reflects local and national themes.
The first murals were drawn in June as part of the Urban Art Astana 2018 competition, organised by the local administration (akimat) of Saryarka District in the city and meant to connect the public to art.
"Of the 70 applications, 26 sketches were picked out that will occupy a prominent place in the city," according to the competition website.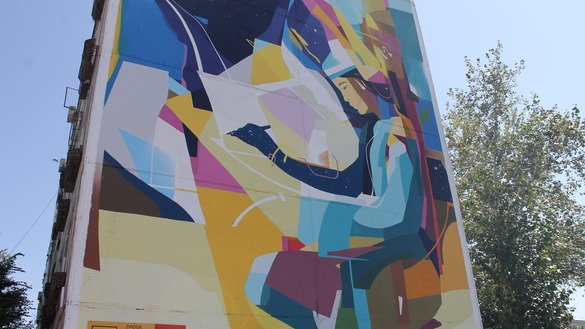 The artists drew the murals on the walls of apartment buildings. At night, they project the intended artwork onto the walls and sketch in the outlines; in the daytime, they fill in the paintings.
On weekends, guides show tourists the murals so they can be photographed in front of them if they wish.
"Thank you for such an interesting tour! All the artworks are unique, incomparable and warm. They filled me with so much positive energy that I wanted to decorate the wallpaper myself at home," a participant in one of the tour groups said in a review she left online.
The artwork was planned ahead of the July 6 celebrations of Astana becoming the nation's capital in December 1997.
Photographs of the adorned buildings have flooded social networks, with the vast majority of users voicing their delight.
"Thank you; you have enlivened the city!" "More such beauty would be good," "Cool project! Good job!," "Beautiful!" are just some of the comments left under each photo.
"This is amazing; this is beautiful -- this puts people in a good mood," Aigerim Yesmakhova, a 32-year-old Astana resident, told Caravanserai.