BISHKEK -- Although Russia is trying to portray itself as a reliable and faithful ally to Central Asia through its purported "soft power" policy, its true colours toward the residents of the region are being revealed through discriminatory anti-migrant rhetoric that Russian audiences regularly read or hear.
Russian media abroad try to highlight friendly ties with Central Asia, but at home, they are busy inciting ethnic hatred and fear.
In one recent example, Russian newspaper Komsomolskaya Pravda published an alarmist article about migrants from Kyrgyzstan.
The August 19 article describes Moscow as a "city of migrants", where Kyrgyz have "managed to create an extensive network of institutions for comfortable living in the capital".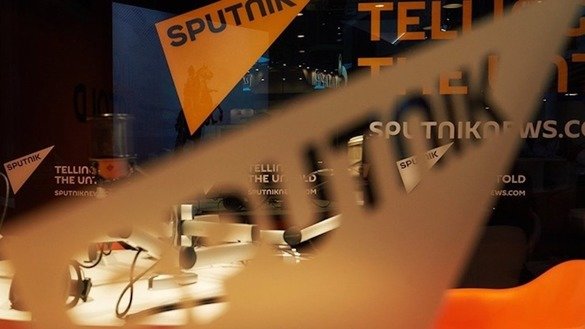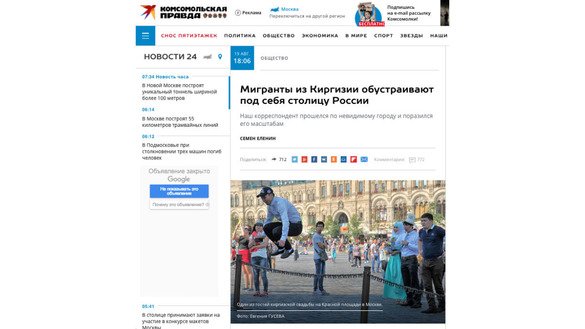 Although not the largest migrant group in the city -- there are more Uzbeks and Tajiks -- Kyrgyz have set up their own real estate agencies, employment agencies, legal offices, medical centres, sports clubs, nightclubs and beauty salons, the article says.
Accompanying a photograph of a wrestling match, the newspaper writes, "Is it just for sport? Or are they hiding the training of fundamentalist militants?"
Such prejudiced publications in Russian news media are a common occurrence, said Mairambek Osmonov, a resident of Sokuluk village, Chui Province, who returned home from Russia in the spring.
"They often publish openly nationalistic articles against us newcomers," he told Caravanserai. "Their readers leave comments that insult us and say that we should go back to where we came from."
Such articles intensify aggression against migrants from local residents, Osmonov said, adding that local authorities do not try to combat incitement in the media against other ethnic groups.
Such articles would never be published in Kyrgyzstan, he said, adding, "In Kyrgyzstan, the prosecutor's office would charge the media outlet with inciting ethnic hatred."
A different tone in Central Asia
Meanwhile, Russia's information policy in Central Asian countries paints a completely different picture of mutual respect and friendship between the countries.
For example, Komsomolskaya Pravda's office in Kyrgyzstan published a July 26 article on a week-long Russian film festival in Cholpon-Ata, Kyrgyzstan, describing it as a "creative project that unites [our] peoples and countries".
That newspaper's rabble-rousing in Russia and flattery in Kyrgyzstan illustrate the duplicity of Russian media, said Osmonov. "In their own country they despise and insult us. In Kyrgyzstan they display a friendly attitude."
The Kremlin's duplicity is aimed at taking advantage of neighbouring Central Asia.
Central Asia -- with a population of more than 50 million, rich reserves of hydro-power and other natural resources, strategic transport infrastructure and very promising prospects -- has typically been in Russia's sphere of interest, according to Erlan Satybekov, a media analyst from Bishkek.
That is why a number of Russian media outlets maintain offices in Kyrgyzstan, including government-owned publications, TV stations and the Sputnik news agency, he told Caravanserai.
The main goal of Russian media outlets operating in Kyrgyzstan is to "form a positive image of Russia and ensure the loyalty of the [local] ruling elites and the population", he said, adding that they are stepping up their propagandist activities to reinforce the Kremlin's influence in the region.
Moscow is using media channels it controls to win over Central Asians to its foreign policy, aspects of which have "elicited sharp criticism in other countries," he explained. "This includes Russian air force [bombings] in Syria, support for separatists in eastern Ukraine, annexation of the Crimean Peninsula and much more."
In addition, one of the key areas of focus for the pro-Kremlin media is promoting a positive image of Russian President Vladimir Putin as a strong, resolute leader who is capable of ensuring security and stability in Central Asia, Satybekov said.
"For Moscow, it is important to involve the leadership in Central Asian countries in projects that [Moscow] initiates, which it insists serve the interests of our region," he said.
"Without support from the ruling elites, the Kremlin would have difficulties in implementing, for example, the idea of a Eurasian Economic Union (EEU)."
It is no less important for Russia to promote the supposed economic advantages of co-operating, Satybekov said.
For Russian media, swaying the opinions of not just the region's rulers but of its many millions of inhabitants matters too, he added.
"They have to deal with opinions that are contrary to theirs, since the majority of local and foreign economists criticise the prospects of the EEU, pointing out the weak points of the association," he said.
Losing credibility
It is becoming more difficult for Russian media outlets to achieve their objectives as their ratings in Kyrgyzstan go down and as the Kremlin's lies become increasingly disjointed from reality.
With every passing year, fewer and fewer Kyrgyz tap into the information put out by Russian media, according to a joint study done in March 2017 by the Pro-kg Centre for Political Technologies in Bishkek and the EL-PIKIR Centre of Public Opinion Study and Forecasting.
One survey -- in which 1,200 respondents from 48 Kyrgyz towns participated -- found that Kyrgyz national TV was their main source of information on politics: 72.9% of the respondents watched it. Only 17.6% watched Russian TV -- a figure that had fallen by 3.2 percentage points since 2015.
The Russian media have only themselves to blame because they are hawking undisguised propaganda, say local analysts.
"You only have to look at the loaded headlines and the biased content ... to reach your own conclusions," Bishkek political analyst Askat Dukenbayev told Caravanserai.
"Professional journalism has nothing to do with this," he said. "We're seeing purposeful, propagandistic, manipulative work, often of very low quality."
Russian media outlets that spread lies have no future in Kyrgyzstan, said Osmonov the former migrant.
"They clearly take us for fools," he said. "But we're not the stupid savages the Moscow newspapers make us out to be. If you're busy dissembling, nobody will believe you."