ASTANA -- Astana recently hosted a regional conference on "Expansion of Rights and Opportunities for Women in Afghanistan" aimed at raising international awareness and support for Afghan women's needs.
Attendees included officials, analysts and human rights activists from Central Asia, Afghanistan, Azerbaijan, Armenia, the United States and European Union (EU) member states, the Kazakh Foreign Ministry said in a statement.
The event, which took place September 5, included three sessions: "Sustainable Economic Growth through Economic Empowerment of Afghan Women", "Expanding Economic Opportunities Through Regional Co-operation" and "The Role of Education and New Knowledge in Expanding Opportunities for Women in Afghanistan".
"Kazakhstan seeks ... to promote and expand [Afghan women's] rights and opportunities in order to achieve long-term peace and sustainable development in the country," the statement said.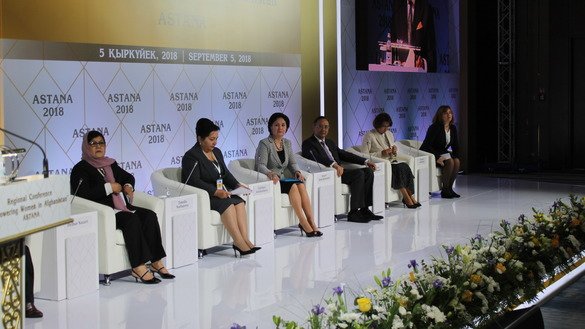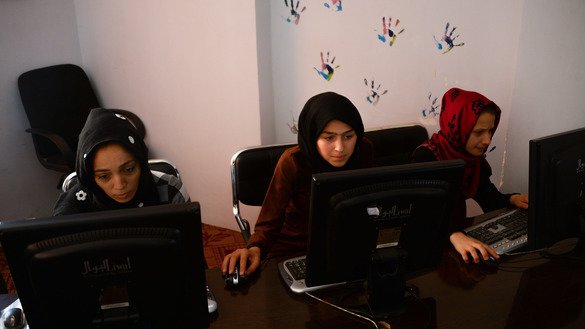 Promoting the interests of the Afghan people is Kazakhstan's priority, Kazakh Foreign Minister Kairat Abdrakhmanov said at the conference.
"The security threats and other problems that Afghanistan continues to [face] require constant support from other countries in the region and the international community, with the United Nations in a leadership role," he said.
A documentary prepared and presented by Kazakh attendees titled "The Mission in Afghanistan Can Be Accomplished" informed conference participants about the dangers Afghan women face every day.
"We suffered from famine and the brutality of the Taliban. The Taliban seized my country and destroyed it," one of the women in the documentary said.
"There are many examples of cruelty toward women," she said. "The girls are married at 9-10 years old, beaten. If a woman is walking down the street alone, then she can be subject to cruelty and rude treatment from men."
Providing access to education
Acting US Deputy Assistant Secretary of State for Public Diplomacy and Regional Affairs in South and Central Asia Emilia Puma pointed out the "special role" that Kazakhstan plays in improving the situation in Afghanistan.
"Kazakhstan... pays close attention to the problems faced by Afghanistan and by Afghan women," she reportedly told the conference.
"The United States is working with Afghanistan to put an end to the war," she said. "We do not want women in this country to be in danger."
Eighty percent of Afghan women say that their situation needs to be improved by providing them with access to education and by equating their rights with men's rights, Puma said, citing a recent study conducted in Afghanistan.
For its part, Kazakhstan has been implementing a $50 million (19 billion KZT) project to educate 1,000 Afghan students from 2014-2020.
As part of the effort, 700 Afghan students have been studying in Kazakh universities, while 300 have been receiving education in vocational colleges across the country, according to the Kazakh Ministry of Education and Science. Some have begun to return to Afghanistan.
Of those students, 200 students have been at medical schools while 135 studied agriculture. The remainder are studying engineering or humanities or learning to become teachers.
The EU is expected to help finance the project with a focus on providing education to Afghan women.
All of the Afghan professionals -- engineers, doctors, agricultural specialists and nurses -- who have studied in Kazakhstan return home, and the majority find jobs there, according to an EU statement.
Kyrgyzstan, Uzbekistan join effort
Women face additional dangers in Afghanistan, Kyrgyz Vice Prime Minister Altynai Omurbekova said, adding that terrorists, who have stepped up their activities in Afghanistan, now have geared their aggression toward women.
"The decisions made during this conference will make a weighty contribution to expanding the rights for our female friends in Afghanistan, but we need support from the entire international community," she told journalists on the sidelines of the conference.
"We intend to open a Centre for Afghan Studies in Bishkek, which will become a platform for discussion and decision-making on what kind of assistance can we provide for the brotherly country of Afghanistan," she said.
"Having a high-quality modern education and equal access for women along with men increases overall prosperity and leads to stability," Uzbek Deputy Prime Minister Tanzila Narbayeva told Caravanserai.
An education centre is operating in Termez, Uzbekistan, where about 100 young Afghan men and women are studying, she pointed out.
"In the near future, Uzbekistan is going to start new education programmes for girls from Afghanistan, and they will be able to receive a higher education free of charge for professions that are in high demand in Afghanistan," she said.
"The down payment on prosperity for any country is happy women," Narbayeva said.