ALMATY -- A recent YouTube video in which two purported Kazakh militants in Syria threaten authorities in Kazakhstan has once again brought the issue of extremism to the forefront.
In the video that appeared on YouTube on September 8, one of the self-identified Kazakh citizens said the video was shot on August 30 in Syria, where he claimed to be with his "brothers" from Aktobe, Atyrau and Uralsk.
Speaking Russian fluently, the militant said that Kazakh authorities would be held accountable for banning hijabs in schools, apparently referring to a law adopted in January 2016.
A subsequent directive issued by the Ministry of Education and Science outlined a requirement for school uniforms to conform with the secular nature of education.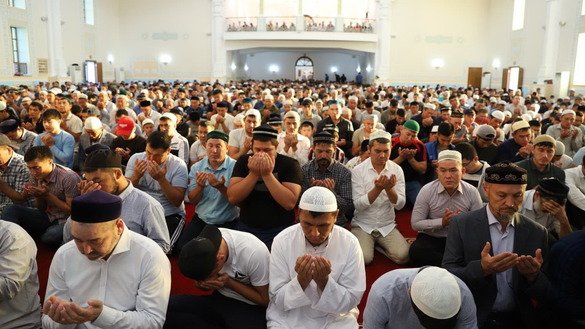 YouTube quickly took down the video.
Gulnaz Razdykova, director of the Pavlodar Province Centre for Analysis and Development of Interfaith Relations, posted a few parts of the video footage on her Facebook page, denouncing the terrorists' "baseless" statements.
"These so-called 'Muslim brothers' say they are protecting the honour of young girls. So then why don't they protect the honour of girls and women whom they themselves turn into prostitutes, passing them along from one person to another [in Syria]?" Razdykova posted September 9 on her Facebook page.
Need for further study
The main concern raised by the video is that militant recruiters may be taking advantage of the sentiment among religious practitioners who are not happy with the hijab ban, Asylbek Izbairov, director of the Institute for Geopolitical Studies in Astana, told Caravanserai.
"The current situation demonstrates that anti-extremism messaging in Kazakhstan needs improvement," he said. "People don't engage in philosophical arguments, scholastic debate or abstract talk -- they just want to understand how to combine secular and spiritual life."
The video illustrates extremist reactions and ideas that specialists need to study closely, Alibek Muratuly, a specialist on de-radicalisation from Astana, told Caravanserai.
"No one party can be blamed for religious believers falling victim to recruiters," he said. "It is... general negligence."
Some factors include "parents [who] did not devote close enough attention to their children", he said, as well as Kazakhstan's failure to develop a culture of mentoring of youth or of education within the community.
"The process of urbanisation and the exodus to our mega-cities from smaller towns have exacerbated the situation," Muratuly said.
Social rifts ruin the lives of ordinary Kazakhs and they fail to adapt to changing realities, he said.
They then wind up in traps set by extremist recruiters, he said.
Returnees from Syria
The threats in the video against authorities who prohibit hijabs in school violate the Kazakh criminal code, said Amanjol Urazbayev, a legal scholar who heads the Astana-based NGO Counter-Terrorism Committee of Kazakhstan.
Law enforcement agencies and security services are doing a tremendous amount of work against militant recruiting, he told Caravanserai.
Among the almost 870 Kazakh militants who joined insurgencies in Syria and Iraq during the past few years, only a few have returned, he said, citing Kazakhstan's National Security Committee (KNB).
Of the over 60 who have returned, fifty-seven are in prison, he said.
"Islamic State" (IS)'s propaganda machine is continuing to dupe its target audience with videos depicting its atrocities or conveying the supposed life in paradise that awaits, he said.
Kazakhstan's intelligence services are keeping up in the technological "arms race" with militants, but help from vigilant civilians is the key in the fight against terrorism and extremism, he said.