KHUJAND, SUGHD PROVINCE -- Uzbek and Tajik troops took part in joint military exercises September 18-21 in Sughd Province in what military officials say are a sign of expanding co-operation between the two Central Asian nations.
The joint drills are the first since the two countries' independence from the Soviet Union in 1991.
One hundred Uzbek special forces soldiers and 500 Tajik troops from Sughd Province participated in the Indestructible Brotherhood exercises, which took place at the Chorukhdaron Training Grounds, 15km from Khujand.
The two sides held a military parade September 17 to mark the start of the drills, raising both nations' flags and performing their national anthems.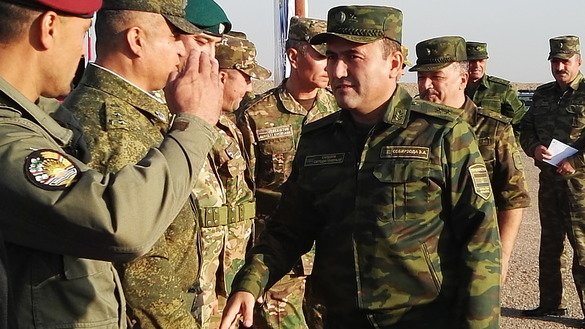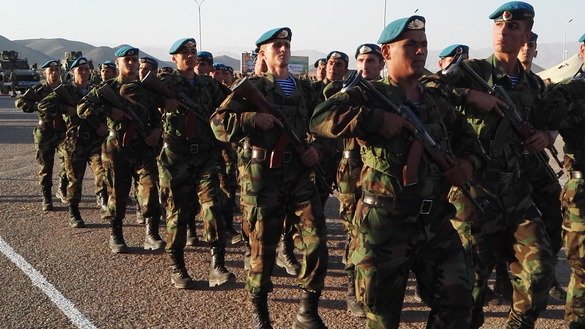 Joint counter-terrorism exercises
"Only through shared, co-ordinated efforts can we organise efficient work to wage battle with, and resist, military challenges and threats," Lt. Gen. Emomali Sobirzoda, Tajik first deputy minister of defence and chief of general staff, said while speaking to military personnel from both countries.
Over the first three days of drills, counter-terrorism units from both countries simulated the elimination of a hypothetical terrorist group that had entered one of their territories.
Tajik and Uzbek troops used drones, light weapons, unmanned aerial vehicles, tanks, armoured personnel carriers, helicopters and mortars, according to the Tajik Defence Ministry.
The just-held exercises matter because "real co-operation between the two countries on defence is starting", Kamol Khamdam, deputy military commissar of Sughd Province, told Caravanserai.
"These exercises are the first significant joint military exercises between the armed forces in Uzbekistan and Tajikistan that are geared toward combating terrorism," he said.
"They are designed not only to increase the combat training of soldiers and officers from special forces units but to achieve a new level of cohesion for joint operations with other military units," he said.
Uzbek forces "are some of the strongest, best equipped and most combat ready in Central Asia", said Khamdam. "Tajik troops have vast experience in military operations, especially in eliminating terrorist groups in mountainous areas. We can learn from each other."
'Indestructible Brotherhood'
The defence ministries of the two countries named the exercises "Indestructible Brotherhood" to emphasise the significance and role played by the growing friendship and co-operation between the two countries, said Col. Jakhongir Bekmuradov, director of the department of combat and political training at Uzbekistan's Defence Ministry.
"A few years ago, we could not even imagine this kind of co-operation between our troops," he told Caravanserai. "This is the result of the 'thaw' in our relations and the changing situation in the Central Asian region."
"For us, it is important not only to co-ordinate our efforts but to share our experiences," Bekmurodov said. "And we hope that these exercises will mark the beginning of constant sharing of knowledge between our counter-terrorism forces, which always need to maintain a high level of combat readiness."
"We sense that the challenges and threats for the military for both Uzbekistan and Tajikistan are virtually identical… The armies in these two friendly, brotherly states must combat these threats together," said Col. Shukhratjon Ikramov, an Uzbek military deputy chief of staff.
He highlighted the possibility of holding joint military exercises in Uzbekistan.
"The Uzbek side is ready for active military co-operation," he said. "We hope that similar exercises will take place on our territory soon."