ISSYK-KUL, Kyrgyzstan -- The Kremlin's strategy of fear mongering and of manipulating the information environment was in full view this week during drills in Kyrgyzstan involving the Russian military.
Russia deployed nearly 1,000 troops and 250 pieces of hardware, including around 30 aircraft and advanced missile systems, for the exercises September 26 at the Edelweiss training ground in Kyrgyzstan, according to a statement from the Russian Defence Ministry.
The drills are part of the Russia-backed Commonwealth of Independent States (CIS) Issyk-Kul Antiterror 2018 exercises that began earlier in September.
Amid growing wariness of Moscow's malign influence across Central Asia, the Kremlin has attempted to justify a buildup of Russian personnel and equipment in Kyrgyzstan by spreading fears that the "Islamic State" (IS) is on the verge of establishing a caliphate in Central Asia.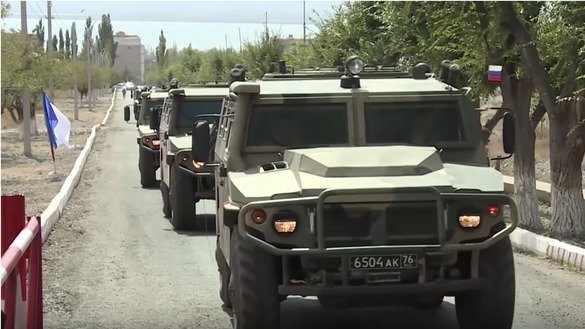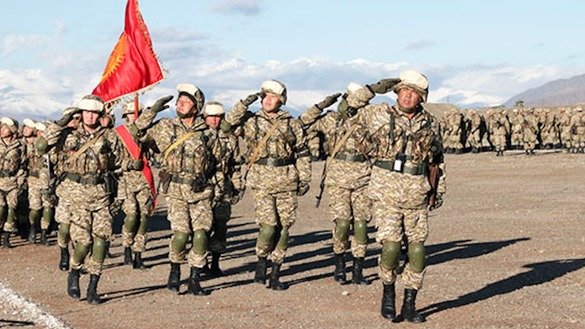 Such exercises aim to counter IS terrorists supposedly attempting to make inroads in the region, said Andrei Novikov, director of the CIS Antiterrorism Centre.
Attempts are being made by international terrorist organisations like IS to set up a new foothold of the so-called "caliphate" in the region and also to form new "sleeper cells" and invigorate existing ones, he said September 24 in Cholpon-Ata, Kyrgyzstan, according to Russian news agency TASS.
A false pretence
The joint exercise in Kyrgyzstan is the Kremlin's latest attempt to assert its authority under the pretence of IS threats.
The Kremlin's go-to assertion is that Central Asia is at risk of militants surging over the Afghan border, with Russian officials and media regularly reporting that an ever growing number of militants are amassing along the border.
In 2015 Moscow said the total number was 4,500. In late 2017, Russia increased its estimate to about 10,000, including 3,500 IS members.
Afghan officials debunked the 2017 figure, placing the real number instead at "several hundred".
Russia's renewed effort to bolster its military presence in the region is aimed at least partly at deepening Central Asian countries' dependence on Moscow, as the Kremlin ramps up its hybrid warfare operations.
Such operations have included using mass media and social networks for influence campaigns, infiltration by pro-Russian hybrid warfare groups and large-scale war games.
IS nearing defeat
While the threat of isolated IS attacks is real, Novikov's warnings come as coalition forces continue to crush IS in its remaining strongholds.
Syrian Democratic Forces on September 11 began what was expected to be the final phase of an operation to weed out IS from the small remaining territory the group controls in northeastern Syria -- its last foothold in the Middle East.
The ground offensive, dubbed Operation Roundup, is receiving air and artillery support from US-led coalition forces.
IS leader Abu Bakr al-Baghdadi himself in a 55-minute message broadcast August 22 acknowledged how his group is suffering repeated military setbacks in the Middle East.
He called on his followers not to abandon their "religion, patience or jihad", in what appeared to be an admission of the group's defeat on the ground.
That message came just days before Afghan and coalition forces killed the leader of the IS branch in Afghanistan.