ALMATY -- China's growing economic ambitions are posing a threat to Russia's influence in Central Asia, which Moscow has long viewed as its "backyard", analysts say.
China brings the world's second largest economy to the table, while after decades of decline, Russia ranked 12th worldwide by GDP in 2017, according to the International Monetary Fund.
That Chinese economic clout has become more visible in recent years, US-based think-tank Stratfor said in a study published in April.
"In the 1990s, total trade between China and Central Asia was less than $1 billion annually," the study found. "By 2017, the figure had reached $30 billion, compared with $18.6 billion in total trade between Russia and Central Asia."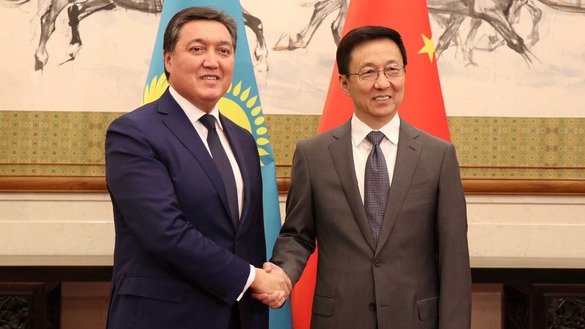 In a recent example of growing trade, Kazakh First Deputy Prime Minister Askar Mamin during a trip to China in late September signed pacts governing 11 new joint ventures worth $1.9 billion, according to the Kazakh government.
Chinese-Kazakh trade grew by more than a third in 2017, Mamin said during his visit. The countries' presidents have set a goal of annual trade worth $20 billion. In 2017, their trade was worth almost $10.5 billion, according to the Kazakh government.
China and Kazakhstan already operate 51 joint ventures worth about $28 billion annually. The two countries are also planning to build major factories in Kazakhstan that will export to global markets.
China's strength lies in its investing power, said Zharas Akhmetov, an Almaty-based economist and director of the company OilGazProject.
"The Chinese government and Chinese businesses have a capital surplus, and they have opportunities to invest it," he told Caravanserai. "China, in turn, is a potentially new market for Kazakhstan."
Beijing's growing influence is a threat to the interests of Russia, the former imperial power, Akhmetov said.
'China needs Kazakhstan'
China is underwriting Central Asian economies through an initiative that aims to link China through trade and infrastructure to dozens of economies across Asia, Europe, Africa and Oceania.
The initiative has a number of advantages compared to Russian-led efforts such as the Eurasian Economic Union (EEU), which has drawn criticism for benefiting Russia at the Central Asian member states' expense, Bishkek-based political analyst Nargiza Murataliyeva wrote for the Central Asian Bureau for Analytical Reporting in 2016.
The Chinese initiative allows for the creation of networks of free trade zones and shies away from super-national institutions that regulate economic relations or force adherence to some specified foreign policy line, she said.
In contrast, the Kremlin-led EEU "calls for the the co-ordination and regulation of [its members] economic relations while simultaneously decreasing Central Asian countries' latitude for foreign policy maneuvering," Murataliyeva said.
China's economy is weighted heavily toward foreign trade, Almaty-based economist Petr Svoik told Caravanserai, explaining that this economic orientation makes the initiative so essential to Beijing.
"China doesn't need access to Kazakh and Russian markets as much as it needs [overland] transit to Europe, the Middle East and the surrounding region," he said. "China ships almost all [of its goods] by sea -- and if trade wars intensify, other countries could potentially cut off these routes."
"China needs Kazakhstan as a transit country, and one that is rich in natural resources," Svoik said. "That's why Beijing would gladly place its factories here. But for now, it's not rushing ... First and foremost, it's doing it with the help of its trump card -- investments."
Chinese investments will become an integral part of Central Asian development, he predicted.
Threatening Russia's interests
China's growing co-operation with Central Asia threatens to undercut Russia, which lacks China's economic might, Svoik said.
"After the [collapse of the Soviet Union] in 1991, Russia turned into an appendage supplying raw materials ... to the more developed countries," he said.
"During the past 15 years, the [Russian] government has been trying to revive the country's economic power, but it hasn't succeeded," he said.
China is more than a competitor, he said, calling it "the dominant [player] in the region" -- one capable of investing both in itself and abroad, something that Russia cannot afford.
"We've built amazing highways with Chinese money in Kazakhstan," Svoik said. "They run from the south ... to the west, while Russian officials don't want to build anything in their own country with Chinese money -- but have no money of their own."