TASHKENT -- The Fergana Oil Refinery is getting a boost from a $150 million (1.2 trillion UZS) project between US-based ExxonMobil and Uzbek joint-stock company Uzbekneftegaz.
Representatives from the two companies reached an agreement on September 25 in Tashkent to implement a project to produce base oils, which are used to manufacture products such as lubricating greases and motor oil, said a statement from the press service of Uzbeknefteaz.
The project is expected to be completed by 2021.
Uzbekneftegaz controls 125 oil fields and 210 gas fields in Uzbekistan, producing 15% of the country's GDP. The company is also involved in the processing of hydrocarbons.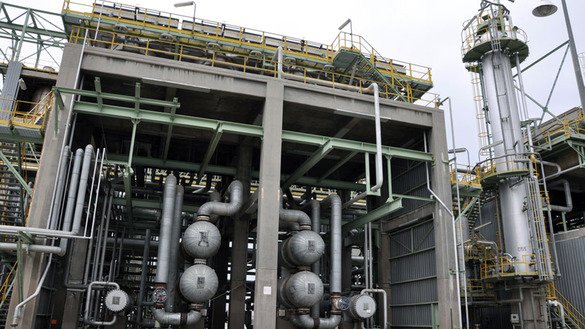 ExxonMobil is based in the US state of Texas and is the largest publicly traded oil company in the world.
Benefits to Uzbekistan's economy
The recent deal came after the official visit of President of Uzbekistan Shavkat Mirziyoyev to the United States on May 16, when Mirziyoyev and US President Donald Trump declared the beginning of a "historic" era of strategic partnership, according to the statement.
ExxonMobil specialists who came to Tashkent in September confirmed that the project will be the only one of its kind in Central Asia.
"The oil and gas industry in Uzbekistan can take confidence in the fact that ExxonMobil is ready to share its experience and technologies to successfully implement this far-reaching project," ExxonMobil Vice President Sean Smith said during the meeting in Tashkent.
Base oils are essential for the production of motor oils, Abdumuumin Khaknazarov, an employee at Uzbekneftegaz, told Caravanserai.
"If the project is successfully implemented, then it will be the first of its kind in Central Asia," he said, adding that the region's market demands for such products are currently 100% met by imports.
"More advanced products like motor oil will be of great benefit to our economy," he said.
Creating new jobs, increasing security
Uzbekenftegaz has not yet announced how many jobs will be created by the new production facility at the Fergana Oil Refinery, but the company is one of the country's largest employers with more than 125,000 employees.
Experts believe the new project will help develop the region's economy and will reinforce security in Uzbekistan's Fergana Valley. The region, already one of the most populated in Uzbekistan, is facing a growing number of inhabitants and unemployment.
"The people who live in this area are fairly conservative, and it's just the place where extremists have typically tried to recruit people from," said Umid Asatullayev, a political analyst from Tashkent.
"Stable jobs and a secure future better than any other measure will contribute to people's resistance of radicalisation," he told Caravanserai.
ExxonMobil will be the first American company to create a production facility in the oil and gas industry in Uzbekistan.
Previously, Russian companies like Gazprom and Lukoil had a virtual monopoly on the market, mainly in the extraction and transportation of natural resources.
US investment in Uzbekistan
After the meeting between Mirziyoyev and Trump in May, American companies started to invest in Uzbekistan's market, expanding their presence and putting pressure on businesses from Russia and China.
ExxonMobil is not the only American hydrocarbon products company that has expressed its interest in Uzbekistan.
Illinois-based Honeywell UOP also intends to open its own manufacturing facility. Company representatives met with Uzbekneftegaz officials on September 11-12 signed a memorandum of understanding to produce alkenes from natural gas.
Meanwhile, President of Eastern Hemisphere at Halliburton Company Joe Rainey visited Uzbekistan on August 6 and announced plans for a permanent office in Tashkent, according to Uzbekneftegaz.
Rainey underscored Halliburton's long-standing intention to enter the Uzbek market and expressed hope that now is the best time to become a part of the positive changes occurring in the country.